Emma Harvey and Jesse Washington are 2015 Trunk Island Swim Female and Male Champions following the Open Water Swimming event in the Harrington Sound as youngsters dominate the race.
Fourteen year old Harvey was first across the line holding off the challenge of Washington and Ilya Cherapau, Harvey taking a straighter line was able to cross the line in a time of 17:57, with Sixteen year old Washington second overall and the fastest Male with a time of 18:10.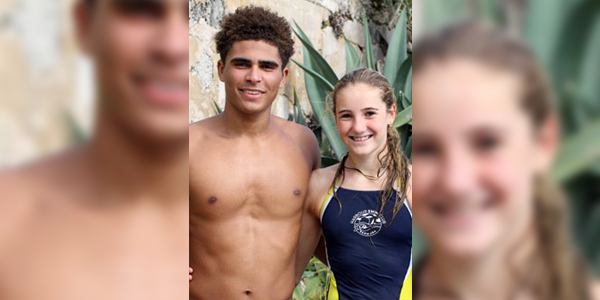 Cherapau was third overall and the second male with a time of 18:34, while Fourteen Evan Farrow rounded out the Male podium clocking a time of 20:03.
Twelve year old Holly Burton was the second Female finisher and 7th overall with a time of 22:06 and Sixteen year old Gabriella Pucci was the third Female finisher and 9th overall with a time of 22:16.
2015 Trunk Island Swim Results
17:57 Emma Harvey – Female & Overall Champion
18:10 Jesse Washington – Male Champion
18:34 Ilya Cherapau
20:03 Evan Farrow
20:14 Jack Harvey
21:44 Brian Desmond
22:06 Holly Bruton
22:14 Dimitri Haas
22:16 Gabriella Pucci
22:18 Kerry Palmer
22:31 Sam Williamson
22:32 Jessica Bruton
22:41 Victor Ruberry
22:44 Carys Nokes
22:53 Andrew Davis
22:58 Maya Crockwell
22:59 Yannick Hillier
23:00 Neil Budge
23:23 Gerhard Boonstra
23:25 Christopher Estwanik
23:34 Adam Zuill
23:37 Louise Boylan
23:38 Clive Langley
23:41 Angus Betts
23:58 Brandon Lee
23:59 Jonathan Betts
24:10 Andrew Budge
24:11 Annette Budge
24:22 Ashley Estwanik
24:24 Cameron De Ste Croix
25:02 Richard Hammond
25:11 Travis Cooper
25:23 Rebecca Shepherd
25:27 Sharon Hammond
25:46 Alec Shepherd
25:55 Benjamin Wright
25:56 Christine Patton
26:29 Michael Harvey
26:35 Frances Betts
26:54 Britten West
27:03 Benjamin Lau
27:31 Tim Duffin
27:42 Charlie Withers-Clarke
28:17 Jane Astles
29:10 Lindsay Smith
29:11 Kent Richardson
29:58 Elsa Stevenson
30:19 Gordy Benson
30:19 Elizabeth Stewart
30:22 Claire De Ste Croix
30:52 Deanna Didyk
32:12 Kimberly McIvor
33:39 Martin Bolton
33:42 Sharon Craig
33:57 Terry Ward
34:14 Elizabeth Deacon
35:20 Lucas Castree
35:25 Steve Castree
37:05 Charmaine Smith
46:38 Darren Choonucksing

Read More About