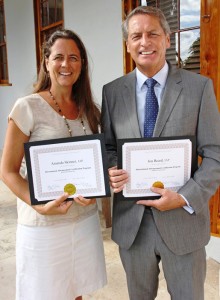 Two senior members of staff at a leading Bermuda private school have received an internationally recognized award.
Deputy Head, Director of Advancement, at Saltus Grammar School, Jon Beard, and Director of Admissions and Parent Relations, Amanda Skinner, were recently awarded a professional designation through the Independent School Management [ISM] Advancement Certification programme.
Having completed the ISM requirements, both received their certification at an award ceremony on the final day of the 2015 Advancement Academy in Virginia, US.
Mr Beard said: "ISM workshops are terrific in highlighting best practice for advancement in top schools around the world.
"They provide skills, they help apply theory to practice in individual school settings – and most importantly help you focus on how you can make the best contribution to your school."
Mrs Skinner added: "Advancement is a critical part of any independent school and being recognized as an International Advancement Professional is very exciting.
"Saltus has supported my participation in various workshops that ISM offers and this has been critical to my receiving this certification. I look forward to working with Jon as we move our Advancement Team at Saltus forward and continue to best support our faculty and student body."
Independent School Management, Inc. offers the only interdisciplinary set of credentials that recognizes learning across the areas of of Admissions, Development, and Marketing/Communications in private schools.
Mr Beard is responsible for the Advancement Department and Mrs Skinner for all Admissions to the school.

Read More About
Category: All