[Part one of a series by Eric T. Wiberg]
There were 143 Axis submarine patrols to the area roughly 450 nautical miles around Bermuda during World War II.
These patrols resulted on attacks on 80 Allied vessels, including one naval ship [USS Gannet]. The most intense period of attacks was between January and August 1942, and the German offensives during this period were named Operation Drumbeat [Paukenschlag] and Operation New Land [Neuland].
One of the submarines was Italian and sailed for the Betasom Flotilla, a joint venture between the Germans and Italians based in Bordeaux, France. U-505 was not on a patrol when it came to Bermuda in June 1944 – it had been captured and was taken to the island in secrecy for analysis.
U.S. Navy archive footage of the capture of the U-505 in 1944
Operation Paukenshlag [literally translated as timpani beat, or drumbeat], was ordered by Adolf Hitler shortly after Germany declared war on the United States on 11 December 1941, in the immediate aftermath of the attacks on Pearl Harbor by Japan.
The relevance of Operation Drumbeat is that in order to reach the US coast off New England, New York, the Virginia Capes and Cape Hatteras, the most direct route took the submarines through the Bermuda region. This applied to their return voyages to bases mostly in France as well.
En route to and from the US the subs of course continued to sink lone shipping targets. Overall these attacks were devastating on the largely undefended US coastline: 609 ships of 3.1 million tons – roughly 25% off all Allied merchant ship losses in the war – were sunk at a cost of 22 Axis U-boat losses. In the Bermuda region 80 ships were lost at a cost of two enemy submarines [U-158 and U-84].
The first wave of Drumbeat boats – the larger Type IXs – departed France on the 18th of December, 1941 and arrived off Bermuda starting on the 20th of January 1942. During a few weeks Hardegen in U-123 sank seven ships, Kals in U-130 took six, Zapp in U-66 five, Bleichrodt in U-109 four and Folkers in U-125 sank a single ship.
There were five waves of Operation Drumbeat. Operation Neuland which followed was aimed more to the south and the Caribbean but the U-boats still skirted Bermuda. These included the smaller, more maneuverable Type VII submarines.
Looking at a composite chart of all Axis submarine patrols around Bermuda, it is clear that most of them were heading to or from Cape Hatteras or to and from the Straits of Florida, the Windward Passage, the Bahamas and Caribbean.
Reinhard Hardegen, whose U-boat U-123 was the first to patrol off Bermuda in WWII.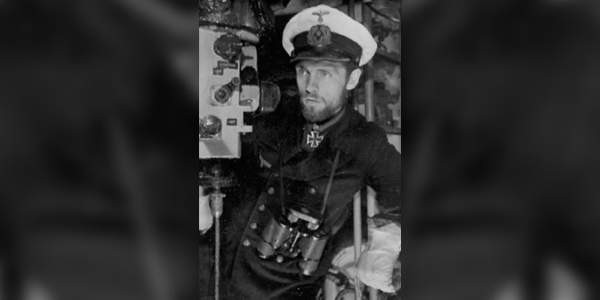 Patrols to the Bermuda area lasted for 32 months, from January 1942 to August 1944, with 11 months in that time period during which no patrols were begun. The first patrol to the Bermuda region began on 20 January 1942 and the last patrol began 24 August 1944.
There was only one day – 2 March 1942 – where four submarines entered the region on the same day. There were five on 8 February 1942, 21 March 1942, 11 April 1942, 17 April, 1942, and 9 July 1942, when three subs entered on one day. Subs entered the region in pairs on 19 occasions.
The busiest single month for patrol commencement was April, 1942, with 25 patrols begun that month, or almost one a day. The most active single day was the 28th of April 1942, during which there were no fewer than 14 Axis submarines patrolling the waters around Bermuda.
In 1942 there were five patrols begun in January, 11 in February, 13 in March, 25 in April, 19 in May, 14 in June, 15 in July, 14 in August, three in September, and none again until 1943. Then there was 1 in February, 3 in April, 5 in May, 4 in July, 1 in August, 2 in October, and 4 in November.
In 1944 there was 1 each in March, April, June, July and August. The months with zero patrols were October, November, and December, 1942, and January, March, June, September and December 1943, and January February, and May, 1944.
The longest patrol in the area around Bermuda was by Hans-Ludwig Witt in U-129 and lasted 24 days. There were three patrols – by U-84, U-509, and U-156 – which were merely dips into the region for a day or so. There were six patrols which lasted over 20 days, 23 that lasted from 11 to 19 days, and nine which lasted ten days.
A dozen patrols spent nine and eight days in the area, six spent seven days, 14 spent six days, 14 spent five days, 23 spent four days, 14 spent three days, six spent two days and three spent a single day there.
There were only two U-boat commanders who patrolled the Bermuda region three times; Horst Uphoff in U-84, who was sunk by Allied aircraft south of Bermuda on the 7th of August 1943, and Reinhard Suhren [known as "Teddy" to his colleagues], in U-564.
Aside from those two, there were 29 skippers who made two patrols to the Bermuda region, amongst whom Erwin Rostin in U-158 and his crew, who were lost west of Bermuda on the 30th of June 1942, also to Allied aircraft based in Bermuda. There were 78 commanders who made one patrol to Bermuda, plus U-505 which was under the command of the US Navy when it arrived in Bermuda in June 1944. Overall there were 108 individual U-boat commanders who led 143 patrols. That indicates that 35 submarines came back for multiple patrols.
The ranks used to categorize U-boat commanders were those they attained at the end of their careers. There were 71 commanders with the rank of Kapitänleutnant and 48 who were ranked Korvettenkapitän. Eleven attained the rank of Oberleutnant zur See and one of Oberleutnant zur See [R]. Nine were Fregattenkapitän and only one [Heinz-Ehler Beucke] was Kapitän zur See. Di Cossato, the only Italian commander, was ranked Capitano di Corvetta.
Carlo Fecia di Cossato, commander of the Italian submarine Enrico Tazzoli.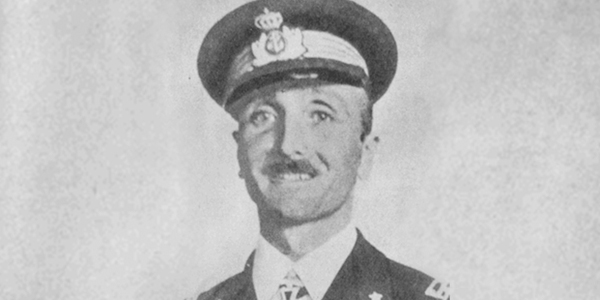 Erich Topp in [among others] U-552 sank the most ships during his overall career; 35 ships for 197,460 tons, followed by Heinrich Lehmann-Willenbrock in U-96 who sank 27 ships of 194,989 tons. Georg Lassen of U-160 sank 26 of 156,082, followed by Heinrich Bleichrodt of U-109 who sank 24 ships of 151,260 tons.
At the other end of the spectrum Rupprecht Stock in U-214 sank only a single ship of 200 tons, and 12 other skippers didn't sink any ships at all over the course of their careers.
Certain commanders achieved multiple attacks in the Bermuda region in 1942 – 1944. Di Cossato of the Enrico Tazzoli, Scholtz of U-108, Hardegen of U-123, and Schnee of U-201 all attacked five ships.
Bleichrodt in U-109 and Rostin of U-158 attacked four each in the region, and the following each attacked three ships: Von Bülow of U-404, Witt in U-129, Rasch in U-106, Feiler in U-653, Forster in U-654, and Flachsenberg in U-71. These skipper each initiated attacks on two ships: Schuch in U-105, Linder in U-202, Würdemann in U-506, Suhren in U-564, Hirsacker in U-572, and Markworth in U-66.
The most decorated commander to have patrolled Bermuda was Reinhard Suhren, with the Knights Cross with Oak Leaves and Crossed Swords with the War Merit Cross 2nd Class with Swords added in 1944 and the U-Boat War Badge with Diamonds in March, 1942.
Erich Topp of U-552 also earned the Knights Cross with Oak Leaves and Crossed Swords the U-Boat War Badge with Diamonds. Otto von Bülow of U-404 also received the Knights Cross with Oak Leaves, as well as the U-Boat War Badge with Diamonds and the War Merit Cross 2nd Class with Swords, very similar to Suhren's but without the Crossed Swords to the Knights Cross.
On the Italian side Carlo Fecia di Cossato of the Enrico Tazzoli was awarded their armed service's highest decoration: a Gold Medal of Military Valor as well as two silver medals for bravery. He also had a submarine named after him in 1980. Kurt Diggins, German commander of U-458 was awarded the Italian medal in Bronze for Military Valor.
Overall 61 out of the skippers of 143 patrols were awarded Knights Cross in some iteration, and 40 received no decorations over their career. The balance received a variety of awards and additions to the Knights Cross, including Wounded Badge in Silver with U-Boat Front Clasp, Iron Cross First Class, U-Boat War Badge 1939, Iron Cross 2nd Class, and German Cross in Gold.
Overwhelmingly most of the boats – 68 out of 143 – were Type VIIC, followed by the Type IXC, of which there were 42. There were 13 IXB and 8 IXC/40, and six VIIB and three VIID types. There were three milk cow-type tanker subs of the XIV type and one Italian of the Calvi Class. Overall there were eight classifications of sub, however three were iterations of the VII type [77 overall] and three types of the IX class [63 overall].
There were four U-boats which returned for three patrols to the Bermuda area: U-84, U-98, U-129, and U-564. It is noteworthy that the submarines did not necessarily have the same commanders for each patrol. There were 63 U-boats which returned to the region twice and 69 for whom there were only single patrols to the area.
U-995 on display in Germany. A "typical" U-boat, it was Type VIIC/41, 220' long and 20' wide.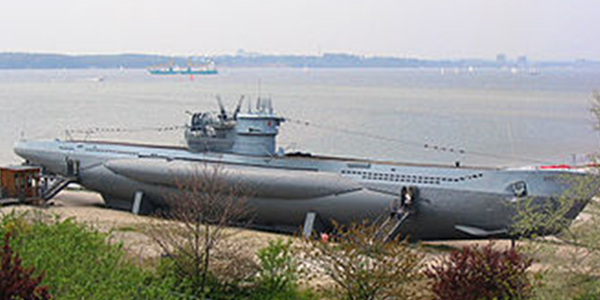 There were a total of nine different flotillas represented by the submarines which attacked the region. However membership in a flotilla did not necessarily determine which ports the subs sailed to or from, as they moved from base to base, flotilla to flotilla, and repositioned.
Members of the 10th Flotilla, for example, sailed from Saint Nazaire, Lorient, Kiel, Helgoland, Kristiansand, Lorient, and La Pallice. There were 41 submarines in the 2nd Flotilla, 25 in the 1st, 23 in the 10th and 20 in the 7th. The 3rd Flotilla was represented by 18 U-boats, the 6th Flotilla by 7, the 9th by five and the 12th by two – the tanker boats.
The lone Italian submarine in the region sailed for the Betasom Flotilla based in Bordeaux, France ["Beta" is for Bordeaux and "Som" for Sommergibili, the Italian word for submarine].
Most of the Axis submarines which patrolled Bermuda – 52 out of 143 – left from Lorient. Thirty-one departed from St. Nazaire, also in France, and 29 from Brest. A further 13 left from La Pallice [near La Rochelle] and two departed from Bordeaux. A dozen departed from Kiel in Germany, two from the island base of Helgoland [Heligoland in Danish], and two left from Kristiansand in Norway, using their patrol to the Americas to re-position from the Baltic to French ports.
Lorient was also the lead port for the U-boats to return to after their patrols, with 54 submarines going there, followed by 30 to St. Nazaire, and 23 to Brest. There were 19 U-boats sunk or captured. La Pallice had 13 U-boats return there following Bermuda patrols, Flensburg two, Bordeaux two, and El Ferrol [in neutral Spain] one.
Three subs were sunk in the Bay of Biscay en route to France, three off Cape Hatteras, and one each off Panama, Virginia, Key West, New Orleans, the Azores, Cuba, Haiti, and Halifax.
The age ranges of the commanders of submarine patrols around Bermuda were between 23 [Offermann and Carlsen] and 47 [Wolfbauer, who had fought in the First World War]. There were 63 commanders killed in the line of duty or otherwise; one committed suicide rather than face execution, another dove from the conning tower and struck a saddle tank. This study does not account for whether commanders became Prisoners of War during or after the conflict, only whether they survived the war.
The commanders were mostly [83 of them] in their 30's. Seventy-nine were in their 20s and two were in their 40's. Perhaps the most striking statistic is that there are estimated to be, at the time of writing in July, 2015, 11 commanders who are still alive.
They are: Carlsen, Petersen, Lauterbach-Emden, Stock, Markworth, Wissmann, Wintermeyer, Hardegen, Siegmann, Geissler, Schulze, Schutze, and Borchert. In their twilight years their wizened commanders can reflect on the day that their war machines penetrated the vulnerable flank of North America and patrolled the azure Gulf Stream waters around Bermuda with devestating effect 70-plus years ago.
This article is dedicated to the memory of Capt. Warren A. Brown, Sr., who immeasurably helped the author's sailing career.
- Eric T. Wiberg is an author, historian, and researcher who has published nine books under four titles. His work can be followed on his personal website and on his U-Boats Bermuda blog.
Read More About