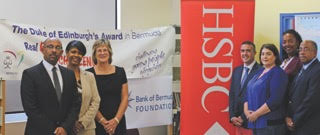 The Duke of Edinburgh's International Award [DofE] Bermuda provides young people with opportunities to "achieve their greatest potential," including the Bermuda Bridge Award, which will "support and enhance the strategic priorities and transformation of Bermuda's Public Middle Schools."
The Bermuda Bridge Award is exclusive in Bermuda and caters to the island's 12 and 13 year old students, and the programme is now available through all five public middle schools across the island.
A spokesperson said, "Participation in DofE improves personal skills, increases physical fitness, engages in community services and promotes individual and collective achievement; DofE develops well-rounded global citizens who take pride in themselves and their communities, thus supporting personal and academic attainment and contributing to the reduction of anti-social behaviours.
"This personal development programme serves to provide positive reinforcement for a gap in adolescent development that can occur during the middle school years as children transition to young adulthood. The Bermuda Bridge Award provides opportunities for a younger demographic to experience the preliminary benefits of participation in the Duke of Edinburgh's International Award programme once they advance to senior school.
"It is a programme of encouragement that improves self-esteem, practices teamwork and teaches the importance of integrity and dedication for participants to remain committed to the process and complete their programme at a pace that is manageable for them. The Bermuda Bridge Award equips young people with the ability to fulfill their "DREAMS" – Dynamic Realizable Efforts to Attain and Maintain Success. The Award is fun, exciting, challenging and rewarding.
"The Bermuda Bridge Award will support and enhance the strategic priorities and transformation of Bermuda's Public Middle Schools. Traci Burgess, National Director for The Duke of Edinburgh's International Award Bermuda said "Developing the format for The Bermuda Bridge Award was relatively easy.
"The four year pilot programme at The Whitney Institute Middle School provided ample time to test the programme's abilities, track participant progress, monitor outcomes, and make the necessary adjustments to ensure The Bermuda Bridge Award's success as a youth development programme of choice for all of Bermuda.
"We can now say with confidence that we have an excellent and functional template to successfully launch this unique and transformative middle schools programme island-wide. A considerable amount of time was spent identifying where The Bermuda Bridge Award is strategically aligned with The Ministry of Education and The Department of Education's direction to best support and enhance the whole development of Bermuda's young people, mind, body and soul.
"Amongst a number of benefits that were identified and presented to Minister Wayne Scott, Acting Commissioner Dr. Freddie Evans, and the five Public Middle School Principals, participation in The Bermuda Bridge Award will naturally contribute to achieving specific targeted outcomes as identified in the Ministry of Education's current Strategic Plan [2010 – 2015], including improved academic attainment and increased attendance rates; decreased rate of suspensions; completion of school-based annual community service requirements; participation in one or more extracurricular activities; knowledge of and practice of a healthy lifestyle; and meet or exceed the student's age appropriate fitness level."
Acting Commission of Education, Dr. Freddie Evans, said, "The Department of Education in conjunction with all five public middle school principals is pleased to confirm our partnership with The Duke of Edinburgh's International Award and offer The Bermuda Bridge Award to all M2 and M3 public middle school students island-wide.
"We feel that participation in the Bermuda Bridge Award aides in the holistic development of students who will benefit from enhanced skill sets acquired through opportunities provided by the Duke of Edinburgh programme. These skills will assist with improving academic attainment, reducing disruptive behaviours in schools, and supporting an increase in positive outcomes throughout the academic and social cultures of the middle school population.
"Volunteer training is being provided by DofE for new Award Leaders to deliver and oversee the programme, and participant enrolment is now underway. Information has been distributed to all M2 and M3 students and parents, and initial programme or enrolment inquiries should be directed through the administrative office at the student's school."
"Free participation and delivery of the Bermuda Bridge Award is made possible by the generosity of three corporate partners, The Bank of Bermuda Foundation, HSBC, and Freisenbruch-Meyer. Each of these partners fully understand and support the programme's vision of reaching and serving a more diverse cross-section of young people from across the island."
Judy Doidge, a Director of the Bank of Bermuda Foundation and Chairperson its Youth, Development and Sports Committee, said, "Bank of Bermuda Foundation is committed, amongst many things, to the development of Bermuda's Youth and ensuring that every young person is exposed to an extensive array of programmes in order that he or she reaches his or her full potential.
"We are pleased to be supporting the Bermuda Bridge Award and applaud the partnership between the Ministry of Education and the D. of E. as part of the Middle Schools Transformation. The Foundation looks forward to learning of the positive outcomes that will occur in all five Middle Schools."
Darren Smith, Head of HSBC Global Markets and spokesperson for HSBC's partnership with DofE said "HSBC is pleased to be involved with the growth of our island's teens through their participation in The Bermuda Bridge Award.
"Our corporate giving philosophy has a strong focus on young people, academic attainment and community development, all of which are significant themes carried throughout The Duke of Edinburgh's International Award and The Bermuda Bridge Award. With our commitment as a Gold Level Donor Partner with DofE, HSBC is confirming our belief in and support for the programme. The value of DofE's impact and the programme's influence locally and globally is extremely valuable.
"HSBC is pleased to be a part of this intrinsic shift in social consciousness that DofE fosters in each individual."
The full strategic alignment document and additional information regarding The Bermuda Bridge Award is available for review on the DofE website.
For more information, contact DofE via telephone on 537.4868 or email director@theaward.bm.

Read More About
Category: All