Heading into the week Danny King and Billy Walsh were pegged to be a major factor in the inaugural Nike Golf PGA Team Championship of Canada at The Mid Ocean Club in Bermuda.
And by week's end, the duo from Ontario did not disappoint.
Walsh and King, the PGA of Canada's No. 1 and No. 4-ranked players, put together a three-day total of 21 under par, besting the teams of Luc Boisvert and Louis-Pierre Godin and, Gordon Burns and Keir Smith.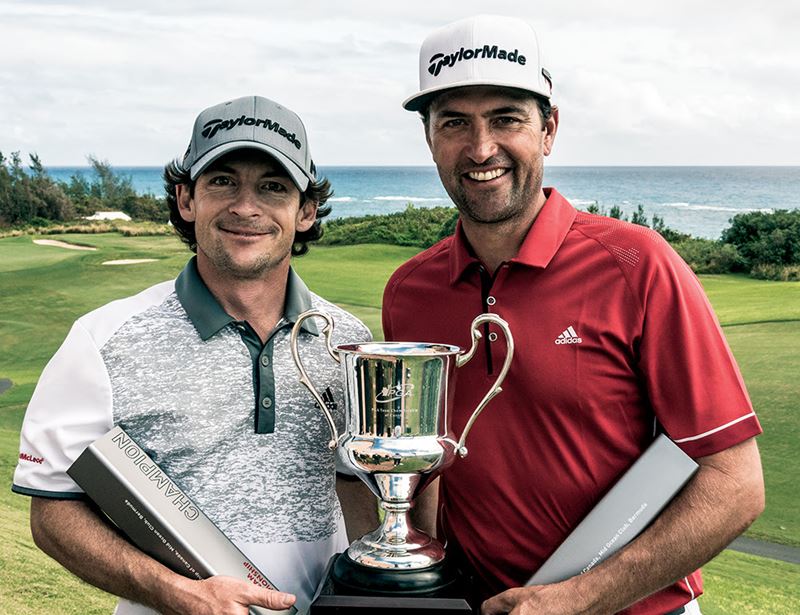 King, who won this year's PGA Championship of Canada at Cabot Links, said he had positive vibes in Bermuda right from the very onset of the championship.
"It all really started the first night we arrived with Nike putting on barbeque on the beach," he said. "It was one of the best dinners I've ever had in my life with the sand between my toes, the music and all the wonderful food."
The inaugural Nike Golf PGA Team Championship of Canada featured different team formats for each day—fourball, foursomes and scramble—with King and Walsh taking home $12,000 of the $90,000 total prize purse.
King and Walsh headed into Thursday's final round with a five-shot lead, however, felt some pressure from the groups of ahead—Boisvert/Godin and Smith/Burns—who both shot 14 under in the scramble format Thursday.
Under the gun with the pressure applied, the winning tandem admitted the key to their success was putting the ball in play and keeping their foot on the gas.
"We're a good fit because the strength of my game is keeping the ball in play and in the fairway," Walsh said. "So when I do that, it frees Danny up with the driver and that's one of his best weapons."
Ian Doig along with his partner Ed Maunder finished fourth, while the team of Billy Houle and Francis Tanguay rounded out the top five.
"Mid Ocean is such a unique golf course that's really fun to play," Walsh said at the end of the week. "We've been so fortunate all week to be able to play this world class golf course and I sure hope we have the opportunity again to play this championship again here soon."
For the full leaderboard, Click Here.

Read More About