Bermudian Jessica Astwood is the Client Services Manager for the America's Cup Event Authority [ACEA]. Here she tells us about her role and being involved in the global sporting event.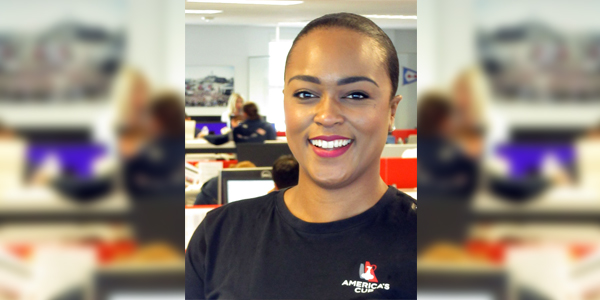 1] What does a normal day look like for you working at ACEA?
First…coffee and then my primary role is to look after our Commercial Partners for the America's Cup, ORACLE TEAM USA [OTUSA] and our Youth Sailing Program-Endeavour.

While no two days are the same, I primarily focus on anything we need to deliver on for our Partners i.e. branding and marketing approvals, coordinating media and guest tours of the team base and Bermuda, America's Cup trophy appearances, exclusive hospitality requirements, keeping our Partners informed and updated on all of the latest developments with our events and being the primary point of contact for all things America's Cup for our Partners.
2] What is your focus for the Louis Vuitton America's Cup World Series Bermuda event?
To ensure that this event is the best "pre-cursor", best "dress-rehearsal", best "foreword" for the June 2017 events for all of our Partners and stakeholders who have a part in the event in Bermuda next week!

This is just a glimpse of what's to come in 2017 and we intend to showcase Bermuda in the best possible light and fine-tune all of the opportunities that may present themselves between the end of this event and the America's Cup finals in 2017.
3] What sort of opportunities have you had through this position?
Aside from working with an incredibly diverse and talented team, I've had the opportunity to travel to the first two LVACWS venues in England and Sweden. The biggest opportunity through travelling has been to represent my home, Bermuda.

With the #racetobermuda campaign theme at all of the Louis Vuitton America's Cup World Series stops, it gives me goose bumps to see the other venues decked out with Bermuda pink umpire boats, giant pink on-water billboards, pink event signage, Dark n' Stormy's in the majority of event attendees' hands, Bermuda mentioned throughout the Race broadcasts and overhearing a good number of people buzzing about Bermuda [in multiple languages].

Bermuda is [and will continue to be] the buzzword at each one these Louis Vuitton America's Cup World Series venues leading to June 2017. It is an honor to be a part of that and to see it first hand. All roads are leading to Bermuda in 2017.

Other than that, the opportunity to also work for an international sporting event that has a prominent and storied past dating back to 1851, is a special opportunity within itself!
4] How does it feel working for a global organization?
As a Bermudian who has worked abroad for many other global organizations, it's a treat and a dream to have the opportunity to come back home and be a part of increasing Bermuda's international presence. I am proud on a personal and patriotic level to present the best of Bermuda when I am interacting with international and local clients alike.
5] What is the best part of your job?
I have a list of the best parts, which is a good sign:

As crazy as it sounds, the frenzied pace of it all keeps me on my toes [it's very much like the city pace that I am used to from working in Toronto], travelling by boat to Dockyard to work in the offices at the OTUSA base in the historic, and newly refurbished, Royal Naval Dockyard buildings and, best of all, watching the Endeavour Youth Sailing Program take shape and develop into a legacy programme that will impact all the Bermudian students who pass through it for generations to come.

There are a lot of special things happening on the Island surrounding the America's Cup and the best part is really being a part of it all!
Jessica tell us about the level of clients you are working with and how does reflect on Bermuda or add benefit to Bermuda?
I work with a very broad scale of Commercial Partners. From one of the most internationally recognized Luxury Fashion Houses [Louis Vuitton] to local Partners here in Bermuda.

I work with a sophisticated client base of well travelled and discerning clients who are imprinting their globally recognized brands with Bermuda through product releases, global marketing campaigns and support of the Endeavour Program, They are also bringing a new level of clients to our shores who will stay in our hotels and enjoy all of our Bermudian hospitality offerings.

I also work with local Partners who have a golden opportunity to leverage their relationship with the America's Cup to increase their brand exposure and business profiles. While the race in 2017 is the main focus, Bermuda and its attributes are a major component for my clients. The scale of benefits that the America's Cup will leave on our Island is, frankly, immeasurable.

On another side Bermuda being chosen as the host venue for the America's Cup finals in 2017 provides a great platform to engage a younger audience, increase first time spectators, and to engage those that may not have previously been drawn to a sailing race.

Read More About