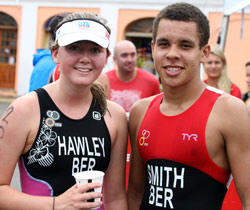 Tyler Smith and Erica Hawley are the 2015 Bank of Bermuda Foundation champions following racing on Sunday morning.
Smith was able to hold off a challenge from Jonathan Herring clocking a time of 1:02:43, Herring clocked 1:04:08 and Matthew Oliveria finishing third in 1:07:25.
Hawley was 9th overall recording a time of 1:12:22, Eileen Mullowney was the second female finisher and 12th overall with a time of 1:20:24 and Jennifer Wilson rounded out the podium finishing 15th overall with a time of 1:22:05.
Blake Oliveria was the first 7 – 10 Junior competitor completing the course in a time of 17:40, Jake Brislane was second in 18:41 and Eddie Norman was third in 18:51.
Nicholas Pilgrim, Tommy Marshall and Caleb Ingham finished one, two and three in the Junior 11 – 12 Age Group, Pilgrim clocked 29:14, Marshall was clocked across the line in 32:00 and Ingham recorded a time of 32:41.
The full 2015 Bank of Bermuda Foundation Triathlon results follow below [PDF here]:

Read More About