Danish Optimist champion, Christian Spodsberg, has returned to Bermuda this week to defend his RenaissanceRe Junior Gold Cup title sailed in Optimist dinghies.
Since his victory last October, Spodsberg has continued to rack up an impressive record which includes an 8th place finish at the IODA World Championships, a 2nd at the Lake Garda Meeting and a victory at the Danish National Championships.
It won't be an easy sail for Spodsberg as he finds himself in a competitive field of 45 local and foreign sailors.  The foreign contingent consists of 16 sailors invited from 14 countries and includes the National Champions from Argentina, Denmark, Germany, Ireland, Norway, Switzerland and Sweden.
The sailors from the British Virgin Islands, Holland, New Zealand, Poland, Spain and U.S. Virgin Islands also have impressive resumes which is necessary criteria to warrant the coveted invite from their national authorities to come to Bermuda. Four of the invited sailors are also female.
Christian Spodsberg from Denmark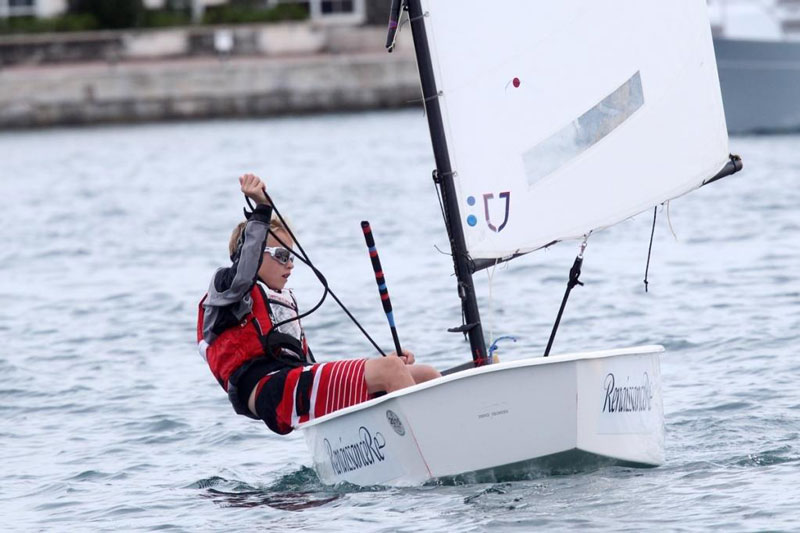 The Bermuda Optimist fleet benefits greatly from the influx of top sailing talent. For the local sailors aged 10 to 15, the regatta provides world- class competition in their home waters, an experience usually found only by traveling to a continental IODA event.
The regatta allows Bermuda's young sailors to instantly see where they sit on the international stage. Local coaches have an eye on a number of Bermuda sailors expected to give the invited guests a run for their money including RBYC veteran Campbell Patton and Bermuda National Champion Tayte Stefaniuk from the RHADC.
RenaissanceRe has generously sponsored this event for the last twelve years, providing financial support to assist with airfares for the invited international sailors, providing them with charter boats, on-the-water coaching and equipment required for competition. The visiting sailors stay with local sailing families, another important aspect of this unique experience.
Twelve races are scheduled to be sailed from Thursday October 8th through Sunday, October 11th, mostly in the Great Sound.  The final race will be sailed in Hamilton Harbour on the Argo Group Gold Cup course just prior to the finals in front of the large spectator fleet.
More info and results at www.juniorgoldcup.com
Photo by Charles Anderson
Read More About