Today's [Oct 18] Louis Vuitton America's Cup World Series was not without incident, with one mishap seeing Artemis Racing involved in a collision with a pink umpire boat.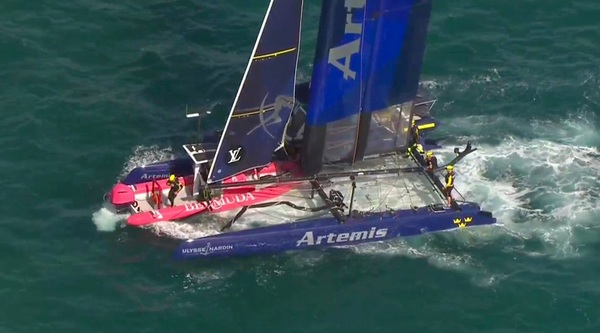 It caused the second race to be delayed for a few minutes, while the Artemis sailors scrambled to fix their vessel, however the Swedish team didn't let the crash deter them, as they went on to race to victory in the second race of the day.
Warning – the first video contains profanity!

-
-
Update: The AC said, "After a strong second place finish in the first race, it appeared Artemis Racing would be knocked out of the event.
"In the moments before the starting gun fired, the team ducked behind the Japanese boat, and as Outteridge turned up towards the line, he was confronted with an Umpire boat heading directly towards him. The closing speed would have been in excess of 25 knots.
"At that point we couldn't go anywhere," Outteridge explained. "He went straight between our bows but thankfully nobody was hurt. There was a serious amount of damage to our boat though."
"In work worthy of an F1 pit crew, the Artemis Racing squad stripped off the broken bow sprit and the now useless Code Zero sail in record time.
"After a quick check for reliability and with less than two minutes to spare, the team was lining up for the next start. Incredibly, they blasted of the starting line with more speed than anyone else and won not only the start but the second race."
Update: An additional video showing the crash from another angle

- Videos courtesy of the America's Cup
Read More About
Category: Accidents and fires, All, News, Sports, Videos