Motivational speaker and best-selling author Stedman Graham will travel to Bermuda next weekend and, whilst here, will give a talk on "Identity Leadership."
The event is being organized by Women in Reinsurance [WiRe] and is a major fundraiser for the Family Centre.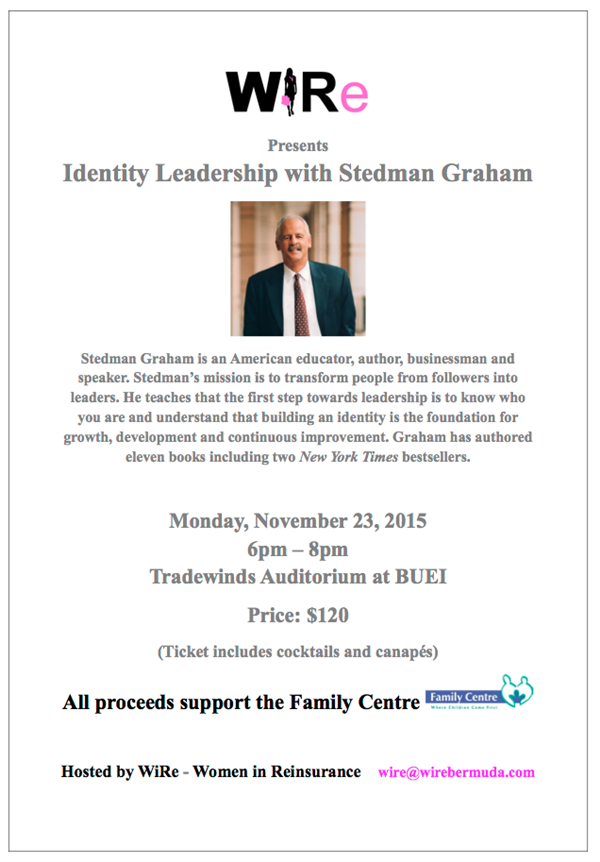 Mr. Graham has made it his mission to bring Identity Development programs to people and organizations worldwide helping them strengthen who they are based on their interests, natural abilities, talents and passions.
Through seminars, lectures, and workshops, he provides the tools for people to determine their own identity and to open the door to a life of success.
His discussion is grounded in the proprietary 9-Step Success Process™, on which he has published several books, including two New York Times bestsellers.
Julia Mather, organizer and member of WiRe's board said, "WiRe is pleased to support Family Centre in their milestone 25th Anniversary year by hosting this event with Mr. Graham who is a longtime supporter of Family Centre. We welcome all of Bermuda to come and hear Mr. Graham speak."
The event, which will also feature comments by Catherine Duffy & Monroe Darrell, will take place at BUEI Tradewinds Auditorium from 6:00 until 8:00 p.m. on Monday, November 23rd.
Tickets are $120 per person and include a cocktail hour with Mr. Graham. All proceeds will be donated to Family Centre.
Tickets may be purchased at ptix.bm. For more information, please contactwire@wireberrmuda.com.
Read More About