Chris Estwanik and Nikki Butterfield won the 2015 Bacardi 8K road race on Sunday morning.
Despite dealing with an injury Estwanik outpaced the field to cross the line in a time of 25:54, with Evan Naude finishing second in 28:21 and Spencer Butterfield finished third clocking a time of 29:11.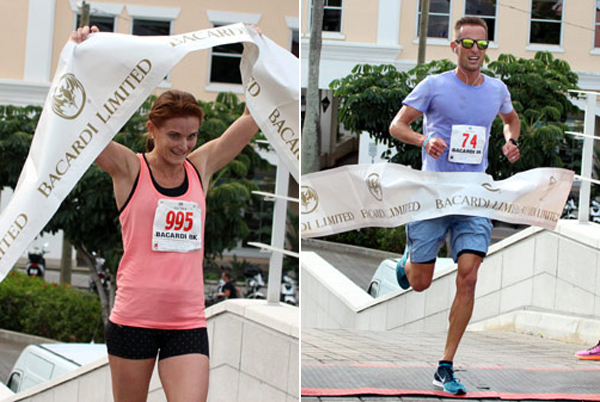 Nikki Butterfield  clocked 32:13 to finish as the first female and 9th overall, Breary finished as the second female and 10th runner overall in a time of 32:23, while Victoria Fiddick was the third female finisher and 24th overall with a time of 34:29.
Robert Thomas won the walking race with a time of 54:41, with Howard Williams finishing second clocking 54:48 and Joseph Matthew was third in 56:17.
Rebecca Perry was the first female walker and 4th overall with a time of 56:20, while the second female finisher was Gilda Cann who finished 8th overall with a time of 59:09 and one spot back was Carol Redahan who recorded a time of 59:21.
2015 Bacardi 8K Road Race Finishers
8K Runners 
1 Christopher Estwanik 25:54:00
2 Evan Naude 28:21:00
3 Spencer Butterfield 29:11:00
4 Christopher Harris 29:19:00
5 Corey Brunton 30:40:00
6 Stan Ong 30:48:00
7 Neil De Ste Croix 31:14:00
8 Ronae Burgess 31:26:00
9 Nikki Butterfield 32:13:00
10 Deon Breary 32:23:00
11 Nikki Bascome 32:35:00
12 Martin Vezina 32:37:00
13 Warren Miller 32:36:00
14 Peter Gracey 33:00:00
15 Mike Schindel 33:05:00
16 Charlie Withers-Clarke 33:15:00
17 Aaron Garcia 33:23:00
18 Jahmai Lottimore 33:27:00
19 Barrie King 33:35:00
20 David Gazzard 34:07:00
21 TOM BOOTH 34:13:00
22 Ryan Gibbons 34:13:00
23 Christopher Jones 34:19:00
24 Victora Fiddick 34:29:00
25 Eddie Fisher 34:28:00
26 Dennis Fagundo 34:45:00
27 Steven Smith 34:51:00
28 Melissa Logie 35:00:00
29 Derek Thomas 35:02:00
30 Deon Heyns 35:06:00
31 Scott Neil 35:33:00
32 Darin Cassidy 35:32:00
33 Noah Fields 35:33:00
34 Clive Langley 35:45:00
35 Colm Homan 35:47:00
36 Laura Knox-Clingerman 35:55:00
37 Stepanka Sprincova 36:02:00
38 Alexander Garbiak 35:58:00
39 Sharlene Sousa 36:09:00
40 Alex Godfrey 36:21:00
41 Nick Thompson 36:24:00
42 Anna Laura Hocking 36:31:00
43 Laurie Orchard 36:38:00
44 Anthony Prentice 36:52:00
45 Tom Meyer 36:53:00
46 Sean Kelly 37:01:00
47 Chris De Silva 37:00:00
48 Jay Riihiluoma 37:01:00
49 Ash Fife 37:06:00
50 Matthew Viney 37:11:00
51 Karen Adams 37:11:00
52 Jonathan Reiss 37:28:00
53 Zachary Clammer 37:28:00
54 Carlo Pinardi 37:38:00
55 Gareth Chatkin 37:43:00
56 Teresa Hemphrey 37:54:00
57 Steven Pegg 37:41:00
58 Mark Outerbridge 37:59:00
59 Jonathan Lee 38:14:00
60 Christopher Hands 38:19:00
61 Kit Cunningham 38:10:00
62 Martina Olcheski-Bell 38:25:00
63 Richard Hammond 38:23:00
64 Haley Bright 38:16:00
65 Deborah Norman 38:34:00
66 Ben Martin 38:19:00
67 Laura Law 38:27:00
68 Jonathan Walters 38:30:00
69 Denzel Simons 38:37:00
70 Bill Orendorf 38:34:00
71 Gerhard Boonstra 38:43:00
72 Calvin Steede 38:54:00
73 Richard Mansfield 38:44:00
74 Florin Teleman 38:50:00
75 Melvin Howes 38:47:00
76 Ian Henderson 39:14:00
77 Michael Adams 39:09:00
78 Charles Duffy 38:59:00
79 Flora Duffy 38:57:00
80 Dan Hugo 39:00:00
81 Paul Hopwood 39:17:00
82 Jan Spindler 39:18:00
83 Lucy Ching 39:25:00
84 David Woodcock 39:23:00
85 Milan Oleksak 39:31:00
86 Sean Billington 39:36:00
87 Sharon Craig 39:20:00
88 Kim Willey 39:43:00
89 Amanda Strong 39:33:00
90 Laura Wright 39:42:00
91 Sergio Edness 39:48:00
92 Sheikia Ming 39:50:00
93 Shana Griffiths 39:54:00
94 Denis Rowe 39:40:00
95 Matt Bishop 39:58:00
96 Yuko Ebata 39:59:00
97 Jo-Rena Davis 40:16:00
98 Stephanie Bushby 40:13:00
99 Emma Norman 40:20:00
100 John Rolph 40:20:00
101 Teru Shimbara 40:04:00
102 Adam Petty 40:19:00
103 Melina Tyers 40:21:00
104 Christian Chin-Gurret 40:26:00
105 Robin Holder 40:29:00
106 Christopher Myles 40:48:00
107 Mike Gutteridge 40:47:00
108 Robyn Skinner 40:38:00
109 Joel Duffy 40:33:00
110 Maria Duffy 41:06:00
111 Joseph Kwun Wa Lam 40:58:00
112 Terrence Taylor 41:26:00
113 Troy Harvey 41:08:00
114 Zina Jones 41:32:00
115 Claire Shestopal 41:32:00
116 Matthew Katzsch 41:22:00
117 Charles Arnold 41:39:00
118 Richard Orendorf 41:30:00
119 Claire De Ste Croix 41:29:00
120 Mairi Redmond 41:42:00
121 Kathleen Thompson 41:54:00
122 Mollie Bigley 41:36:00
123 DAVID BIGLEY 41:36:00
124 Emily Simpson 41:58:00
125 Lara Rogers 41:54:00
126 Andy McComb 42:06:00
127 Nicole Andreasen 41:55:00
128 Andre Vargas-Crispieri 41:55:00
129 Maeve Carr 42:20:00
130 Gavin Oconnor 42:25:00
131 Anonymous Participant 42:23:00
132 Lorenzo Caubalejo 42:27:00
133 Shaza Murray 42:31:00
134 Harjeet Singh 42:31:00
135 Sarah Thompson 42:43:00
136 Alison Green 42:28:00
137 Isabel Van Der Westhuizen 42:40:00
138 Edwin Katigbak 42:49:00
139 Daniel Brisson 42:26:00
140 Danie De Lange 42:51:00
141 Jason Kim 42:56:00
142 Neil Speight 42:44:00
143 Madison Brewer 42:56:00
144 Raymond Soong 42:57:00
145 Tom Corry 42:43:00
146 Peter Muirhead 42:55:00
147 Joel Neal 42:43:00
148 Keith Chiappa 42:58:00
149 Fiona Lines 43:18:00
150 Chris Mayne 42:57:00
151 Matthew Witkowski 42:57:00
152 John Wight 43:22:00
153 Sally Teixeira 43:23:00
154 Samantha Naude 43:18:00
155 Sanjeev Punshi 43:46:00
156 Kate Tomkins 43:24:00
157 Alana Caldwell 43:23:00
158 Scott White 43:34:00
159 Ashley Godek 43:35:00
160 Nancy Stevens 43:50:00
161 Daniel Alexander 43:51:00
162 Patrick Neal 43:47:00
163 Campbell Duffy 44:15:00
164 Laura Keyes 44:22:00
165 Jennifer Gazzard 44:20:00
166 Chris Morley 44:33:00
167 Gavin Woods 44:42:00
168 Matthew Clarke 44:44:00
169 Janie-Elizabeth Nel 44:52:00
170 Karl Brown 44:57:00
171 Rachel Holmes 44:56:00
172 Sarah Johnston 45:13:00
173 Aine O'Sullivan 45:11:00
174 Heather Gowing 45:10:00
175 Dodi Mason 45:08:00
176 Fernando Deus 45:37:00
177 Terri Durrant 45:31:00
178 Nicole Rozon 45:27:00
179 Rebecca Vieira 45:35:00
180 Darren Choonucksing 45:53:00
181 Denise Carey 45:57:00
182 Ola Rosinska 45:48:00
183 Christine Soutter 46:28:00
184 Cesar Botelho 46:30:00
185 Jose Andrade 46:44:00
186 Dengie Fisher 46:29:00
187 Shannon Kelly 46:15:00
188 Joanna Jackson-Smith 46:30:00
189 Carina Repupilli 46:57:00
190 Christopher Mitchell 46:44:00
191 Manuel Guillo 46:48:00
192 Aoife O'Hora 46:49:00
193 Mike Sakata 46:43:00
194 Betty Doyling 47:10:00
195 Ziara Campbell 47:15:00
196 Cherylle Swan-Simons 47:24:00
197 Cheresa Lemaire 47:36:00
198 Bryant Ploski 47:17:00
199 Emily Rowe 47:17:00
200 Dean Rea 47:39:00
201 Fiona Forster 47:31:00
202 Gordon Paterson 47:44:00
203 Mayberline Black 48:06:00
204 Alan Gilbertson 47:47:00
205 Shelby Rodrigues 48:10:00
206 Helen Guishard 47:52:00
207 D. Barbara J Smith 48:17:00
208 Elizabeth Stewart 48:12:00
209 Florence Pedro 48:24:00
210 Sarah Scarborough 48:27:00
211 Aman Darred 48:23:00
212 Jay Westerman 48:28:00
213 SK Thompson 48:28:00
214 Tara Davidson 48:51:00
215 ABJEL COLIS 48:54:00
216 Lisa Ferrari 49:00:00
217 Penny Glendinning 49:08:00
218 Sixto Quintos 49:05:00
219 Ry-Lyn Howes 49:08:00
220 Caitlin Murray 49:15:00
221 Rachel Ball 49:09:00
222 Erica Parsons 49:18:00
223 Jane Tuppen 49:23:00
224 Carolyn Leder 49:20:00
225 Alshia Lugo 49:41:00
226 Ryan Williams 49:29:00
227 Carolina Arruda 49:34:00
228 Joshua Crockwell 49:34:00
229 Amanda Halverson 49:46:00
230 Carol Griffith 49:43:00
231 Madison O'Beirne 49:53:00
232 Nicky Gurret 49:45:00
233 Sheryl Richardson 49:55:00
234 Carol Dixon 49:38:00
235 Cary Butterfield 49:48:00
236 Deborah Williams 49:57:00
237 Cindy Fisher 50:00:00
238 Bob Wood 49:59:00
239 Megan Franklin 50:17:00
240 Mathew Paul 50:34:00
241 Takiyah Tucker 50:16:00
242 Liana Carrick 50:45:00
243 Damien Byrne 50:51:00
244 Jane Hulse 51:04:00
245 Liam Carroll 51:03:00
246 Jennifer Arnold 51:23:00
247 Katie Lang 51:10:00
248 Helena De Frias 51:21:00
249 Sarah Robey 51:30:00
250 Michael Dennis 51:35:00
251 Pete Robey 51:30:00
252 Rekha Dennis 51:35:00
253 Elizabeth Arnold 52:06:00
254 Paula Wight 52:12:00
255 Christine Joell 53:06:00
256 Judith Howe-Tucker 53:03:00
257 Denise Carpenter 53:07:00
258 Dhaksha Kikkeri 53:15:00
259 Janet Rietig 53:18:00
260 Brita Oosthuizen 53:19:00
261 Nathalie Moura 53:46:00
262 Susanne De Frias 53:56:00
263 Sharon King 54:02:00
264 Cathryn Minors 54:36:00
265 Anonymous Participant 54:47:00
266 Kristin Divine 55:04:00
267 Kim Morbey 54:56:00
268 Dana Lightbourne 54:52:00
269 Anonymous Participant 54:55:00
270 Elizabeth Schaefer 55:35:00
271 Florence Sharpe 55:19:00
272 Alta Loubser 55:49:00
273 Egbert Loubser 55:51:00
274 Juliette Ferrari-McComb 55:35:00
275 Edwina Arorash 56:01:00
276 Andrene Pitcher 55:50:00
277 Sarah Cain 56:00:00
278 Roedolf Van Der Westhuizen 56:33:00
279 Karen Peckett 56:24:00
280 Ricardo Philips 56:46:00
281 Tammy Heath 56:37:00
282 Rosario Rowe 56:30:00
283 Kate Middleton 56:37:00
284 Sarah McDonald 57:21:00
285 Darnell Wynn 57:42:00
286 Jordan Place 57:24:00
287 Katrina Simons 57:23:00
288 Nathalie Watson 58:03:00
289 Lisa Dietz 59:04:00
290 Ruth Phillips 1:00:18
291 Bongani Ndlovu 1:00:22
292 Temeka Simons 1:01:05
293 Maximiliano Ferrero 1:02:06
294 Jennifer Williams 1:02:29
295 Josh Ball 1:03:13
296 Sharon Chapman 1:04:53
297 Donna Mae Arorash 1:06:07
298 Mei Sim Joyce Yeung 1:07:57
299 Jacquilline Muregerera 1:08:27
300 Alex Hulse 1:14:29
301 Silvia Lozada 1:14:52
302 Anonymous Participant 1:19:34
8K Walkers
1 Robert Thomas 54:41:00
2 Howard Williams 54:48:00
3 Joseph Matthew 56:17:00
4 Rebecca Perry 56:20:00
5 Sinclair Smith 56:56:00
6 Gary Young 58:46:00
7 Ray Medeiros 59:09:00
8 Gilda Cann 59:09:00
9 Carol Redahan 59:21:00
10 Gina Bradshaw 1:01:15
11 Sabine Marshall 1:02:41
12 Kevin Chapman 1:02:48
13 Beverley Barton 1:03:53
14 Charles Wilkinson 1:04:32
15 Robin Hunt 1:04:30
16 Jocal Burgess 1:04:33
17 Stephen Frost 1:04:25
18 Melody Albuoy 1:06:30
19 Rochelle Richards 1:06:37
20 Mariae C Dixon 1:06:57
21 Ronda Lewis 1:07:24
22 Leila Bihina 1:07:49
23 Celeste Tenorio 1:07:50
24 Heather Funk 1:08:22
25 Thilak Rathnayake 1:10:24
26 Shane Somner 1:10:27
27 Christine Jack 1:12:02
28 Jaime Ferrari-McComb 1:12:03
29 Michelle Monish 1:12:54
30 Anonymous Participant 1:12:55
31 Kendra Wharton 1:13:19
32 Joan Wagacha 1:13:56
33 Roxanne Lindsay 1:14:35
34 MaryLeigh Burnett 1:14:54
35 Christian Frisby 1:15:15
36 Rachelle Frisby 1:16:06
37 Sue Riihiluoma 1:16:36
38 Kaitlin Tsang 1:16:45
39 Kinjal Parekh 1:16:46
40 Chelsea Powell 1:16:58
41 Shelby Rodrigues 1:16:58
42 Raymond Tavares 1:17:21
43 Rhydell Paynter 1:17:23
44 Elaine Simmons 1:17:41
45 Bruna Furtado 1:18:55
46 Karen Seymour 1:21:00
47 Jay Tucker 1:21:09
48 Lisa Frias 1:20:49
49 Joyanne Rolph 1:22:21
50 Kevin Pyne 1:22:22
51 Julian Nelson 1:22:23
52 Jenny Kane 1:22:28
53 Alex Adelsberg 1:22:28
54 Greg Wolfinger 1:22:30
55 Amy Wolfinger 1:22:33
56 Renie Marcos 1:24:28
57 Sonya Mello 1:23:46
58 Alberta Dyer Tucker 1:25:01
59 Karina Furbert-Delgadillo 1:25:51
60 Beatriz Cobeno Lopez 1:25:51
61 Anonymous Participant 1:25:52
62 Alexandra McInnes 1:27:28
63 Kelly Creighton 1:27:29
64 Amy Chan 1:29:28
65 Carla Chaves 1:29:32
66 James Tucker 1:22:20
67 Daniele Pucci 1:32:24
68 Jessica Siggins-pucci 1:32:28
69 Luis Portillo 1:33:05
70 James McInnes 1:33:07
71 Lucy Beedie 1:35:05
72 Verde Brown 1:35:06
73 Camille Goertzen 1:20:57
74 Anonymous Participant 1:49:40

Read More About