The Flying Phantom Series will take place in Bermuda from November 29th to December 2nd, with teams from Sweden, France, the United States, United Kingdom, Germany and Switzerland all set to hit the waters.
"An international fleet of Flying Phantoms will come together to enjoy 4 days of intense racing on Bermuda's Great Sound," the organisers said.
"Bermuda was host in October of the Louis Vuitton America's Cup World Series racing circuit and will be the venue for the 2017 America's Cup. With the Flying Phantom Series Bermuda 2015, it will confirm that Bermuda is the place to be for foiling events.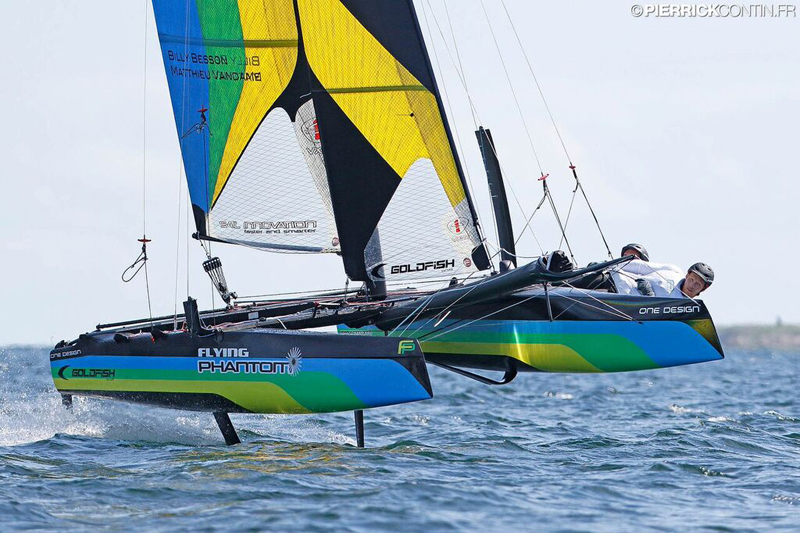 "The One Design races will take place in the Great Sound, the large body of water surrounded on almost all sides by the islands of Bermuda. A spectacular location offering what should be ideal conditions.
"The Flying Phantoms will be racing against each other on a course specially prepared by the Regatta Director David Campbell James. These courses will be laid out to offer a reaching start with a clearing mark in the middle, a leeward gate, a windward gate and a reaching finish after rounding the final mark.
"This should ensure fast, exciting and close racing on catamarans that take off in just seven knots of wind and can fly at two and half times the real wind speed.
"Thirteen Flying Phantom teams registered with two additional pending coming from Europe and USA as well as from Bermuda as Oracle Team USA and Artemis Racing have based their own Flying Phantoms there."
The entrants:
DMS Sailing team – UK: Tom Phipps & Jonathan Cook
Artemis Racing – SWE: Nathan Outteridge & Iain Jensen
Artemis Racing – SWE: Luke Parkinson & Ayden Menzies
Team Tilt – SUI: Sebastien Schneiter & Lucien Cujean
Sailing Team Phantomas – GER: Raphael Neuhann & Elias Neuhann
Lupe Tortillas – USA: John Tomko & Jonathan Atwood
Blag Flag Racing – FRA: Hugo Fedrigucci & Virgil Aubriot
Team Momentys – FRA: Normand Thomas & Antoine Joubert
Team Rogues – FRA: Sebastien Rogues & Cantin Roger
Team Zoulou – FRA: Erik Maris & Christian Tiggeler
Solidaires en Peloton – FRA: Thibaut Vauchel-Camus & Benjamin Lamotte
Phantom Sailing Team – FRA: Gurvan Bontemps & Benjamin Amoit
Phantom Sailing Team – FRA: Billy Besson & Matthieu Vandame
+ Pending Oracle Team USA
Phantom International said they wish to thank the sponsors and partners that made this possible: Bermuda Tourism, Harken, Gosling's Rum, Kaenon and Royal Bermuda Yacht Club.
Schedule of the event
Saturday 28 November
0900 – 1800 Measurement/Registration/Inspection
1730 Competitors Briefing
1800 Opening Ceremony
Sunday 29 November
Monday 30 November
Tuesday 1 December
Wednesday 2 December
1055 Racing
1730 Prize Giving and Closing Ceremony

Read More About