The Fairmont Southampton has continued its partnership with Family Centre, with contributions in 2015 totaling more than $20,000.
From colleague fundraising efforts to a Fairmont CARES grant, the year culminated with a donation of $10,000 at Fairmont's Christmas Trees of Hope Fundraiser on November 25. Christmas Trees of Hope is a holiday season charitable initiative in place at all Fairmont hotels in the Americas Region.
"We are delighted to partner with Family Centre and support all the good work they do for children and families in our community," said Shelley Meszoly, Regional Director of Sales and Marketing.
"The organization has also resonated with our colleagues who have supported through their fundraising efforts as well, which has been wonderful to see."
Sarah Dunstan and Martha Dismont of Family Centre, Stedman Graham, George Terpilowski, Regional Vice President, and Shelley Meszoly, Regional Director of Sales & Marketing: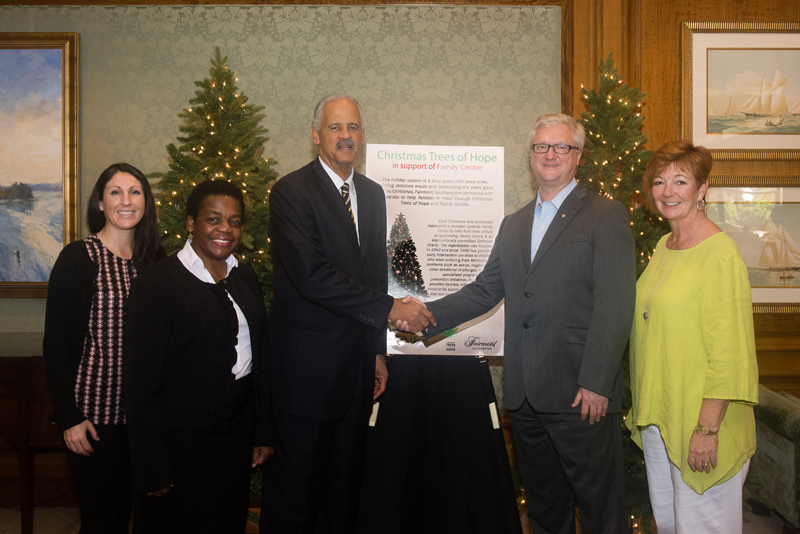 A spokesperson said, "Throughout 2015, in addition to Christmas Trees of Hope, Fairmont Southampton has supported the efforts of Family Centre in a number of ways.
"The hotel secured two Fairmont CARES grants from FRHI Hotels & Resorts, which helps support programs and initiatives in the communities where its hotels operate.
"One grant of $5,000 was awarded to Family Centre and another $5,000 grant was awarded to Beyond Rugby, one of the outreach programs administered by Family Centre. Fairmont Southampton also supported Family Centre's annual Beach Bash by donating the space for the event and recently hosted Beyond Rugby's end of the year celebration at Bacci.
"From a colleague perspective, the hotel's Service Plus Committee has selected Family Centre as the focus of its fundraising efforts. To support the organization, Service Plus hosted a car boot sale with the proceeds from its donation table benefitting Family Centre. In addition, the organization will also benefit from the hotel's non-perishable holiday food drive."
Shelley Meszoly  presents a check for $10,000 to Martha Dismont of Family Centre: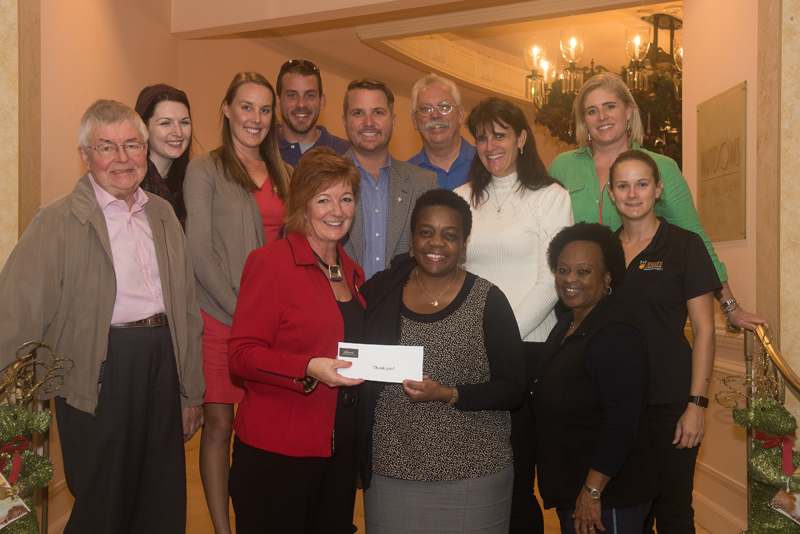 "We are delighted with the support we have received throughout the year from Fairmont Southampton," said Martha Dismont, Executive Director of Family Centre.
"It is deep partnerships like this that help drive our work with at risk youth forward. Without the generosity of the hotel and its Colleagues we would not be able to do the work that we do, supporting our young people and placing them on the path to success."
"It is a pleasure to be in Bermuda on such a beautiful island and to lend my support to the work of Family Centre," said Stedman Graham, philanthropist and Family Centre supporter.
"I want to congratulate Fairmont Southampton for their support of Family Centre and Bermuda's families through their Christmas Trees of Hope campaign.
"This campaign is a testimony to the tremendous giving spirit that I so often find in Bermuda. I wish Family Centre continued success in its vital work with the children and families of Bermuda."
Read More About