[Updated] Bermuda's Flora Duffy has just successfully defended her Xterra World Championships title, crossing the line in just over 2 hours 54 minutes to claim her second consecutive world title this afternoon [Nov 1] in Hawaii.
Photo courtesy of Xterra: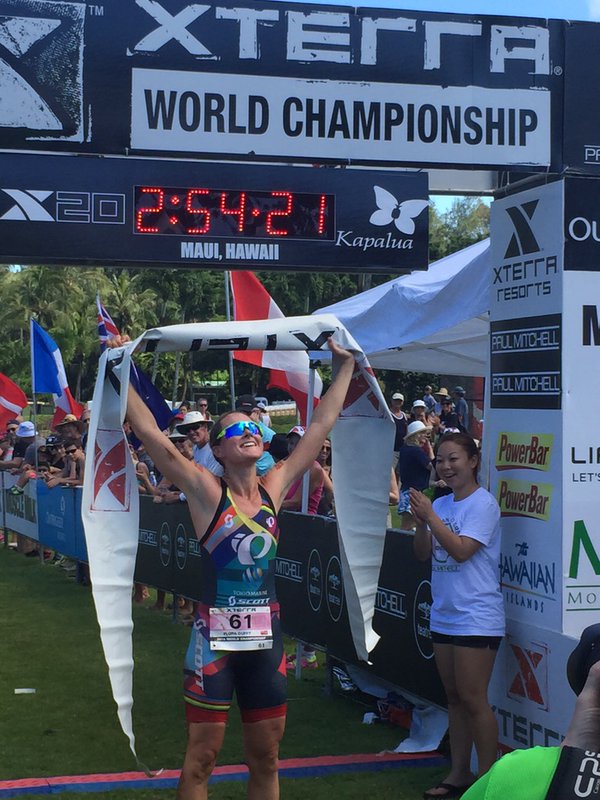 After winning her first world title last year, Duffy said: "I've dreamed of being a world champion since I was 8-years-old, so to make that dream a reality today is pretty special.
"Particularly coming from Bermuda; we don't – I think I'm the first world champion – hence why I grabbed the flag and just had so much, I guess, Bermudian pride.
"It means a lot to me to do this from Bermuda, we're a small little country and I love to represent them and put them on the map. So it's a huge day for me."
Today's race features some 800 top-level athletes from 40 countries, and is still underway as of this writing. We will update with additional information as able.
Update: Also in action from Bermuda was Neil de ste Croix and Laurie Orchard, who both produced solid results at the XTerra World Championships.
Neil de ste Croix completed the offroad event in 3:40:40 to take 14th place in the 50-54 Age Group, while Laurie Orchard finished 20th in the 40-44 Age Group and as the 96th female to cross the line with an overall time of 4:23:00.
Read More About