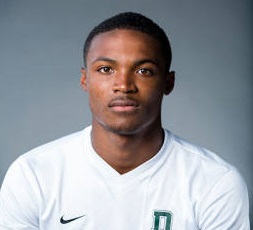 Bermuda's Justin Donawa scored his second gaol of the season for the Dartmouth College men's soccer team, however they ultimately fell to Syracuse by a score of 2-1.
"After opening scoring in the 29th minute with freshman Justin Donawa's second marker of the season, the Dartmouth men's soccer team ultimately fell to No. 6 Syracuse, 2-1, in the second round of the NCAA Tournament at the SU Soccer Stadium on Sunday afternoon," the College's match report said.
"The Big Green saw their season come to an end with a record of 12-6-1, while the Orange improved to 13-5-3 and will play the winner of the No. 11 Seattle/UCLA matchup in the third round next weekend.
"The home team held the lion's share of possession in the early stages of the first half, spending a lot of time deep in Dartmouth territory. The Orange had their first attempt just a minute and a half into the game, but a diving save by senior goalkeeper Stefan Cleveland kept things at zero.
"The Green got its first opportunity in the 19th minute when sophomore Matt Danilack won the ball and sent it to Donawa, who charged down the right side and had a great shot that flew just over the crossbar.
"Dartmouth's third shot of the game turned out to be the first goal of the day. At 29:12, Donawa received a cross from sophomore Matt Danilack and fired to the left of goalkeeper Robbie Landeros – who did not appear to see the shot coming – to give the Big Green a one-goal advantage with just over 15 minutes left in the first.
Video of Donawa's first goal of the season, a powerful strike from some 40 yards out:
Hey @TopDrawerSoccer how about this blast from Justin Donawa '19 for goal of the week. pic.twitter.com/NUR2UkIzvc

— Dartmouth M Soccer (@DartmouthMSoc) October 26, 2015
The visitors did not enjoy that lead for very long, as Ben Polk tied the score at one three minutes later at 32:15, getting "the ball from Julian Buescher in the box and shooting past Cleveland. This is the first time all season that one of the Green's opponents has scored a first-half goal."

Read More About