Earlier this year, the University of Oxford and the Bermuda Oxford and Cambridge Society hosted a panel discussion on the history of race and resistance in Bermuda, with six Bermudian authors reading excerpts from their books followed by a Q&A.
Authors left to right: Jonathan Smith, Dr. Eva Hodgson, Dale Butler, Walton Brown Jr, Wendy Davis Johnson [representing her father David Critchley], and Ottiwell Simmons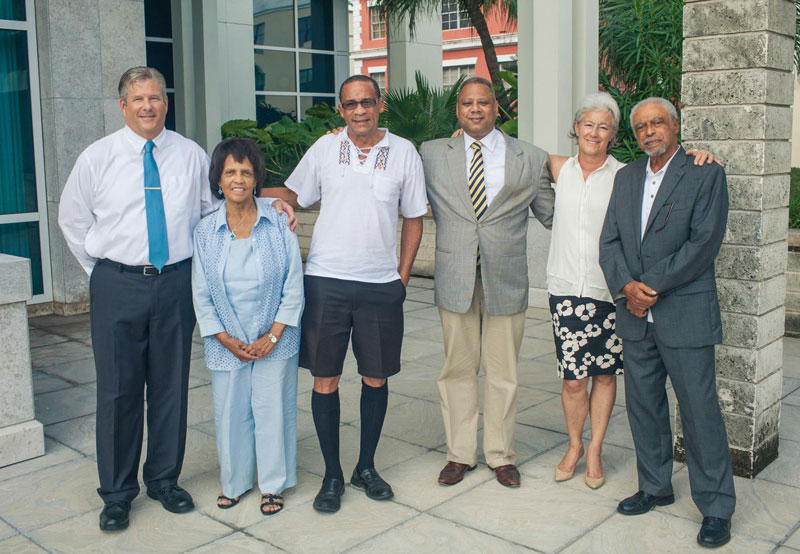 The event also celebrated the acquisition by Pembroke College [Oxford] of a collection of books on the history of Bermuda.
The Pembroke Bermuda Collection includes Gladys Morrell and the Women's Suffrage Movement in Bermuda by Colin Benbow; Mazumbo: Dr E.F. Gordon by Dale Butler; L Frederick Wade by Dale Butler; Bermuda and the Struggle for Reform: Race, Politics and Ideology by Walton Brown Jr; The Painted Lily by Amy Baker; Choir No. 1 & Choir No.2 by Hilton Hill; Second Class Citizens; First Class Men by Dr Eva Hodgson; Chained on the Rock, Slavery In Bermuda by Cyril Outerbridge Packwood, Edward Fraser: From Slave to Missionary by C F E Hallett and Echoes of Bermuda's Past: From Slavery to Emancipation and Beyond by James Smith.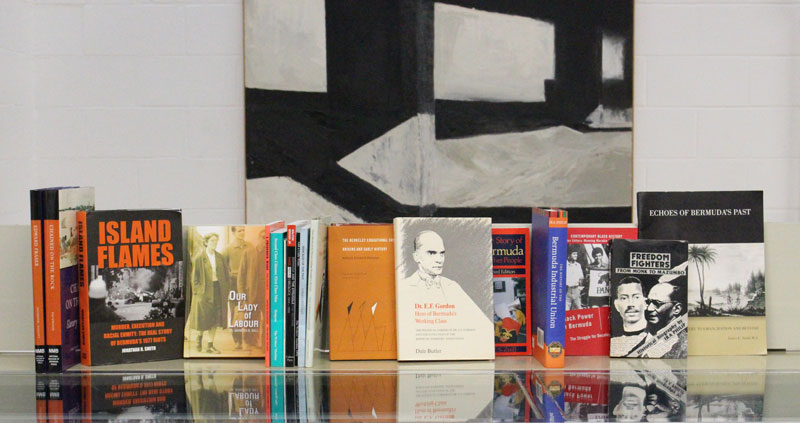 It also includes The History of the Bermuda Industrial Union by Ira Philip; Freedom fighters: from Monk to Mazumbo by Ira Philip; The History of Mary Prince: A West Indian Slave Narrative by Mary Prince; Heritage by Dr Kenneth Robinson; The Berkeley Educational Society's Origins and Early History by Dr Kenneth Robinson; Our Lady of Labour by Ottiwell Simmons; Island Flames: Murder, Execution and Racial Enmity: The Real Story of Bermuda's 1977 Riots by Jonathan Smith; Black Power In Bermuda by Dr Quito Swan; as well as The Story of Bermuda and Her People by W.S. Zuill.
One hour video: Bermuda Oxford and Cambridge Society Part 1
Oxford's Dr. Justine McConnell described the event as "an invaluable opportunity to focus a fresh spotlight on the history of race and resistance in Bermuda."
Professor Stephen Tuck, Professor of Modern History and Fellow at Pembroke College, said: "We are delighted to house this collection of books by Bermudian authors. Together, the books tell a challenging and inspiring history, a history that has much to teach students in Britain.
"To mark Black History Month, the collection is being displayed at the entrance to the library so that students from all subjects will see them — and rightly so."
One hour video: Bermuda Oxford and Cambridge Society Part 2
The organizers extended their special thanks to Professors Stephen Tuck and Justine McConnell, Pembroke College, The Oxford Research Centre in the Humanities, The Oxford Race and Resistance Network, The Bermuda Oxford and Cambridge Society, The Bermuda Library, The Brian Burland Centre, Jackie Aubrey, Angela Barry, Martin Buckley, John Collis, Laura Cracknell, Central Filing Limited, Alia Hamza, Ellen Hollis, Method Media and Dr. Arhat Virdi.

Read More About