"We decided that we would attempt to present an alternative vision for the country instead of overly focusing on criticizing the One Bermuda Alliance," Opposition Leader Marc Bean said, before expanding on some of the initiatives in the Opposition's Throne Speech reply including FinTech, transitioning away from middle schools, economic diversification and an integrated healthcare system.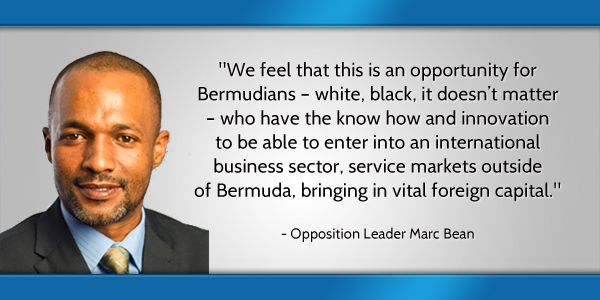 Alternative Vision
Speaking after he delivered the Opposition's official reply to the Throne Speech in the House of Assembly, Mr Bean told Bernews: "We decided that we would attempt to present an alternative vision for the country instead of overly focusing on criticizing the One Bermuda Alliance, their policies and even the Throne Speech from last week. We felt that it would be a disservice.
"Now, don't get me wrong, in the course of being able to present our alternative vision, we did have the opportunity to analyze some of the decisions that the One Bermuda Alliance have made, but that was not our focus.
Good Governance 
"Again, our focus was to present what started with fundamentally good governance, and I had the opportunity reiterate our position that we would have zero tolerance for corruption or graft, whether it was in the past, it's in the present or future.
"And we also encouraged the Minister of Finance Bob Richards to let us know what exactly he found under the hood when he was looking under the hood, and let everyone understand the information that he was able to glean from that investigation.
Fiscal Responsibility 
"Then we shifted to fiscal prudence and financial responsibility. Needed to make it clear that the next Government, the PLP Government would be extremely fiscally responsible.
"Our goal is to have a balanced budget after 5 years. The strategy to attain a balanced budget is not austerity cuts, but rather we will look to freeze spending, and through our diversification strategy, we would look to have private sector job growth thus allowing the government to add additional tax revenue from FinTech, online gaming and the blue economy. So that is our plan on how to have a balanced budget in the next five years.
Social
"Then we shifted to the social component of our plans which was focused on education reform, healthcare reform, seniors reform, and youth and sport reform and we touched in the end about the environment, energy, and public safety.
Education
"We feel that in order for our economic diversification to really take hold and Bermudians are fully participating in that diversification strategy, then education has to be at the center.
"We are not comfortable or pleased with education at the public level in this country. This is not an indictment on the One Bermuda Alliance, or the previous PLP Government, but our responsibility is to assess where public education is, and we have determined that it's now time to reform public education.
"And that includes getting rid of the middle schools, transitioning back towards a 7 year primary school and 5 year high school program. The high schools will be decentralized, so no longer will we have mega-schools."
Mr Bean added, "We will look to implement the CXC or Caribbean Examination Council's curriculum as a standard curriculum within our education system."
HealthCare
"Likewise in terms of healthcare, we broaden the debate from the normal allopathic or the type of medicine practiced in Bermuda today with our medical doctors to an integrated healthcare system.
"That means we take what exists, but also merge that with what is called naturopathy or naturopathic medicine, which is traditional and alternative medicines; Oriental medicine, Arabic medicine, Acupuncture, homeopathy, etc. all that comes under the broad definition of naturopathy.
"The reason why we feel the naturopathic approach is vital is because it's the lower cost, more effective way to get health and wellness, and you see the trend in the world today, inclusive of Bermuda, more and more persons are feeling not comfortable if they are under pharmaceutical drugs that they have to take as medicines.
"There is a safer method, which persons young and old, can adopt and that is through a natural proactive preventative lifestyles as termed as naturopathy. We're looking to transform our healthcare sector so that we can have positive patient outcomes.
"You'll notice that currently outside of broken bones or diagnosis of ones internal organs, most current western medicine does not heal disease. They might treat the symptoms, but they do not heal it. Naturopathy makes the claim that it can heal using natural techniques more inline with a persons constitutions.
"We are very pleased to be able to go in depth and explain how we feel that you have to have that integrated system of what exists now and what needs to come.
"We feel that overall that will help reduce healthcare costs, because if you can prevent sickness then there's no need to go to the hospital. If there's no need to go to the hospital or go to doctors, then that reduces that burden of health insurance companies and the like.
"This is the long term approach that we feel we need to take as a country in order to contain health care cost escalation.
FinTech
"We're very excited about financial technology. It is the high gross sector in the world today. You have London, Silicon Valley, New York, Sydney, and even small jurisdictions like the Isle of Man, who have been positioning themselves over the last 2 years to be able to benefit from this disruptive sector called FinTech.
"FinTech actually provides so much alternatives to the traditional banking system in terms of lending, money transmission, payments, and all the sub sects say they are able to again go into detail so the public can understand that this in fact is what the world's going to look like and be functioning off over over the next 3 to 5 years.
"And it just so happens that Bermuda is a jurisdiction that has many of the core ingredients for us to leverage to ensure that we can create a FinTech hub in this country.
"And if we can do that, and we feel with that, online gaming, and the blue economy, from a private sector perspective, jobs will be able to be generated, and Bermudians, most importantly, will have the opportunity to economically empower themselves through ownership. Ownership in an international business sector, that because of the minimum capital requirements for Fintech, is a reduced barrier to entry.
"Let me give you an example, international business is very important, is the key industry in our economy.
"We also know that in order to be an owner or a real player in international business, generally speaking you need millions of dollars. If you want to get into a class 4 insurance program or set up a class 4 insurer, you need hundreds of millions of dollars. Realistically speaking, Bermudians are not able to participate in IB except for being in senior management or an employee.
"We feel that this is an opportunity for Bermudians – white, black, it doesn't matter – who have the know how and innovation to be able to enter into an international business sector, service markets outside of Bermuda, bringing in vital foreign capital, foreign income.
"And at the same time, provide the opportunity for more employment to be created and as an indigenous race. We are very excited and we hope that the people take time to look at our plans in terms of Fintech because, rest assured, that is the new industry of the 21st century."
The full PLP response to the 2015 Throne Speech follows below [PDF here]:

Read More About