Greenrock said they "would like to thank those who took time out of their lunch hours, amid the Black Friday sales, to support our solidarity rally on climate change.
"Brief speeches were given by Councillor Dennis G Tucker [representing City Hall]; Senator Diallo Rabain [representing the Opposition]; Stuart Hayward [representing the Bermuda Environment & Sustainability Taskforce]; Eugene Dean [chair of the Greenrock Council] and Jonathan Starling [Greenrock's Executive Director]," Greenrock saod.
"The Government offered its regrets at not being able to send a representative, citing previous commitments. Greenrock would like to thank these speakers for contributing to the event.
"Greenrock would also like to thank City Hall for hosting the event, and Spanish Town for providing the audio system, and Charles Anderson for his photography skills.
"The purpose of the rally was to raise awareness about the upcoming climate change negotiations, to be held in Paris next week, and to demonstrate our solidarity with the Global Climate Change March that was scheduled for this Sunday in Paris.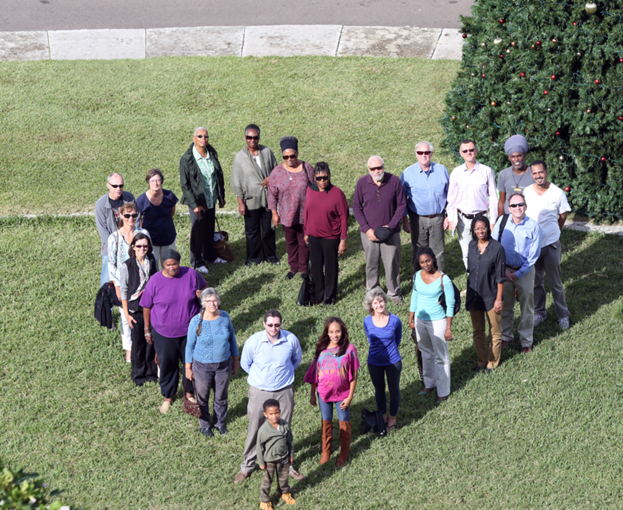 "Eugene Dean, the chair of the Greenrock Council, noted that while Bermuda may be a small country 'through our example we can show that living sustainably is real and something we can do in our future'.
"Stuart Hayward, the Executive Director of BEST, pointed out that climate change affects all of us, and stressed the need to 'think globally, but act locally, and act as your life depends on it, because it does.'
"In particular he noted that recognising the problem of climate change is the first step, and from there we can each commit to reducing our carbon footprint, saying that touches on how we approach transportation, food and energy consumption habits 'at home, at school and at work.'
"Senator Diallo Rabain added that the issue of climate change has been discussed for some time, noting that there 'will always be competing interests, that being to protect the environment yet also promote tourism and other types of development.
"That ought to be a challenge for every country, but with the necessary consultation with the right stakeholders such as Greenrock and the like, our country and citizens can be agents of change and provide the necessary impetus to be stewards for the environment for future generations while encouraging sustainable development.'
"Councillor Dennis Tucker, representing City Hall noted that while the terrorist attacks in Paris this month has led the French Government to cancel the Global Climate March scheduled for this Sunday 'by no means does this put a stop to the message the Global March for Climate Change is sending across the world.
"The call has been made for countries across the globe to stand in solidarity with our Parisian friends and to bring awareness to our own communities about what we can do to bring awareness to the plight of our planet concerning climate change.'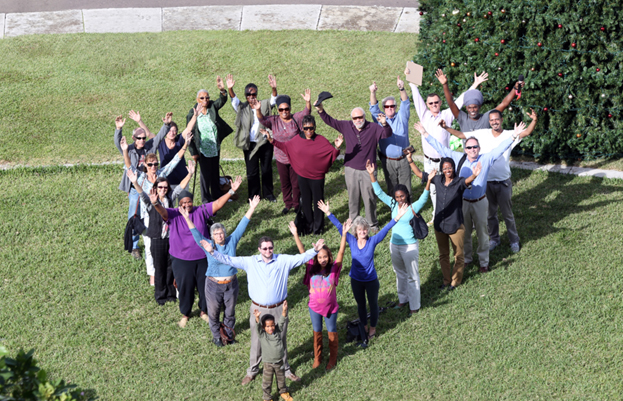 "Following the speeches, some of those in attendance helped form a symbolic heart shape on City Hall's lawn to demonstrate our solidarity with those in Paris and the climate change negotiations to be held there.
"Greenrock believes that the island needs to start taking the issue of global climate change seriously, and notes the 2008 report commissioned by Dr Anne Glasspool for the Bermuda National Trust 'The Impact of Climate Change in Bermuda'. The report highlights the many ways that global climate change will impact Bermuda socially, economically and environmentally.
"While Bermuda may not be a huge contributor in terms of greenhouse gases, on a per-capita basis we are one of the highest emitters in the world, and will be highly impacted by climate change if it is not halted by an ambitious global strategy.
"Bermuda also has an obligation under the Kyoto Protocol to reduce our greenhouse gas emissions, and we call on the Government to develop an action plan to do just this, building on the targets set in the 2011 Energy White Paper to lower our emissions to 30 percent below 2008 levels.
"In addition to Government measuring our greenhouse gas emissions and setting ambitious targets to reduce them and our reliance on fossil-fuels generally, each one of us has a role to play in our day-to-day lives. This can be something as simple as using reusable bags for shopping, conserving energy in our homes and offices or simply becoming more informed about climate change and how it will impact Bermuda.
"Greenrock looks forward to continuing to contribute to the conversation on climate change, its impact on Bermuda and what part Bermuda, and each one of us, can play to address it going forward."
A Government spokesperson said, "The Ministry of Health, Seniors and Environment applauds Greenrock for spearheading the important dialogue on climate change, through its rally at City Hall on Friday 27th November at 12.30pm.
"The Ministry supports the intent and the sentiments shared by attendees. The Minister of Health, Seniors and Environment Jean J. Atherden was at the House of Assembly at the time of the rally so was not able to attend. But the Ministry looks forward to future opportunities to collaborate."

Read More About
Category: All, Environment, News