After spending ten weeks in Borneo doing volunteer work with Raleigh Bermuda, 18-year-old Bermuda College student Jendaya Mills-Paynter [pictured] plans to mark her 19th birthday by giving back, and is working to put together a Christmas hamper for a local family in need.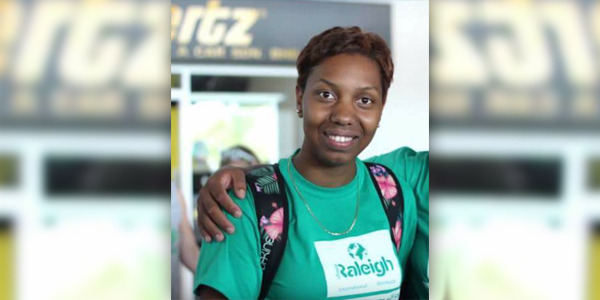 The hamper will be given away on December 18, which also marks the student's birthday.
In describing her time in Malaysia, Ms. Mills-Paynter said, "As you can imagine it was an amazing experience; however, it was much more than just an experience. I was able to help build a Community Learning Center for locals of a small village.
"I was able to be apart of the process of getting the oldest rain forest in the world protected.
"Also, I was able to spend 19 days trekking through the jungles and mountains whilst carrying food, equipment and personal items.Through Raleigh Bermuda, I was not only able to help the people of Borneo, Malaysia, but myself as well. This time in Borneo made grateful for the small things that I had while out there and back at home.
"I can not really express my whole experience with Raleigh Bermuda in words; but, I can express my experience in actions.
"I'm asking for help from the community, family, and friends to help give a family in need of an amazing Christmas by e-mailing or by sending a Facebook message to enter a family who you know is in need of a great Christmas and they will be put in a draw to fairly pick the family.
"I am accepting names and contact details from November 5th to November 30th. I will than pick a name by December 3rd, and give the hamper out on my birthday, December 18th."
To contribute items for the hamper, or to submit the name of a person in need this Christmas, contact Ms. Mills-Paynter via email at jendayamp@gmail.com. She stressed that the information sent to her will be kept confidential.

Read More About