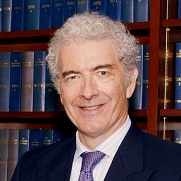 Government House today confirmed that the Director of Public Prosecutions Rory Field has informed the Governor that he will be leaving his post at the end of February 2016 in order to "take up a new opportunity."
Governor George Fergusson said: "I have accepted Mr Field's resignation with regret. He has done an excellent job – which is not yet quite over.
"I have asked the Chair of the Judicial and Legal Services Committee to begin the search for a successor."
Rory Field was first appointed as Director of Public Prosecutions of Bermuda in 2007, and his subsequent reappointments caused some controversy.
Shadow Attorney-General Michael Scott previously said, "The reappointment of Rory Field is a slap in the face to not just the qualified, capable Bermudians who have been overlooked, but to everyone who believes that Bermudians should come first in jobs and opportunities in our own country.
"To simply roll over Mr. Field's work permit while qualified Bermudians are left in the cold is an insult to Bermudians and yet another confirmation that our country is headed in the wrong direction."
After Mr Field's last re-appointment in January 2015, a Cabinet Office spokesperson said, "Naturally, the Premier is disappointed that a suitably qualified Bermudian has not been appointed.
"After expressing every intention to appoint a Bermudian DPP in 2007, 2010 and 2013, it is most unfortunate that the process adopted by Government House appears unable to make those intentions a reality."
"The Cabinet Office noted that concerns regarding this matter have been raised previously by the Premier.
"The Cabinet Office confirmed that the Premier had 'strongly expressed' his concern to the Governor and further indicated that he would once again raise the matter with Minister James Duddridge MP, Parliamentary Under Secretary of State in London, who is responsible for Bermuda and the Overseas Territories."
Mr Field's bio on the Government website says, "He was called to the Bar in London in 1980 and is a member of the Middle Temple. He practices in London from 15 New Bridge Street Chambers [the Chambers of Pat Upward QC] and specialises in criminal prosecution and defence. He covers all areas of serious crime.
"In 2003 – 2007 he was legal advisor on organized crime to the OSCE Mission to Serbia. As such he advised the Serbian Ministry of Justice, the Chief Prosecutor of Serbia and the Organised Crime Prosecutor of Serbia on how to fight organized crime and serious crime more effectively through legislative and institutional improvements.
"He instigated several important developments in areas such as witness protection, hi-tec crime, asset confiscation and the development of international approaches to fighting cross border crime.
"In 1999 – 2001 he served as Director of Public Prosecutions of Belize. Whilst there, he personally prosecuted many of the most serious and high profile cases that came before the Supreme Court. He prosecuted almost every case which came before the Court of Appeal. He also prosecuted 2 murder cases before the Privy Council.
"Prior to his experience in Belize, Rory was Treasurer of the Bar Human Rights Committee of England and Wales. As such, he undertook on his own two missions to Sierra Leone in 1998 and led a mission to Turkey in 1999.
"More recently in 2007 he was one of 4 international experts on an 11- day EU Mission to the Philippines to find methods to deal with the recent spate of extra judicial killings. His advice was particularly sought on issues of prosecution enhancement and witness protection."
Read More About