FIFA Presidential candidate HRH Prince Ali of Jordan visited Bermuda last night [Dec 8] whilst en route on a trans-Atlantic flight, taking time to meet with both the Bermuda Football Association Executive Council and Minister of Community, Culture and Sports Patricia Gordon-Pamplin.
"Prince Ali met with the Bermuda FA Executive Council where he outlined his campaign and held a question and answer session," the BFA said. "Patricia Gordon-Pamplin, Minister of Community, Culture and Sports was on hand to greet Prince Ali on behalf of the people of Bermuda."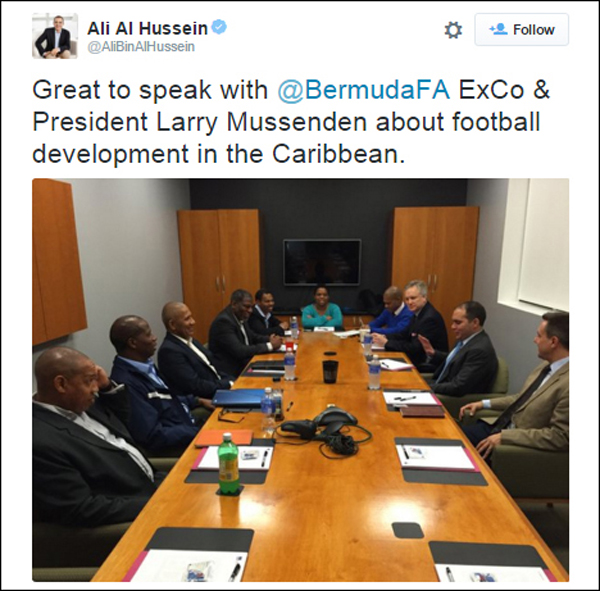 In announcing his intention to stand as a candidate for President of FIFA earlier this year, HRH Prince Ali Bin Al Hussein said: "I am seeking the presidency of FIFA because I believe it is time to shift the focus away from administrative controversy and back to sport.
"This was not an easy decision. It came after careful consideration and many discussions with respected FIFA colleagues over the last few months. The message I heard, over and over, was that it is time for a change.
"The world's game deserves a world-class governing body — an International Federation that is a service organisation and a model of ethics, transparency and good governance."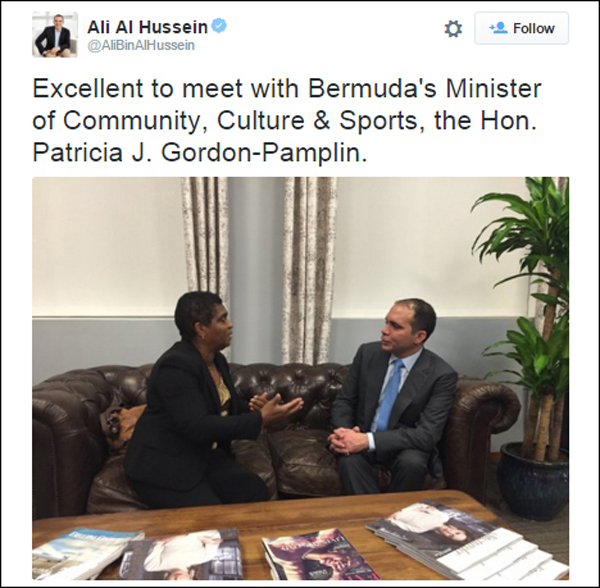 According to the Jordan Football Association website, Prince Ali has served as President of the Jordan Football Association since 1999, and was elected FIFA Vice President representing Asia in 2011.
He serves as Chairman of the Fair Play and Social Responsibility Committee and Deputy Chairman of the Football Committee at FIFA, as well as Chairman of the Social Responsibility Committee and Deputy Chairman of the Development Committee at AFC.

Read More About