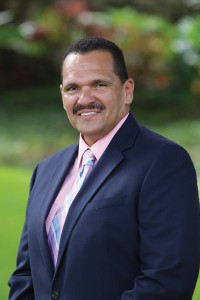 The KeyTech Group of Companies today [Dec 30] announced a loss of $3.1 million for the six-month period ended September 30, 2015, compared with a loss of $19.9 million for the same period in the prior year.
"This is an improvement of $0.1 million when normalized for the loss on the sale of BTC. The loss for the period is related to one-time costs associated with the merger of Bermuda CableVision Limited and Logic Communications Ltd. [Logic], redundancies and increased finance costs," the company said.
KeyTech CEO, Lloyd Fray [pictured] commented: "KeyTech continues to execute its strategy to strengthen its market position through acquisitions, mergers and investment in fibre networks in both Bermuda and Cayman.
"The telecommunications market in Bermuda has undergone a major transformation as the industry embraces technological advancements as well as growing consumer demand for bandwidth, while operating in a challenging economic climate. As a result, KeyTech sought and negotiated an equity injection to strengthen its balance sheet and reinforce its product offerings so it can expand its product base from triple-play to quad-play services.
"In October 2015, KeyTech entered into an agreement with Atlantic Tele-Networks, Inc. [ATN] for KeyTech to acquire ATN's shareholding in CellOne in exchange for $42 million in cash and shares in KeyTech, which will result in ATN having a 51 per cent interest in KeyTech.
"Once the transaction is completed, KeyTech will be able to draw upon ATN's international experience and assets in digital wireless, wire-line and both terrestrial and submarine fibre-optic networks. The transaction is subject to regulatory approvals in both Bermuda and Cayman."
The company said, "In July 2015, KeyTech acquired the remaining shares in Bermuda CableVision and subsequently merged CableVision with Logic Communications. The combined entity now operates as Logic and offers customers internet access, ISP services, subscription television and long-distance voice services. In early 2016, Logic will continue investing in its access network with additional fibre that will increase bandwidth, improve the overall customer experience and push fibre closer to the home.
"In August 2015, Logic increased its off-island bandwidth and is expanding its fibre footprint in the City of Hamilton. These investments will allow Logic to offer end-to-end corporate solutions that will include the local loop portion for dedicated internet and MPLS services.
"Logic Cayman has completed its network and operational integration following the acquisition of WestStar TV. Networks have been converged and operations and workforces have been streamlined. Additional off-island capacity has been acquired and the build out of the fibre network continues. The assets of the broadcast business were sold in July 2015.
"Operating revenues for the period were $46.0 million. Data revenue growth primarily is being driven by the success of Logic's bundled product of internet access and ISP in Bermuda as well as growth in Cayman. Television revenues increased from the acquisition of CableVision and WestStar. Voice revenues declined $0.1 million as customers continue to move towards cellular and internet-based voice services.
"Total operating expenses increased $22.8 million. The increase is directly related to the addition of both Bermuda CableVision and WestStar operations, including programming content costs for subscription-television services in both Bermuda and Cayman as well as an investment in international connectivity for MPLS services. Depreciation and amortization increases were driven by both purchase price accounting and increased depreciable assets from the BOTCAT acquisition. The increase in Government taxes is directly correlated to the increase in revenues.
"KeyTech's long-term debt was reduced by $3.2 million during the period. The company purchased the minority shares of Bermuda CableVision for $3.4 million, of which $1.6 million has been claimed as of September 30, 2015. At the close of the ATN transaction, the company will retire the $24.7 million of subordinated debt.
"Earnings per share for the six-month period ending September 30th, 2015 was a loss of $0.20 compared to a loss per share of $1.20 for the same period last year. The company will declare a special dividend of $0.75 per share to shareholders of record immediately prior to the closing of the ATN transaction."
Mr. Fray added: "KeyTech will continue to seek opportunities to leverage its assets, create efficiencies and drive revenue growth through consolidation and investment in infrastructure in its operating subsidiaries in both Bermuda and Cayman."

Read More About
Category: All, Business, technology