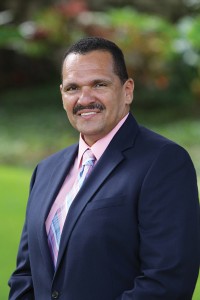 The KeyTech Group of Companies today [Mar 24] announced a loss of $19.9 million for the six month period ended September 30, 2014, compared with earnings of $6.4 million for the same period in the prior year. The loss was related to the sale of BTC.
KeyTech CEO, Lloyd Fray [pictured] commented: "During the six month period ended September 30th, 2014, KeyTech was focused on the ongoing transformation of its operating entities.
"The telecommunications markets in Bermuda and Cayman were both faced with technological obsolescence and competitive pricing pressure. The Group's subsidiaries and associates were also subject to constraints imposed by the Bermuda Regulatory Authority.
"As a result, KeyTech acquired BOTCAT Holdings Ltd. ["BOTCAT"] which consolidated the market in Cayman and increased Logic Cayman's customer base while they continue to build a fiber network island wide.
"In Bermuda, this transaction increased KeyTech's shareholding in Bermuda CableVision Limited [BCV] whose network is a coaxial fiber hybrid that can be upgraded more efficiently and cost effectively than a copper network.
"The Bermuda Regulatory Authority's approval for this transaction was contingent upon KeyTech divesting ownership of The Bermuda Telephone Company Limited [BTC]. The reason for this condition was to prohibit KeyTech from having a controlling interest in both of Bermuda's residential access providers for any period of time."
The company said, "The six month financial statements account for BCV earnings as an equity pickup. BCV will be fully consolidated into KeyTech's earnings for the fiscal year ended March 31, 2015. Operating revenues for the period were $39.0 million.
"Declines in data and voice revenues reflect the sale of BTC and the price adjustment for Logic's residential ISP service in October, 2013 compared to the prior period. Bermuda Yellow Pages revenues declined as the market for directory and digital media sales remained weak. Fixed data revenues and other revenues increased from the acquisition of WestStar in Cayman.
"Total operating expenses increased $0.5 million. One-time expenses related to the sale of BTC and the acquisition of BOTCAT totaled $1.8 million. Other expense decreases relate to the disposal of BTC.
"KeyTech's long term debt increased by $44.1 million to acquire BOTCAT and there is a loan receivable for $5.0 million from the sale of BTC.
"KeyTech reduced its liability related to current and future pension obligations for BTC's defined benefit plan by $4.3 million as BTC retained this liability.
"Earnings per share for the six month period ending September 30th, 2014 was a loss of $1.31 compared to earnings per share of $0.34 for the same period last year. The Company declared dividends of $0.09 per share in March and June of 2014 which were paid in April 2014 and July 2014 respectively."
Mr. Fray added: "We are committed to positioning the KeyTech Group as the market leader for the 21st Century. The telecommunications landscape has changed dramatically over the last decade and customers now demand high speed bandwidth to support increased lifestyle applications.
"The Group had been hampered by legacy on-island networks and cost prohibitive off-island capacity which prompted KeyTech to build the Challenger sub-sea cable system in 2008. The BOTCAT acquisition is a continuation of this strategy for on-island "future-proofed" networks in both Bermuda and Cayman."
The Bermuda Stock Exchange granted a three month extension for filing this six month report due to the accounting complexities resulting from the various transactions.
Read More About
Category: All, Business, technology