[Updated] A gay couple have filed an official notice with the Registrar General that they want to get married in Bermuda, saying that "it would set a precedent, and we would be equal in the eyes of the law."
Bermudian Ijumo Hayward, 46, and American Clarence Williams III, 40, have filed a Notice of Intended Marriage to the Registrar General.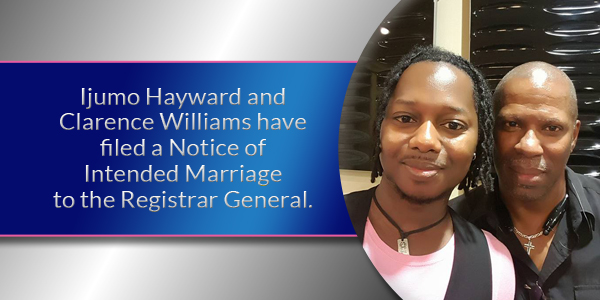 Mr Hayward told Bernews: "I grew up in Bermuda and I have Bermudian parents. I want to get married but my marriage would not be recognised in Bermuda and along with that come all the privileges that heterosexual couples have when they are married.
"My husband would not be able to come to Bermuda to work and we would have issues over things like property that might be left to me. There are a myriad of issues that would restrict my marriage from being equal to that of a heterosexual couple."
He added: "Even if I was married here in the States, Bermuda would still not necessarily recognise my marriage. Coming back to Bermuda would just be like I was single.
"Allowing same sex marriage in Bermuda is part of our thinking as well. It would set a precedent and we would be equal in the eyes of the law regardless of what certain religious factions may believe.
"To those who are against – why are you against it? Biblically speaking, those people who claim to be Christ-like, Christ said nothing about homosexuality.
"If you are going to be Christ-like then, just like Christ, you should have nothing to say about homosexuality, absolutely zero."
The couple are being represented by former Attorney General Mark Pettingill who said you "you cannot withhold services on the basis of any form of discrimination."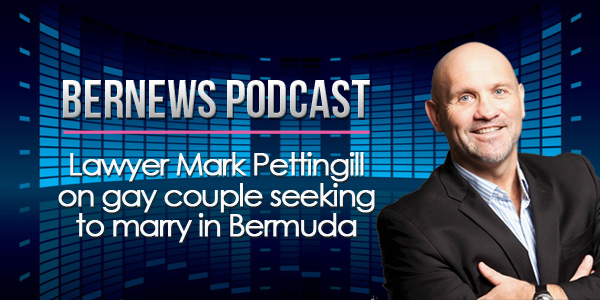 Mr Pettingill told Bernews, "We take the position that, given the provisions in the Human Rights Act, the primacy of the Human Rights Act, which was touched on recently by the Chief Justice, I held the view for a long time that, as a result of the law that was changed with regard to discrimination on sexual orientation, that the provision of services – which is what occurs under the Marriage Act – it's a service that's provided by the Registrar to marry people or to give them a marriage license.
"The Act is clear that you cannot withhold services on the basis of any form of discrimination, and I don't think that that is overly complicated."
"We have covered that [application for marriage] with a letter to the Registrar to indicate that this is an application by a same sex couple and what our view is, and what the next steps should be."
He said the application had to be put in the official notice book, it had to be posted in a conspicuous place in the Registrar's Office and within three days of the notice being received, it has to be published in the Official Gazette.
If those steps are followed, said Mr Pettingill, it would open the door for Mr Hayward and Mr Williams to be married.
When asked if the Marriage Act specifies it must be between a man and a woman, Mr Pettingill said, "No, it doesn't, and that's the very significant point."
12-minute podcast interview with Mark Pettingill.
The couple's bid is being supported by Tony Brannon, who is campaigning in favour of same sex marriage.
"The reason why I have spent an incredible amount of time, energy and resources on same sex marriage is because I fundamentally believe that same sex marriage is a human right," Mr Brannon told Bernews.
"Earlier this year a lesbian couple were denied the right to marry on a Bermuda registered cruise ship. This energized me to create a petition.
"The success of the petition has led to the OBA Government holding Information Sessions which were hugely successful and supported by a majority of those in favour of same sex marriage.
"The natural progression has been to find a same sex couple to apply to be married in Bermuda. This day has come."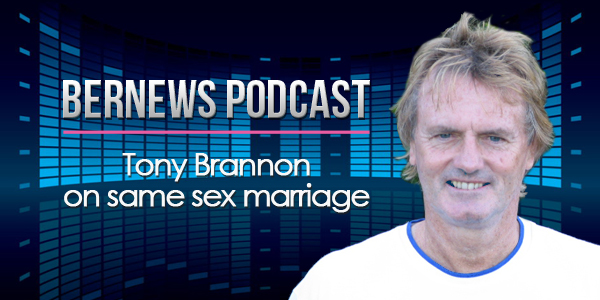 He added: "The recent ruling last Friday by the Chief Justice for same sex couples to live, reside and work in Bermuda, plus the fact that I believe the Human Rights Act trumps any other legislation that is discriminatory, is the reason for the timing of this application for Bermuda's first same sex couple to be married."
"Now is the time to settle this matter once and for all and there is no better place than the courts to decide. In truth, it shouldn't even need to go there. Today, is hopefully the dawn of a new day for human rights in Bermuda where love can be recognized no matter the combination of the partners."
26-minute podcast with Tony Brannon:
The couple's "Notice of Intended Marriage" as filed with the Registrar General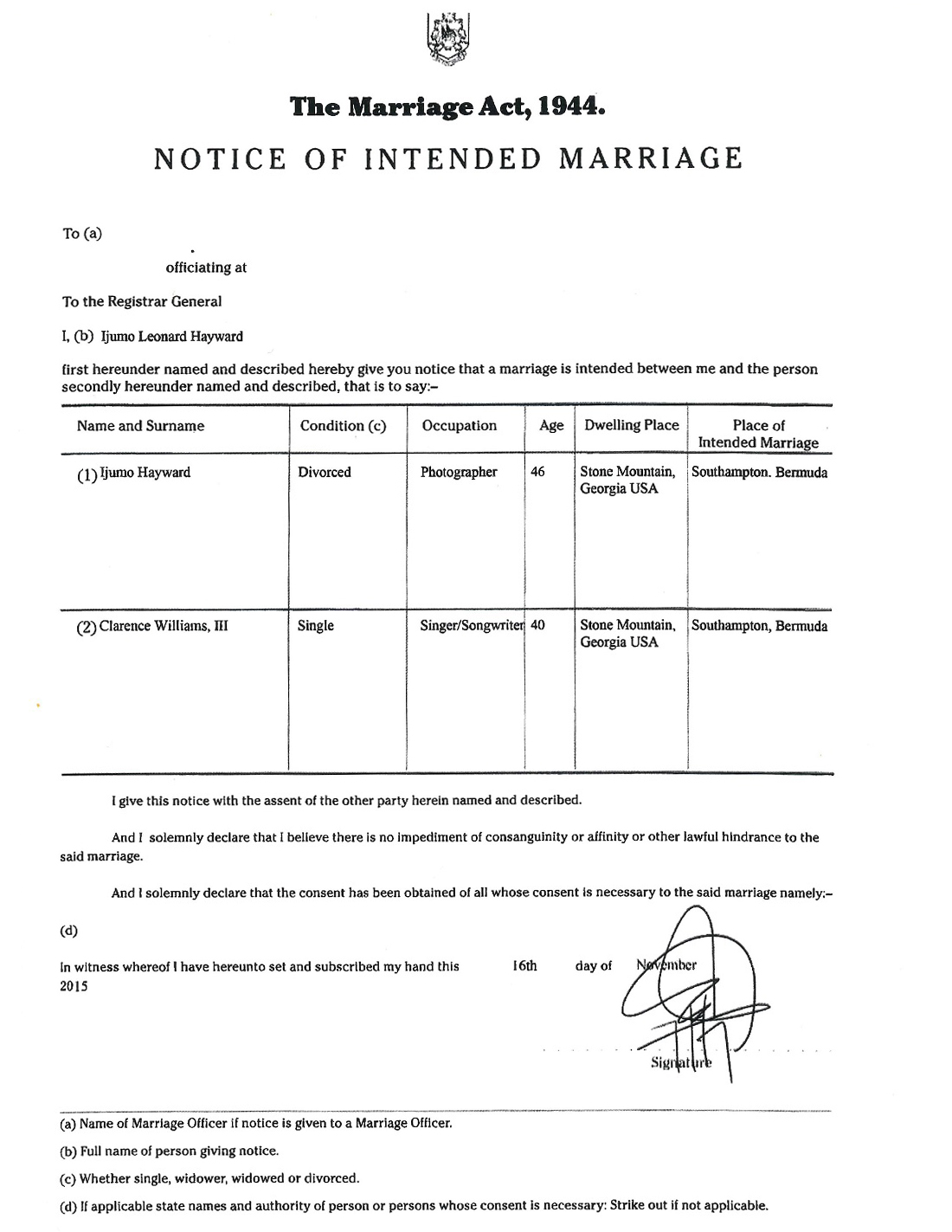 Bernews' podcasts aim to provide an in-depth look at current affairs, and the text extracts above represent only a small portion of the full interviews.
You can also download the episode featuring Mark Pettingill in MP3 format here, download the episode featuring Tony Brannon in MP3 format here, and you can also subscribe via iTunes to download all our podcasts directly to your phone or tablet.
Update 3:30pm: In response to our queries, the Ministry of Home Affair said: "The Minister of Home Affairs is well aware of the application and is consulting with Chambers on the matter.
"A hearing is scheduled on Monday 7th December 2015 in respect of issues relating to the Bermuda Bred Company Ltd judgment last week which we believe will add clarity to the matter as a whole."

Read More About