The RC44 Class will celebrate its tenth year in 2016 by visiting two new sailing venues, one of which is Bermuda, with the organisers saying that "with ideal sailing conditions on offer, Bermuda was an easy venue choice for the tour."
The event will take place in Bermuda from March 2 through March 6, 2016.
The announcement said, "The RC44 Class will make its first-ever visit to Bermuda to kick off the 2016 season before competing at some of Europe's most celebrated sailing venues, including a return to the beautiful Sotogrande, Spain, where an early World Championship will be held.
"Marking the half-way stage of the Tour with a debut in Gosport/Portsmouth, United Kingdom, the teams will then revisit Cascais, Portugal, an old Class favourite, before heading back to Valletta, Malta to finish off the season in the historic 'City of the Knights'."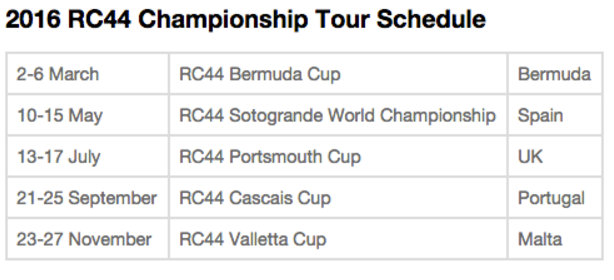 The Royal Bermuda Yacht Club's Regatta Chairman Andy Cox said, "Bermuda is honoured to be the latest host location in the RC44 series.
"Our island is globally recognized as providing some of the most challenging, as well as beautiful, waters for sailing competition, and we hope the RC44 teams will enjoy the experience."
"The competition within the Class is at an all time high. Every team has the ability to win races and many are capable of challenging for the overall victory," the organisers said.
"Proven by the fact that a different RC44 team won each of the five events this season and embraced by owners and the world's most talented sailors alike, the 2016 RC44 Championship Tour line up is looking as strong as ever."

Read More About