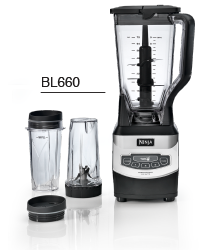 Consumer Affairs is advising Bermuda residents that a recall alert has been issued for SharkNinja® BL660 series professional blenders after consumers complained of laceration injuries.
"The blender poses a laceration risk if consumers pour or invert the pitcher after removing the lid while the loose stacked blade assembly is still inside the pitcher," a spokesperson said.
"Consumers should empty the blender's pitcher through the locked lid's pour spout or by removing both the lid and the stacked blade assembly from the pitcher before pouring.
"This recall involves 12 models of Ninja professional blenders with model numbers that start with BL 660, BL 663 or BL 665.
"The model number is in the rating label that is molded into the bottom of the motor base.
The 12 affected model numbers are:
BL 660′s: BL660, BL660B, BL660C, BL660QCN, BL660QPL, BL660W, BL660WM
BL 663′s: BL663, BL663CO
BL 665′s: BL665QBK, BL665QCN, and BL665QWH
All of these models have a clear 72 ounce pitcher with a removable gray or black lid that opens and locks closed a stacked blade assembly, and one or more Nutri Ninja cups. All recalled models have a motor base that is gray, white, black, cinnamon, or platinum.
"The power of the motors varies from 1,000 to 1,200 watts.  The recalled models may have been sold with additional accessories, including a 40 or 64 ounce bowl, a chopping blade assembly, or a dull dough blade assembly.
"Consumers need not return the blenders to the place of purchase but should download the new Manual for the revised safety instructions at www.ninjarecall.com .
"SharkNinja toll-free at [877] 593-5140 from 7 a.m. to 11 p.m. ET Monday through Saturday, 9 a.m. to 8 p.m. on Sunday."
Read More About