The Bermuda Economic Development Corporation [BEDC] held its second annual Future Agro Challenge [FAC] on Wednesday, January 13 at the Department of Environmental Protection, with Omari Dill winning the competition, and Marcus Wade placing as first runner up.
A spokesperson said, "FAC was designed to help identify solutions to the complex global challenge of feeding the world's growing population. By identifying innovators that have creative solutions to their own national problems, FAC seeks to highlight social entrepreneurs across regions and bring them together in order to preserve the future of agribusiness.
"The local competition sought to identify entrepreneurs that are actively working to create and maintain a vibrant agro culture in Bermuda.
"The final competition came down to two young, ambitious, agro-entrepreneurs pitching their business ideas: Marcus Wade, Wade's Garden Foods, utilising vertical aeroponic technology to supplement the traditional farming practices in Bermuda and Omari Dill for Utopia with his sustainable agriculture and edible landscaping consultancy.
"The judges had a difficult time of selecting a winner as both presentations were delivered well. After deliberating, the judges confirmed their National winner, by just two points: Omari Dill with Marcus Wade as 1st runner up."
Erica Smith, Jonathan Starling, Omari Dill, Curtis Dickinson, Marcus Wade, Jamillah Lodge, and Thomas Sinclair: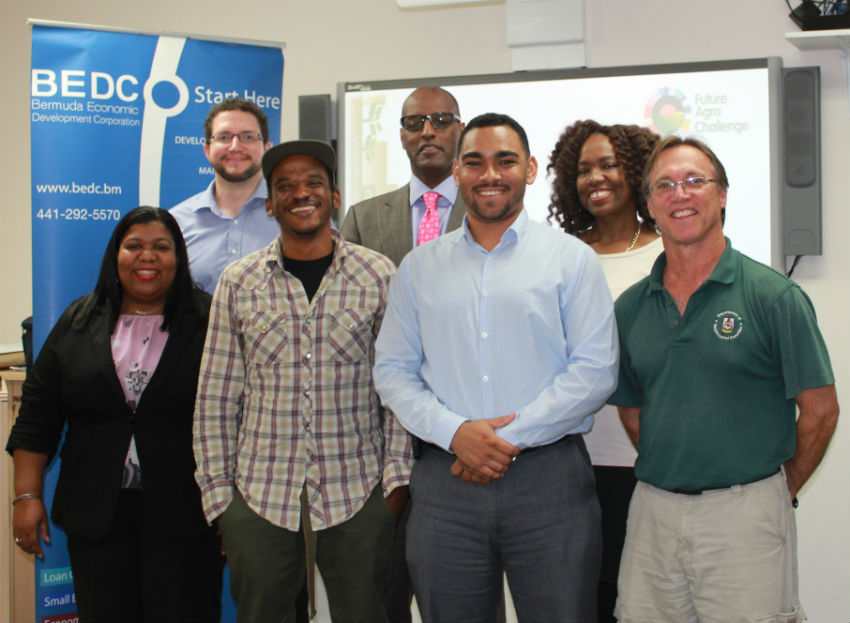 Mr. Dill said, "I am pleasantly surprised and humbled at being selected. My goal for starting Utopia has always been to move Bermuda towards local food sustainability by incorporating education, edible landscaping and apprenticeships into my business model."
"The competition's judges included Thomas Sinclair, The Government Agricultural Officer with the Department of Environmental Protection; Jonathan Starling the Executive Director of Greenrock; and Curtis Dickinson, Executive Vice-President of Butterfield Bank and Head of the Bank's Group Capital Markets & Treasury Division as well as BEDC's Deputy Chairman.
Mr. Dickinson said, "Using Bermuda's residents to solve the problem of a decline in locally sourced food is an excellent idea. With edible landscaping, Omari is addressing the problem of an aging farming population by bringing out the farmer in each one of us."
"Thanks to our gracious sponsors, The Department of Parks and the Department of Environmental Protection, the Bermuda National winner will get a chance to pitch their idea, at the global finals in Medellin, Columbia during the Global Entrepreneurship Congress in March 2016. Last year, Bermuda won big, with Bermuda Aerial Media taking home the top prize of €7,000.
"Again, Bermuda will be competing against some of the world's most promising startups in the Agri-business sector thus we wish Omari much success."
Read More About
Category: All, Environment, News