West Ham United announced the signing of Nathan Trott on a two-and-a-half year deal today [Jan 22], calling him an "exciting young goalkeeper" who is "widely regarded as one of the best young goalkeepers around."
The club said, "The Bermudian-born shot stopper has put pen to paper on a long term deal which, subject to FIFA approval and International clearance, will keep him at the Club until June 2018. Trott is widely regarded as one of the best young goalkeepers around, having impressed during his trial at the Club.
"Speaking after committing his future to the Hammers, a delighted Trott said: "I'm very happy; there's been a lot of hard work put into this, not just by myself but also my Dad, my agent and all my family. I was very surprised when they told me; it's a huge moment for me. I like it a lot here, I love the club. Everyone round here is very friendly."
"Having impressed during his trial the keeper can't wait to keep learning at the Academy of Football.
"Trott continued: "I came here for a trial a few months ago and I knew during my second week here that West Ham were interested.
"The coaches at the Academy have made it very easy to settle in, so have the players, they're very friendly."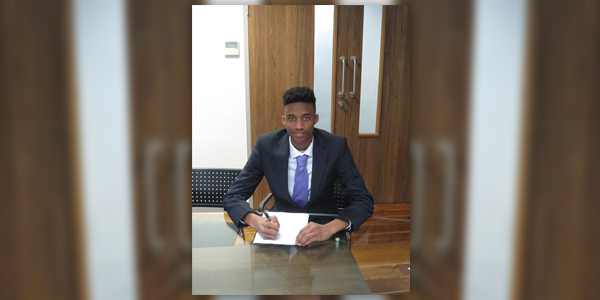 So highly sought-after is Trott that as part of his trial the youngster was thrown into the deep end – training alongside first team stoppers Adrian and Darren Randolph.
"Trott continued: "I've had a few training sessions with the first team which was really exciting, you have to work hard! It was a great experience, it was scary at first, I was pretty nervous but I got used to it and will hopefully do it again soon."
"When asked about his playing style and keepers he admires, Trott named arguably three of the best in world football: "I look up to David De Gea, Petr Cech and Thibaut Courtois, they are my favourites."
"And as for the youngster's own strengths? "I like to think my footwork and my reflexes are my main strengths. I have a few areas to improve but I am confident I can do that.
"Now, I just want to get as much game time as possible under my belt."
"While Trott is clearly delighted to have signed for the Hammers, he has already set his sights on the future and playing at the club's fantastic new stadium.
"Trott explained: "The new stadium was definitely a factor in my decision, it's big!
"I haven't visited yet but I've seen pictures and the goal is to play there regularly one day, that's the goal."

Read More About