The U.S. Consulate in Hamilton announced that Huntertones, a Brooklyn-based band, will be in Bermuda as part of their 2016 international music tour sponsored by the U.S. Department of State.
The group will be performing at several venues in Bermuda from January 16-19 and will also conduct musical programs for students at The Berkeley Institute and Warwick Academy.
A spokesperson said, "Huntertones is a high energy band founded in Columbus, Ohio, and currently based in New York. The band's signature sound comes from adventurous original compositions and arrangements that meld jazz, funk, soul, hip hop, R&B, and rock."
"In addition to covering a wide range of genres, the group is known for its ability to shift from a dynamic five or six piece ensemble to an unconventional trio featuring saxophone, sousaphone, and beat-boxing.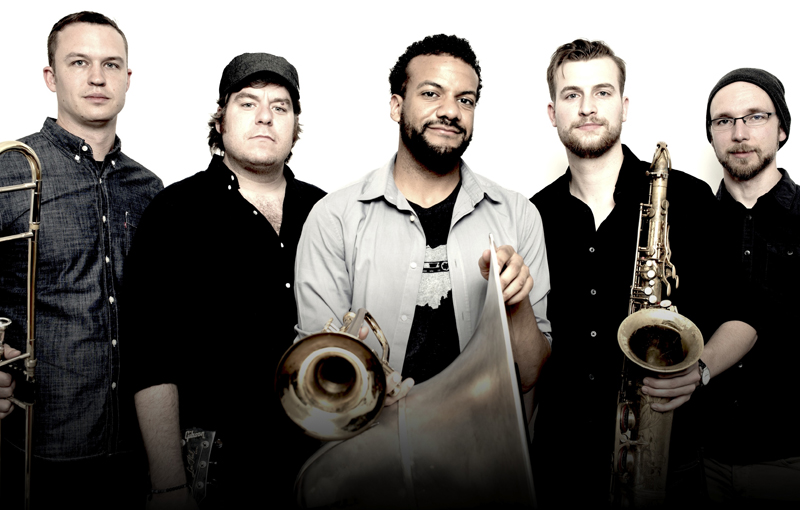 "The program in Bermuda will include two free events at The Chewstick Culture Hub at 81 Front Street.
"The first, a free concert on Sunday, January 17 at 7 p.m. will give attendees the chance to experience Huntertones live with the incredible talents that earned the band an international tour. Musicians are encouraged to bring their instruments and jam with the band during a portion of the concert.
"The second event at Chewstick will take place Tuesday, January 19 at 6 p.m., featuring the Huntertones artists in an informal talk, where the band will share stories and answer questions on making music, honing their craft and building their careers.
"Both these gatherings will be held at The Chewstick Foundation's new facility, The Chewstick Culture Hub on Front Street. The Chewstick Foundation is a Bermuda registered charity [#857] that empowers storytelling, creative expression and social justice to enrich youth, arts, culture and community through diverse programming and partnerships.
"In addition, the group will conduct musical programs for students at The Berkeley Institute and Warwick Academy.
"This cultural diplomacy program is facilitated by an American non-profit organization, –American Music Abroad [AMA], through a grant from the U.S. Department of State. AMA facilitates people-to-people cultural exchange programs designed to communicate America's rich musical contributions and diverse culture to the global music scene.
"Cultural envoys are selected on the basis of artistic quality and commitment to education and cultural engagement. Huntertones is one of ten American musical groups which will conduct month-long international tours for the Department of State in 2016. Bermuda is the first leg of their tour, with additional stops in Ecuador, Togo, and Zimbabwe.
"AMA bands represent a wide variety of American musical genres and reached more than 45 countries around the world during 2014 and 2015. This program also builds on the historic legacy of the Department of State's Jazz Ambassadors, who first traveled the world in the 1950s to connect people through music. Jazz Ambassador alumni included Duke Ellington, Louis Armstrong and Dave Brubeck."
Chewstick Executive Director, Gavin Djata Smith, commented, "The Chewstick Foundation is grateful that the U.S. Consulate will include events at our Culture Hub facility as part of its cultural diplomacy program.
"While renovations at the facility are not yet complete, the invitation to connect Bermuda's musicians with the Huntertones was too fantastic to pass up. We hope this is the first of many opportunities for visiting and local artists to share their talents, learn from one another, and build bridges to strengthen the global creative network."
U.S. Consul General Mary Ellen Koenig is looking forward to welcoming these cultural envoys to Bermuda, saying: "We are delighted to share this energetic and creative group of American musicians with Bermuda through this cultural diplomacy program.
"Their engagement with the young people of Bermuda will showcase our ongoing creative ties and provide an opportunity for all the participants, including the Huntertone musicians, to explore the musical and cultural diversity both here in Bermuda and in the United States."

Read More About
Category: All, Entertainment, Music