The management and staff of Sousa's Gardens said they understand the concern many have with the cost of living in Bermuda, and have opted to host two free workshops this weekend entitled "How to Grow Your Own Vegetables and Fruits."
Both workshops will be held in the Garden Centre at Sousa's Gardens in Southampton, with the first one set for 10.00am on Saturday, January 16 and the second one at 12.00pm on Sunday, January 17, 2016.
Jeff Sousa, President & Founder of Sousa's Landscape Management Company said; "There are numerous benefits that come with growing your own fruits and vegetables.
"Not only will you save money by yielding fresh, healthy produce, but you will begin to eat healthier, get a bit of exercise and have the opportunity to enjoy quality family time outdoors."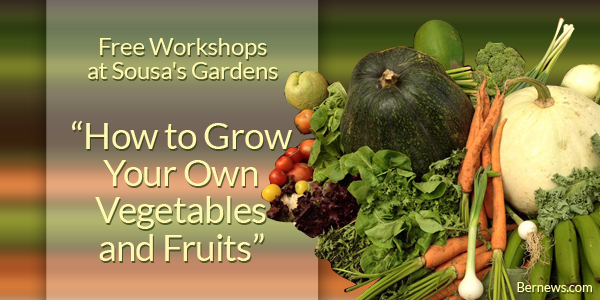 "Given Bermuda's subtropical climate, we are so blessed to be able to grow vegetables and fruits such as beans and tomatoes year round and nothing would please us more than to see everyone in Bermuda growing their own produce – once you get started, you will wonder why you hadn't done so sooner," added Mr Sousa.
Those who don't have a garden can still benefit, as the workshops, lead by Jeff Sousa, will also address container gardening.
Mr Sousa added, "Often times we hear folks complain about not having space for a garden and we certainly have a great selection of container options to address this issue.
"However, in this case, we prefer to remind people of a senior neighbour just a couple houses down who has a garden and may love to see it active again in exchange for a few vegetables. After all, we are still a small community and sometimes all it takes is a knock on the door and a bit of elbow grease."
For further details, you can contact the team via the company's Facebook page.
Read More About
Category: All, Environment, News