On Friday, February 5th at St. Theresa's Church Hall, The Peace and Social Justice Committee of the Roman Catholic Church of Bermuda will host its first in a series of five forums reviewing the topic of ageing in Bermuda.
"With 35% of seniors 65 years and older living below the poverty line, this first forum will explore the topic of Ageing and Employment , retirement at age 65 years and whether or not it is in the best interest of the community to raise this retirement age," their announcement said.
"There will be four expert panelists at this event: Bishop Wesley Spiewak who will speak on the church's social justice teaching on employment and ageing; Sarah Clifford who will speak from the perspective of the Human Rights Act; Claudette Fleming of Age Concern who will share concerns of our ageing seniors; and Craig Simmons of the Bermuda College who will talk from an economic impact perspective.
"This Ageing and Employment forum is the first of a 5-part series. The others are: Ageing and Health – March 11th;Ageing and Legal Issues – April 8th; Ageing and Rest Homes/Eldercare givers – May 20th and Ageing and End of Life – June 17th.
"The intention of these events, which will include think tank discussions, is to draw the spotlight on the intricate dilemma of Ageing in Bermuda and to come up with action plans of how best to address this social concern through community activism."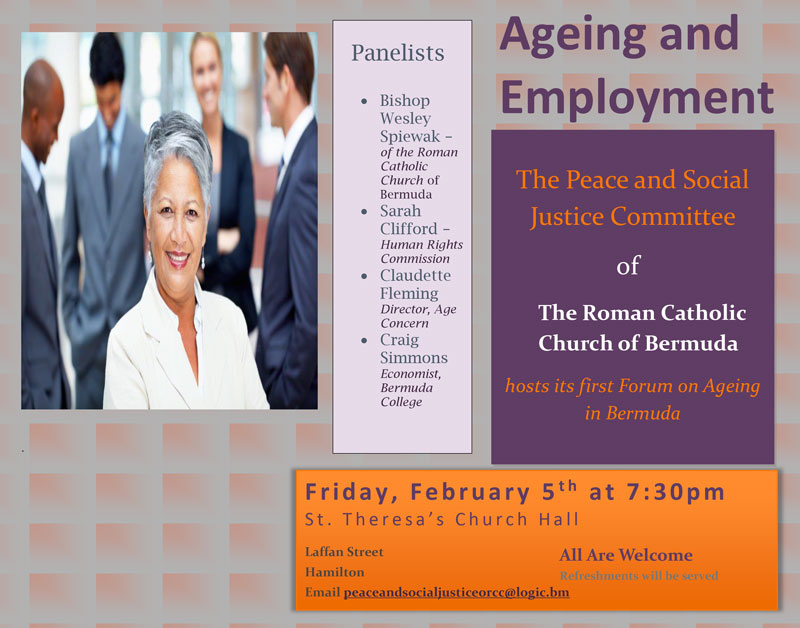 Read More About
Category: All