[Updated with videos] The Bermuda Police Service released Q4 and year-end crime statistics for 2015, with a total of 3,750 crimes recorded during the year, an increase of 356 more crimes than 2014.
Commissioner of Police Michael DeSilva said, "The total crime for 2015 was 3,750 offences. This was spread evenly over the four quarters of the year, with about 937 crimes recorded in each quarter. The total represents an increase of 356 more crimes than 2014.
"That is approximately 1 additional crime each day and equates to an increase in total crime of about 10.5%. It should be noted that 2014 recorded the lowest total crime rate since the year 2000.
Update: Premier and National Security Minister Michael Dunkley on the crime statistics
"The longer term picture is that the 5-year trend has remained level, and total crime has remained below the 4,000 mark for the 4th consecutive year. The total crime for 2015 is ranked 3rd in the last 5 year comparison, but it is near the bottom of the table in a 15 year comparison.
"There are however a number of crime areas that stand out, and the first one will not come as a surprise: robbery increased in 2015 by 13 offences to a total of 46, which represents a 39% increase. Of the 17 people arrested for robbery in 2015, all of them had previous arrests or convictions and some were identified as being gang members.
Update: Shadow Minister Walter Roban on the crime statistics
"Most of the robberies fall into one of two categories: either crimes of opportunity by criminals with a propensity for violence, or violent acts arising out of gang and respect issues. The police are monitoring this trend closely which has continued into 2016 with 10 robberies occurring in the first 6 weeks of the year.
"Investigations into these cases are being vigorously pursued and we are working hard to bring these violent offenders to justice. Anyone with information about the recent robberies should help stop this trend by reporting what they know.
"Other crime areas that saw an increase in 2015 include:
"Non-serious assaults, up by 137 to 514 assaults [36%]
"Non-residential burglary, up by 65 to 143 "shop-breaks." This is a drastic increase over last year, but the number has returned to the same level as previous years, after 2014 recorded an unprecedented low number in this area.
"Criminal damage, up by 65 to 289 crimes [29%]
"Disorder offences, up by 40 to 107 offences [60%] – affray, obstructing police, violently resisting arrest, curfew offences
"Antisocial behaviour, up by 35 to 421 offences [9%] – breach of the peace, threatening behaviour, loitering and noise offences.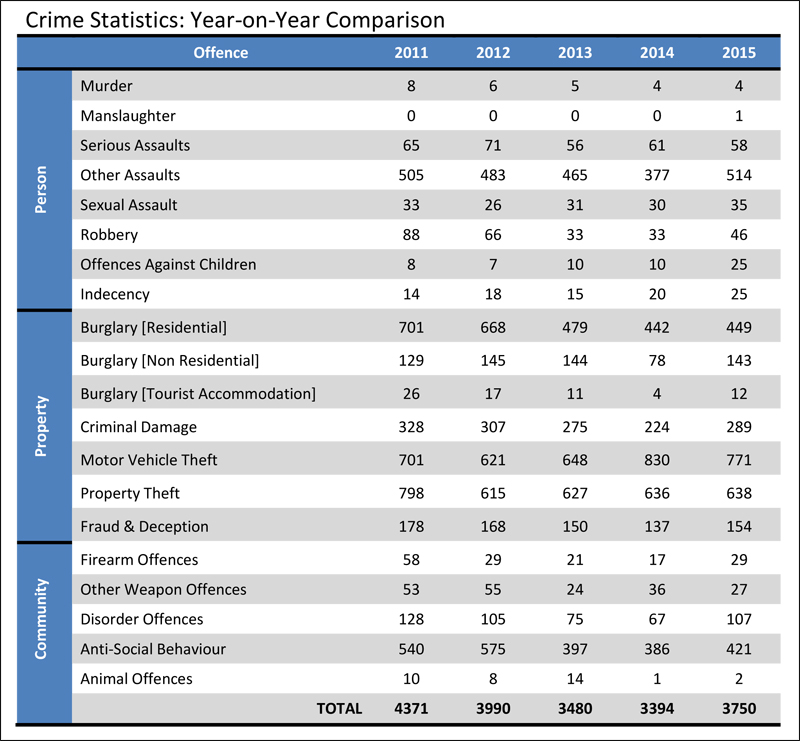 "Bermuda recorded four tragic murders in 2015, including 1 person who was killed by a firearm, and 5 people were injured by firearms. This compares with 2014 when 4 people were murdered, 2 of which by firearms and an additional 8 people were injured by gunshots.
"In 2015 there were 12 Confirmed Firearm Incidents and 21 Recoveries of Firearms and/or Ammunition. In 2014 there were 17 Confirmed Firearm Incidents and 8 Recoveries of Firearms and/or Ammunition.
"Traffic collisions have declined year-on-year with 2015 recording the lowest number of collisions in the last 5 years at 1,310. Serious collisions represent 7.7% of the total, and there were 7 fatal collisions on our roads last year. This is a reduction from 16 tragic fatalities the year before.
"We recently published the BPS Strategic Plan 2016-18 that took effect on 1st January. Next week my colleagues and I will construct the first of 3 Annual Policing Plans that coincide with the financial year, commencing 1st April.
"These plans articulate our priorities to the public which are: Tackling Crime and Antisocial Behaviour; Engaging with the Community and Making the Roads Safer.
"Over the coming weeks and months our community can expect to continue to see police operations and initiatives that are aimed at achieving these objectives and enhancing public confidence."
The full Q4 & Year-End 2015 BPS Crime Statistics report follows below [PDF here]:
Read More About