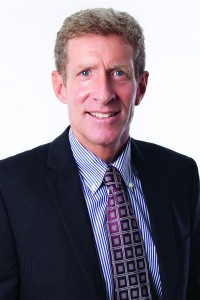 The Bermuda Health Foundation [BHF] announced that John Wight, President and CEO of the BF&M Insurance Group, has agreed to accept this year's Salute to Service Award at the Foundation's 14th Annual Salute to Service Award luncheon on Friday, June 17, 2016.
"The Salute to Service Award is presented yearly to a member of the community who has shown dedication and commitment to moving Bermuda forward through their professional and/or personal life, hence Mr. Wight's selection," the BHF said.
"In addition to his role as President and CEO of BF&M Insurance Group, Mr. Wight is also the President of the Chamber of Commerce, a Council Member of the Bermuda Stock Exchange and a member of the Ministry of Finance Insurance Advisory Committee.
"He is a past Chairman of CPA Bermuda and a past President of the Bermuda Insurance Institute. Additionally, Mr. Wight is director for several companies.
"In 2015 Bermuda Health Foundation honoured Mr. Patrick Tannock, President of XL Insurance [Bermuda] Limited. Over the past fourteen years, the Foundation has honoured other outstanding Bermudians such as Mr. Reginald Burrows, the first honouree, Dr. Clarence James, Dr. Malcolm Brock, former Premier Paula Cox and Mrs. Brenella Williams."
"During the Salute to Service Award luncheon, the Bermuda Health Foundation will also present scholarships to those students who will be selected in the coming to receive funding towards their studies in the medical field.
"Last year, the Bermuda Health Foundation presented scholarships to Shi-Vaughn Lee and Chioma Nwasaki. Both young ladies are studying medicine, Shi-Vaughn, who has maintained at 4.0% Grade Point is studying at Howard University, and Chioma, is presently enrolled at Dalhousie University.
"In addition to the luncheon, the BHF also sponsors a charity golf tournament on the Saturday following the luncheon. The golf tournament will once again be held at Belmont Hills Golf Course.
"The Bermuda Health Foundation was founded by brothers Philip Butterfield, Vincent Hollinsid, Dr. Ewart Brown and the late Murray Brown. Recently Charles Brown joined the Board of Directors.
"Persons interested in purchasing tickets for luncheon at $125.00 each or participating in the golf tournament at $150.00 per person should contact LaVerne Furbert at 335-8232 or by e-mail at lavernef@northrock.bm."

Read More About
Category: All