[Opinion column written by Junior Minister of Home Affairs Sylvan Richards]
Politicians are often faced with making decisions that may be unpopular, but are the right thing to do.
Governments are elected to lead, and have a responsibility to make decisions that are in the interests of all people, rather than simply doing what might be politically expedient or pandering to special interests.
Such is the case with immigration. It's an emotive topic. There are strong opinions and ideas that are often at odds.
Bermuda may be another world but we are very much part of the global village and a signatory to certain conventions. By not addressing residency rights and the blanket ban under current legislation, we have fallen afoul of our international legal and human rights obligations under the European Convention on Human Rights and the International Covenant on Civil and Political Rights.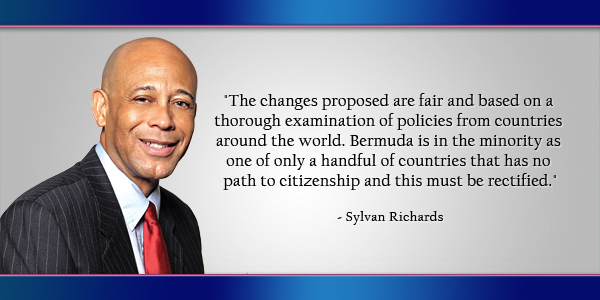 We must make changes or the courts will force change upon us.
Before the General Election in 2012, the OBA promised we would enact comprehensive immigration reform.
And in the November, 2013 Throne Speech we pledged: "In order to conform to human rights obligations under the European Convention on Human Rights, the Government will move forward with amendments to the Bermuda Immigration and Protection Act 1956 to provide pathways to Bermuda status for persons born in Bermuda or persons who have been adopted by Bermudian parents."
The Pathways for Bermuda Status announced last week will allow any permanent resident who is ordinarily resident in Bermuda for 20 years to apply for Bermudian status. In addition, such a person will need to be a Commonwealth citizen, must be of good conduct and character throughout the period of residency in Bermuda and must not be convicted of offences showing moral turpitude, as has always been the case.
Not all who are eligible will apply. Not all who apply will be granted. And we mustn't be misled by alarmist claims and half-truths backed up by selective data.
There is no credence to claims that thousands of residents will become Bermudian under this change. Based on the 2010 census data on our working population of individuals who need work permits to work [i.e., no status, not the spouse of a Bermudian and not a PRC], there were 241 in Bermuda for 15-19 years, 270 in the 20+ year range, and 172 who did not wish to say. If we include those who did not report in the 20+ year range, we are talking about 683 individuals at most.
Work permit processing has been cut in half since 2010. Many guest workers and their families have since left Bermuda.
In addition, the Department of Immigration has seen a take-up rate of 50% based on those PRCs who have applied for status following the Chief Justice's ruling in Carne and Correia. Taken together, this means that the actual number of individuals eligible to apply would be smaller.
This is quite apart from the 1,455 affected by Carne and Correia over whom Government has no control.
These people are already here and are part of our community. They are our co-workers, neighbours, family and friends. They have contributed to our economy, understand our customs and hold jobs that have been available to Bermudians through the work permit process.
There is also no evidence to support claims that all those granted status will vote for one particular party. Bermuda's democracy is based on a secret ballot – so to make claims about how those eligible for status will vote has no basis in fact.
And those eligible for status are not, as some have claimed, exclusively white. They come from many countries and represent a myriad of ethnicities and, according to the census data, approximately 50% identify themselves as white.
The call for arbitrary quotas harken back to old and unfair immigration policies when status was granted by discretion. The changes proposed are fair and based on a thorough examination of policies from countries around the world. Bermuda is in the minority as one of only a handful of countries that has no path to citizenship and this must be rectified.
The hodgepodge of immigration changes during the last few decades have led us to where we are today. And despite the former Government's 14 years in power, they failed to enact immigration reforms that benefitted Bermuda and Bermudians – rather, their misguided policies succeeded in driving thousands of productive workers from our shores.
Despite the politically motivated objections of the opposition and special interest groups, it's clear many in the community agree with changes to immigration law to grant status to long term residents.
The benefits are undeniable. It is no secret that Bermuda faces real demographic challenges in the coming years with a declining birth rate and shrinking Bermudian population.
Granting status to these residents will increase the size of Bermuda's working population, workers who will pay into our social insurance, pension and health insurance systems that support older, retired Bermudians.
New Bermudians, with their newfound security, could seek to purchase real estate or inject capital into Bermuda companies as directors and shareholders. Assets which will be earmarked to leave Bermuda will be more readily available for investments in the local economy.
These contribute to an economic multiplier effect and feeds back into positive movement in Bermuda balance of payments and increased Government revenue.
Clearly there is much information for the community to digest and discuss. The Government will be communicating more on this topic in the weeks to come and we owe it to ourselves to have an open, honest debate based on facts and the realities we face as a country still reeling from such a prolonged economic recession.
The peddlers of fiction and misinformation will continue to make this a political football to further their own agendas which is unfortunate.At the end of the day, providing pathways to status is the right thing to do.
- Sylvan Richards

20 Most Recent Opinion Columns

Opinion columns reflect the views of the writer, and not those of Bernews Ltd. To submit an Opinion Column/Letter to the Editor, please email info@bernews.com. Bernews welcomes submissions, and while there are no length restrictions, all columns must be signed by the writer's real name.
-

Read More About