[Updated] The public is being given the unique opportunity to watch the hatching of a Cahow egg live as the event is being filmed by the CahowCam on Nonsuch Island, with the stream available online.
This has only been witnessed once before — which actually occurred exactly one year ago today — and you can tune in now to witness this rarely seen occurrence on the CahowCam.

The egg is in burrow #831 on Nonsuch Island in Bermuda, from which the CahowCam has been broadcasting live for the past three nesting seasons.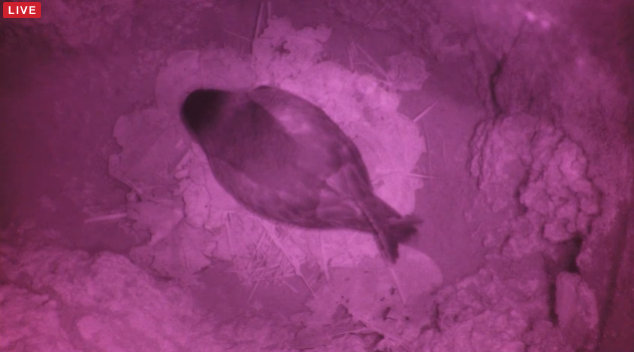 When Senior Conservation Officer Jeremy Madeiros conducted a health check at 10.00am yesterday, the egg had dimples facing outwards which usually indicates a chick starting to push its way out, as opposed to inward facing dimples indicating a damaged / failed egg.
As of 8:30pm last night, increased activity from the female seems to indicate that the hatching was imminent.
At 9:20am today [March 4] Mr Madeiros confirmed that the egg was hatching as an active chick can be seen chipping away at a hole on one end, and he explained that this process can take anywhere from a few hours up to 48 hours.
Watch it live here.
Update March 6, 7.47am: Jeremy Madeiros said, "After a very long hatching period, [The first stage of hatching, "dimpling" cracks of the eggshell as the chick started to crack its way out, was first noted at 9.00am on Thursday March 3rd], another Cahow, one of the world's rarest seabirds, entered the world at 1.08am Sunday morning March 6th.
"The chick, still wet at this point from having just emerged from within the eggshell, will be brooded and occasionally preened gently by the female bird, and in about 4 hours should have dried out and assumed its familiar "grey puffball" appearance.
"It is still not completely safe, as a very small percentage of chicks become so exhausted by the hatching process that they succumb within the first hours after entering the world. However, this chick appears to have plenty of energy and so things look very good at this point.
"Incidentally, this chick makes the 23rd that I have confirmed having hatched so far in total on all 5 of the tiny nesting colonies by Saturday evening, including the 4th on Nonsuch."
Screenshot from the Cahow Cam [where you can watch a replay of the hatching]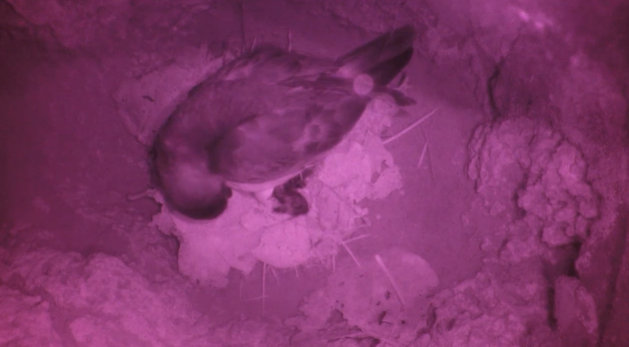 Read More About
Category: All, Environment, News