"The business of the country is on hold, the country's budget has not been passed, public services have been affected, trash continues to pile up on the streets, racial tension is escalating" and we "urge Premier Dunkley to withdraw this bill so that the country can step back from the precipice," said Deputy PLP Leader David Burt.
Mr Burt said, "Immigration is a complex and emotional issue. As a country, we must address these matters within the context of open and constructive consultation. The approach taken by the Ministers Fahy and Moniz thus far has caused discord in the community and heightened tensions to the point where many persons in our vital international business sector are justifiably worried.
"The Premier's belated attempt at a "compromise" falls far short of what is needed to end the impasse that continues to cripple the island. The Premier's compromise amounts to letting the OBA pass their controversial "Pathways to Status" plan while temporarily delaying the implementation of some elements for 3 months – that is not a compromise as permanent residence and status are not temporary, they are permanent.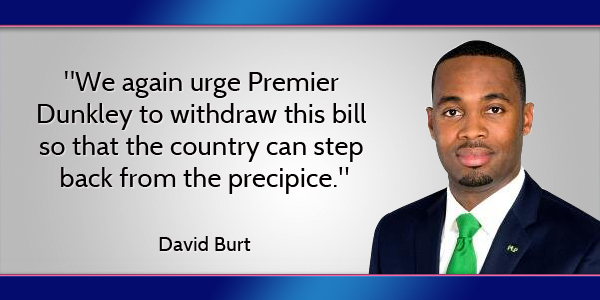 "It is a fundamental premise of public law that consultation must take place at a time when proposals are still at a formative stage. The OBA Government have not met that basic standard; therefore, they must engage in a proper consultation process, including a sustainability impact assessment, before any fundamental changes are made to Bermuda's immigration laws.
"To resolve the impasse, the Progressive Labour Party recommends the following:
"1. The Premier needs to indicate to the Speaker of the House that he will withdraw the Bermuda Immigration and Protection Amendment Act 2016. The temperature is too hot in Bermuda, and as a show of good faith, especially after threatening arrest of community leaders, the Government must take the first step in diffusing this situation by withdrawing the bill which is the key demand of the people who continue to gather at the House of Assembly.
"2. Regarding the issue of children born in Bermuda and mixed status families, Government must follow through with their commitment given in their 2015 throne speech to "work on fixing inequities in the Bermuda Immigration and Protection Act 1956, with public consultation preceding amendments". Government must be true to its word and hold public consultations on these matters prior to bringing a new bill to Parliament in the summer that can be supported by all stakeholders. Most groups agree that those who know no other home but Bermuda through no choice of their own should be given certainty to live and work in Bermuda; however, it is irresponsible to ask Parliament and the country to consider any such proposals on short order without the required public consultation that enables feedback and allows unintended consequences to be considered. Following this consultation, Parliament can debate a bill and resolve many of these complex issues before Cup Match.
"3. On the issue of further reforms such as permanent residency and status grants to persons who came to Bermuda on a time-limited work permit, Government must engage in genuine collaboration with all stakeholders, including the Opposition, trade unions, business groups, and other interested parties to come up with a plan for comprehensive immigration reform that can earn broad support. We have recommended a Bi-Partisan Joint Select Committee [on which the OBA members would still be in the majority]; however the OBA have twice rejected that approach. Whatever form of consultation the Government ultimately decides should result in a green paper examining the various options that will be published for public comment and will be debated in Parliament.
"One man has the power to end this. Will the Premier stand up to Minister Fahy as members of his backbench such as Leah Scott have requested, or will he remain intransigent knowing that his own Government have not even kept to the pledge of consultation given a mere 4 months ago in their 2015 Throne Speech? Or will he continue to risk further instability in Bermuda by not accepting that at a minimum, given his government has no electoral mandate for sweeping immigration changes, he must engage in full public consultation.
"The business of the country is on hold, the country's budget has not been passed, public services have been affected, trash continues to pile up on the streets, racial tension is escalating, community leaders have been threatened with arrest, and a brave woman is on a hunger strike. Is Minister Fahy's agenda more important than Bermuda and our international reputation as a stable democracy?
"We again urge Premier Dunkley to withdraw this bill so that the country can step back from the precipice. Our reputation as a stable democracy that keeps its word to the electorate and follows through on its Throne Speech commitments depends on his willingness to stand up to Minister Michael Fahy."
Read More About