Bermuda Onion Day is set to be held at Carter House in St. David's on Saturday, May 14 from 12.00pm to 4.00pm.
The event poster says, "This day celebrates The Bermuda Onion one of the best onions in the world. Gary Lamb's Fish Chowder, Jane's Onion Soup, Pulled pork and fried onion sandwiches, Cheese and Onion sandwiches, all kinds of sweets [w/o onions].
Wine, beer, water and kids drinks.
Onions for sale. [Please donate some Onions- the largest gets a prize!]
No entrance fee; donations to St David's Island Historical Society encouraged.
1964 Bermuda silver crowns mounted in Cedar [new] for sale [the last crown issued as legal tender!]
2016 St David's Calendars fee!
Pickled Onion Eating Contest. [Winner receives a prize and trophy!]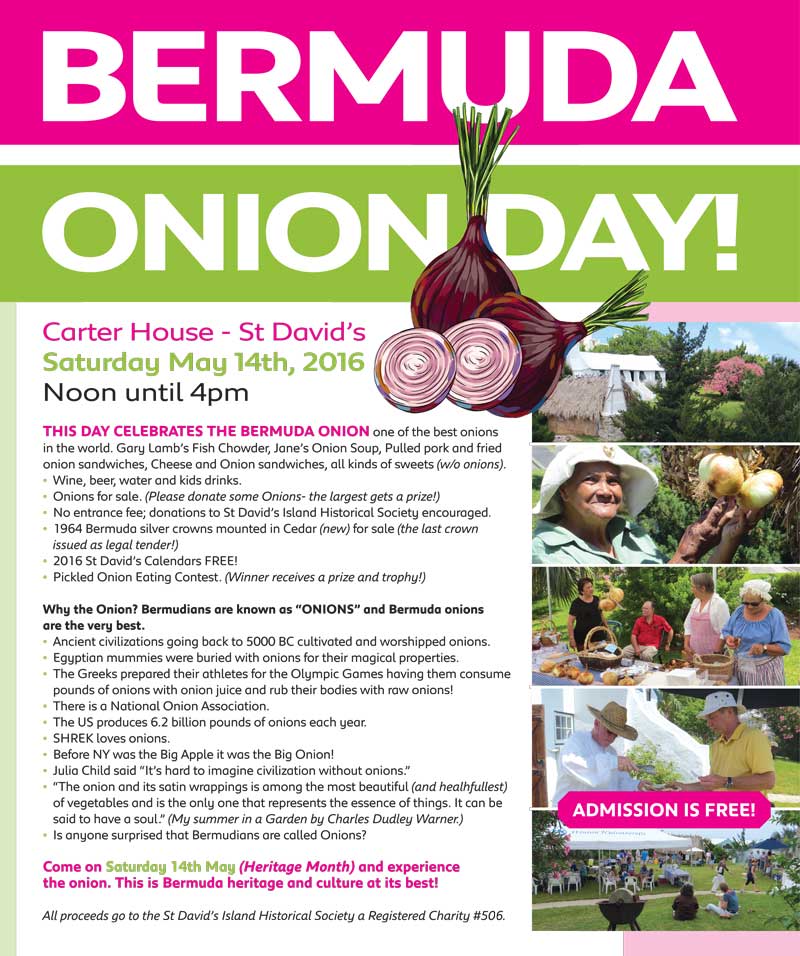 "Why the Onion? Bermudians are known as "Onions" and Bermuda onions are the very best.
Ancient civilizations going back to 5000 BC cultivated and worshiped onions.
Egyptian mummies were buried with onions for their magical properties.
The Greeks prepared their athletes for the Olympic Games having them consume pounds of onions with onion juice and rub their bodies with raw onions! There is a National Onion Association.
The US produces 6.2 billion pounds of onions each year.
SHREK loves onions.
Before NY was the Big Apple it was the Big Onion!
Julia Child said "It's hard to imagine civilization without onions."
"The onion and its satin wrappings is among the most beautiful [and healhfullest] of vegetables and is the only one that represents the essence of things. It can be said to have a soul." [My summer in a Garden by Charles Dudley Warner]
Is anyone surprised that Bermudians are called Onions?
"Come on Saturday 14th May [Heritage Month] and experience the onion. This is Bermuda heritage and culture at its best. All proceeds go to the St David's Island Historical Society a Registered Charity #506."
Read More About
Category: All, Entertainment