"As President of CONCACAF, I will stand for governance, development and achievement" and "I will be unrelenting in my promotion of these most important principles," Larry Mussenden said in his platform.
Mr Mussenden — the president of the Bermuda Football Association — is one of two candidates standing for election to be next president of CONCACAF, football's regional governing body for North and Central America and the Caribbean.
The other candidate for the position is Canadian Soccer Association president Victor Montagliani, and whoever wins the election for CONCACAF president will automatically become a FIFA vice president and member of FIFA's ruling executive committee.
The election platform outlines Mr Mussenden's plans, and says, "CONCACAF has recently experienced what is arguably the darkest period in its proud history.
"We must now seize the opportunity to make the Federation great again, to make it a role model of integrity, sound governance, inspired leadership and, above all, excellence in football. Now is the time for unity. Now is the time for firm, decisive and principled leadership."
Screenshot of one page of the platform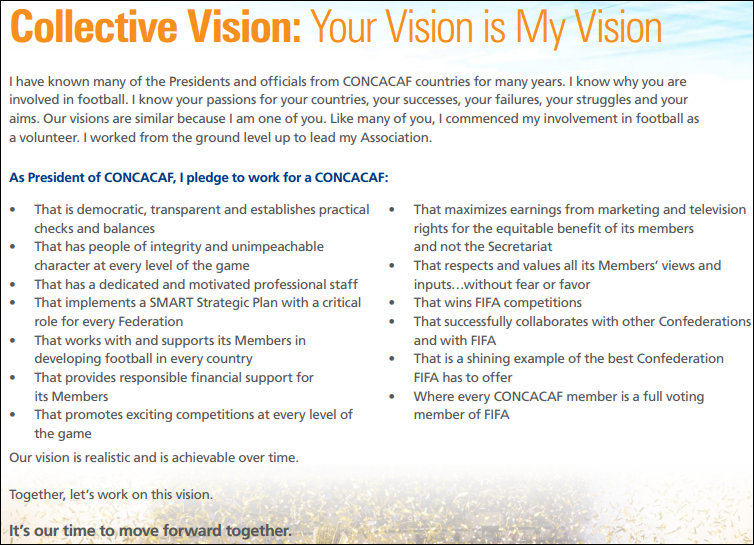 The platform goes on to say, "CONCACAF Member Associations are painfully aware of the impact of corruption and the vast amounts of money that were involved in the various scandals. This however, is a clear example of the true value to corporate sponsors and broadcasters of our commercial and video licensing rights.
Mr Mussendon said as President he "will focus on properly exploiting and monetizing our commercial rights for the equitable benefit of all our stakeholders."
The design for the platform was done by a Bermudian graphic designer using CONCACAF colours; and English, French, Spanish and Dutch versions have been released to CONCACAF Member Associations.
CONCACAF member associations include Canada, Mexico, United States, Belize, Costa Rica, El Salvador, Guatemala, Honduras, Nicaragua, Panama, Anguilla, Antigua & Barbuda, Aruba, Bahamas, Barbados, Bonaire, British Virgin Islands, Cayman Islands, Cuba, Curaçao, Dominica, Dominican Republic, French Guiana, Grenada, Guadeloupe, Guyana, Haiti, Jamaica Martinique, Montserrat, Puerto Rico, Saint Kitts & Nevis, Saint Lucia, Saint-Martin, Saint Vincent & Grenadines, Sint Maarten, Suriname, Trinidad & Tobago, Turks & Caicos and the U.S. Virgin Islands.
The 14-page election platform follows below [PDF here]:
Read More About