Northshore Medical and Aesthetics Center [NMAC] will be celebrating "Spa Week" from April 15-21, with special offers and a "Spring into Beauty Event" on April 28th, featuring demonstrations, giveaways, raffles and more.
"With summer just around the corner, spring is an ideal time to prepare our skin and body for the hotter months ahead", says Sasha Benson, NMAC's Spa Coordinator.
"With this in mind we felt there was no better way to help anyone to get summer-ready than to educate and offer great discounts on a number of our treatments."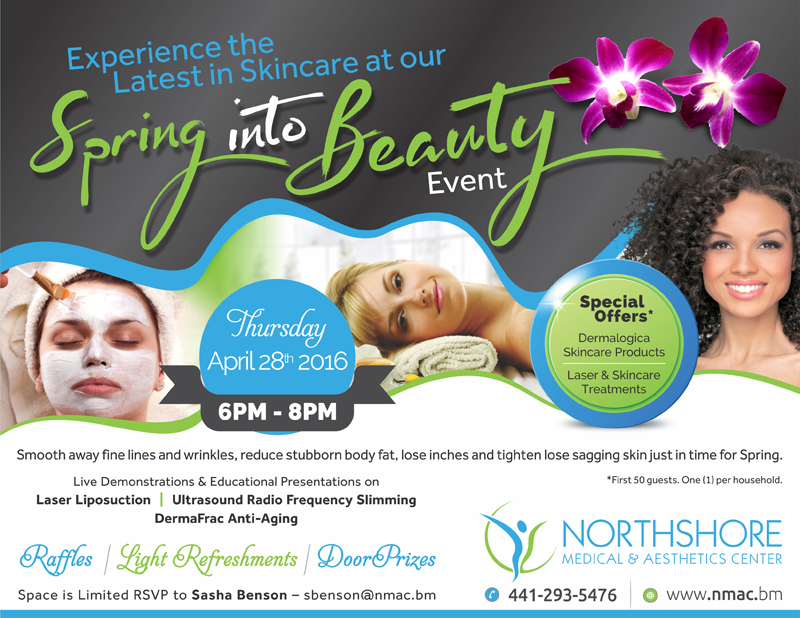 The company said, "Spa Week will be celebrated from April 15-21 with a number of popular summer skin and body prep treatments.
"Laser Lipo [Thighs/ Abdomen], Microdermabrasions, Dermalogica Signature Facials, IPL Spot Treatments and Laser Acne Facials will all be reduced to $100 per treatment for any appointment during this period.
"The fun and informative 'Spring into Beauty Event' will be held at NMAC on Thursday April 28th from 6-8pm.
"The event will feature educational information and demonstrations on Laser Liposuction, Ultrasound Radio Frequency Skin Tightening and DermaFrac Skin Rejuvenation.
"Refreshments, giveaways, raffles and discounts will also be in store for the evening. It is advised to RSVP for this event as space is limited.
"For more information on the treatments offered throughout Spa Week and what may be right for you contact Sasha Benson at sbenson@nmac.bm or call 293 5476 to book your Spa Week treatment and RSVP for the Spring Into Beauty Event."

Read More About
Category: All, Entertainment, Style & Beauty