Although we have not been named in the 'Panama Papers', the UK's Daily Telegraph has run a cartoon on their front page showing a man reading a "Panama Tax Havens" newspaper, and a caption below saying "There's a triangle in Bermuda where all our money goes".
The 'Panama Papers' — a leak of 11.5 million files from the database of offshore law firm Mossack Fonseca — have dominated the international news headlines in recent days.
According to their website, the "10 most popular tax havens in the Panama Papers" are British Virgin Islands, Panama, Bahamas, Seychelles, Niue, Samoa, British Anguilla, Nevada, Hong Kong and the United Kingdom.
Although we have not been named in the data leak, multiple international media outlets are referencing Bermuda in their reporting of the Panama Papers, including media outlets such as CBNC, The Independent, The Financial Post, CBS and various others.
Front page of today's edition of the Daily Telegraph with the Bermuda cartoon showing on top right: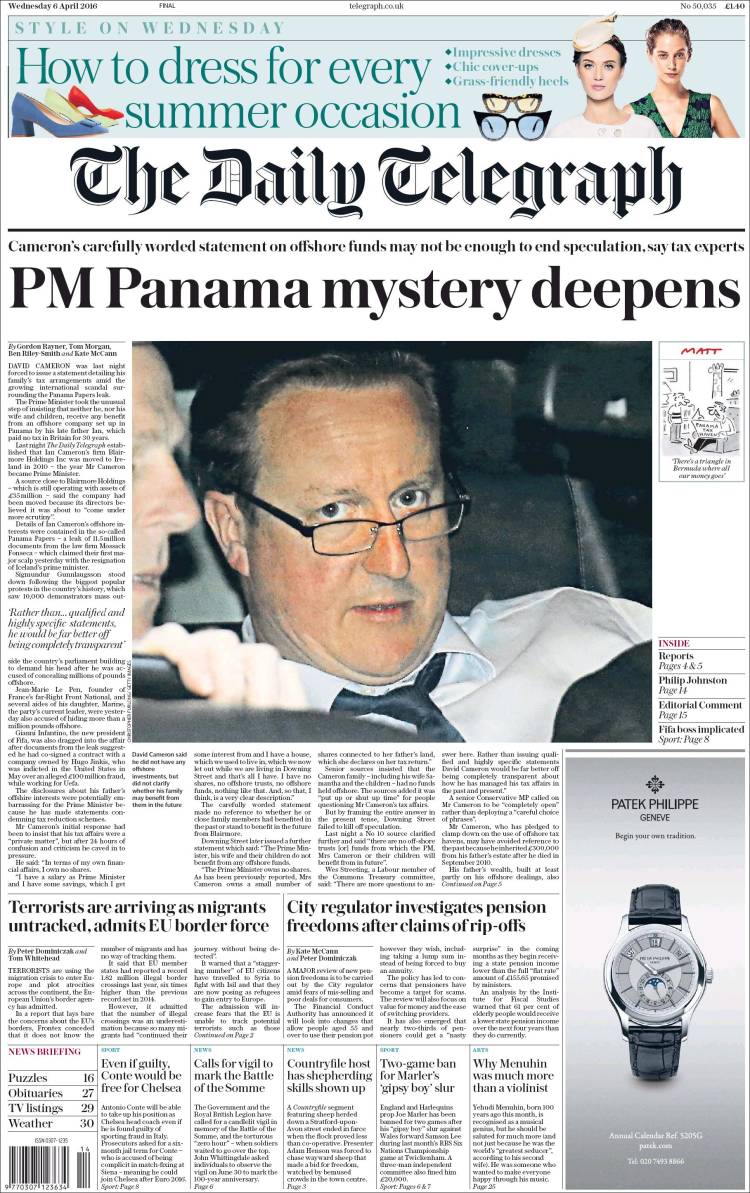 The Cayman Islands seems to be experiencing the same issue, with the Territory being frequently named alongside Bermuda by international media outlets in their reporting of the Panama Papers.
An editorial from the Cayman Compass said that places such as Hong Kong, UK, Switzerland, US, Panama British Virgin Islands, Seychelles and Luxembourg figure "prominently" in the Papers, and "the most conspicuous aspect of the immense trove of data is the practical absence of the Cayman Islands.
"It hardly matters," says the Cayman Compass, "as for readers in the US, UK, Europe and most places across the globe, the Caymans is synonymous with BVI, Panama, Switzerland and, in general, tax haven.
"Indeed, several news stories on The Panama Papers are already referencing Cayman as a prime example of a secretive offshore center, even though our territory plays no or little part in the substance of those stories."
Larger version of the actual cartoon: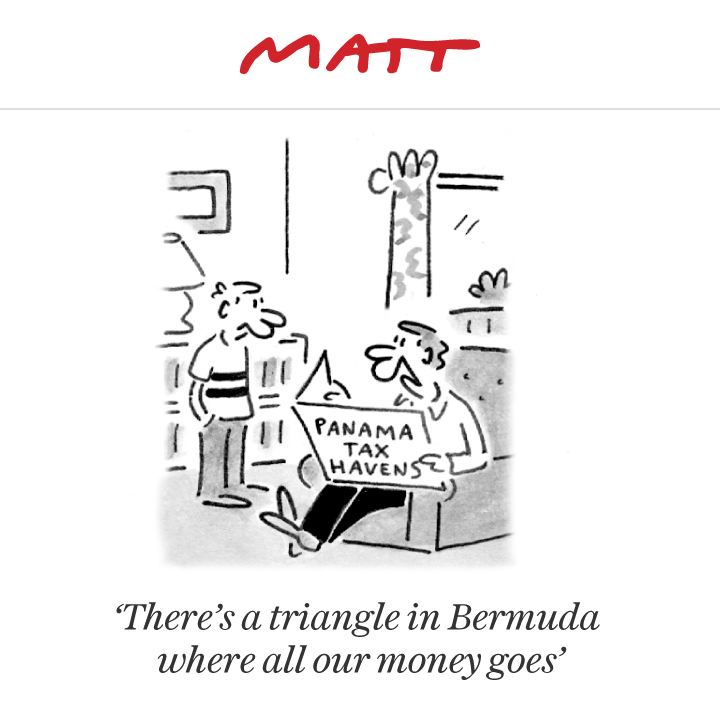 Yesterday, the Bermuda Business Development Agency [BDA] said, "Some of the recent reporting on the 'Panama Papers' perpetuates the myth that all offshore financial centres are the same.
"The fact is: Bermuda is different. While there may be businesses, service providers and lax regulatory environments around the world that enable illegal tax evasion, Bermuda is not one of them.
"Bermuda is different. Bermuda has an extremely positive global reputation built on transparency, compliance and cooperation—these attributes have been differentiating hallmarks of the jurisdiction for decades."
Finance Minister Bob Richards appeared on the UK's 'BBC Newsnight' programme to discuss the Papers and Bermuda's tax system, with the Minister pointing out that Bermuda is not mentioned in the Panama Papers, while the UK is.
Read More About