Registration is now open for the Bermuda Cricket Board's Summer Cricket Camp for girls and boys age 7 – 13.
"The Camp runs from June 29 to August 5, 2015. The BCB is once again offering this camp at a financially subsidised rate of $120 per week and $50 a week for after-camp care," the BCB said.
"The BCB Summer Cricket Camp is based at Berkeley School Gym and Field for June 29 – May 1 and Warwick Academy School Gym, Nets and Classroom for July 1 – August 5.
"The camp will run from 9.00am – 3.00pm with supervised drop-off from 7.45am and after-camp care until 5.30pm.
"The camp Director is Kellie Smith who is a qualified teacher with nearly 20 years of teaching experience. The cricket coaches include former Bermuda Team Captain, Level 2 Cricket Coach and qualified P.E. teacher, Irving Romaine, National Team Players, Level 1 Cricket Coaches, Jordan Smith and Tre Manders and Qualified Netball Coach and swimming instructor Kiante Lightbourne who currently plays netball with Warwickshire County in the UK.
"The main purpose of the Summer camp is to teach the skills of cricket while enriching the lives of all of Bermuda's children by keeping them active over the break playing a sport they love.
"The camp incorporates skill building activities and games to incorporate the skills they learned in practice. Each day the camp focuses on a character building skill such as 'respect' or 'fairness' for example and players are encouraged to incorporate these skills into daily activities.
"This year we are pleased to include free use of the Warwick Academy pool!"
BCB President Mr. Lloyd Fray stated, "The BCB camps are an important part of our youth development program which offers cricket coaching in the areas of skill, knowledge, understanding and the spirit of cricket. If anyone would like to sponsor a child to attend the camp, please contact the office on 292 8958 or email info@cricket.bm."
Week 1 June 29 – July 1 "Classy Cricketer"
Cricket Etiquette
Team building
Mental toughness
Key Elements for becoming a First Class Cricketer
Week 2 July 4 – 8 "Brilliant Batting Techniques"
Parts of the bat
Holding the bat correctly
On Drive, Cover Drive, Straight Drive
Week 3 July 11 – 15 "Fantastic Fielding"
Catching
Long Barrier
Target Throwing
Week 4 July 18 – 22 "Bowling Bonanza"
Week 5 July 25 – 27   "Cup Match"
Week 6 August 1 – 5 "Dynamic Driving"
On Drive
Cover Drive
Straight Drive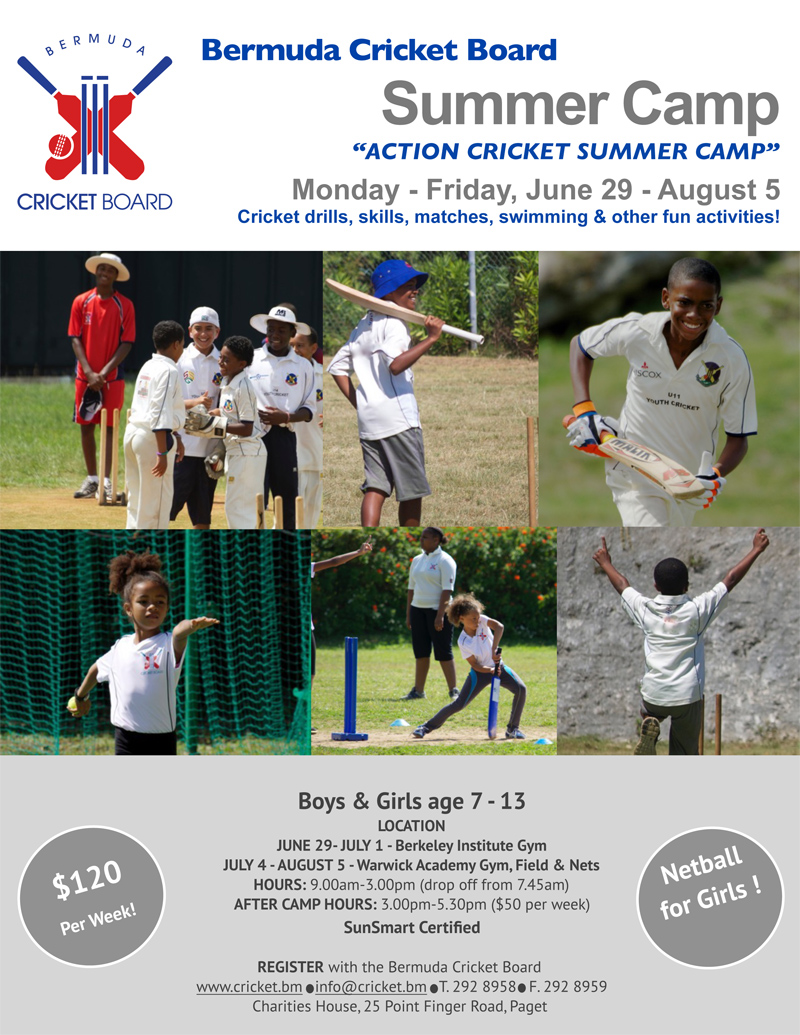 Read More About