The eighth annual All White Party will be staged at BAA Car Park on June 19, featuring a range of local and international performers, with Bernews giving away 12 pairs of free tickets — a total of 24 — to the show.
The first giveaway will be held on the Bernews Facebook page on May 11, with a total of 12 giveaways to take place between then and June 15.
With the gates opening at 9.00pm, the show's performers will include Young Chow, Riggo Suave, Peter Ram, Just J, and more, with this year promising to be "twice as big" as last year's event, which drew more than 1,200 patrons.
A spokesperson said, "Buoyed by attendance of over 1,200 patrons last year, this year promise to be twice as big.
"We have great mix of local and international DJs and artists that will make this year memorable. International DJs include Young Chow from Hot 97 FM New York; his Trinidad roots and fiery mic skills have made him the most in-demand DJ in New York.
"Riggo Suave aka "The Stage God" is the soca king of New York, being featured in some of the biggest Carnival Bands and Concerts around the globe."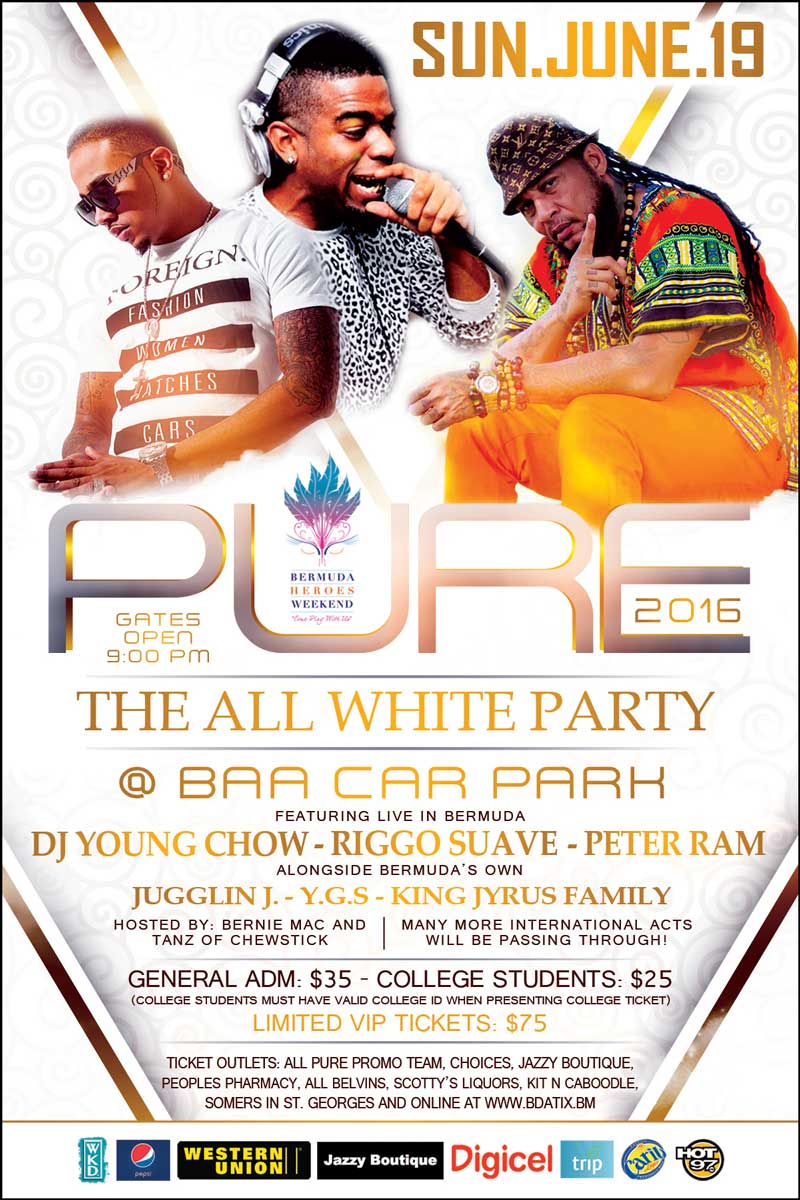 "We also have Barbados soca superstar Peter Ram. He was also a 2016 Road Monarch finalist with his monster hit 'All Ah Wi.' The show will also feature rising Trinidad soca star Just J, plus many more.
"Locally we have YGS, The King Jyrus Family, and Juggling J.
"Although we are a part of the Bermuda Heroes Weekend Events, PURE is different in that all genres of music will be played. This will be a soca, Reggae, dancehall, hip hop, and top 40 event."
Tickets cost $35 for general admission, $25 for college students, and $75 for VIP, with a $50 Father/Daughter or Father/Son ticket also available. Birthday rates are available by emailing apacheprod@yahoo.com.
Ticket outlets are Kit n Caboodle, Jazzy Boutique, Peoples Pharmacy, Belvins Stores, Shannons, Choices, Scottys Liquor, The Cave in St Georges, and online at bdatix.bm.
For your chance to win a pair of free tickets to the event, keep an eye on the Bernews Facebook page, where we'll be giving away 12 pairs of tickets on selected days between May 11 and June 15.

Read More About
Category: All, Entertainment, Music, News