Calling her a "tremendously talented soccer player" and a "model student," the IMG Academy in Florida has named Bermuda's Leah Smith as the IMG Academy Student-Athlete of the Week.
The IMG Academy website said "A native of the island nation of Bermuda, junior Leah Smith is one of the most diversely talented students at IMG Academy. She is a tremendously talented soccer player and plays on the Bermuda Women's National Soccer U17 and U20 teams.
"Meanwhile, she is a model student that boasts a 4.7 cumulative GPA. In addition to her dedication to extracurricular activities, she was named as the latest IMG Academy Student-Athlete of the Week.
Leah Smith, the IMG Academy Student-Athlete of the Week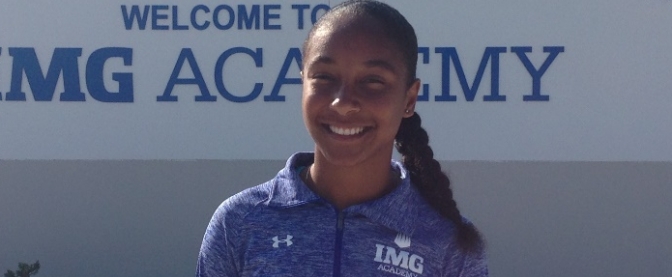 "My favorite thing about being a student here is managing the pressure of school and sports every day," said Leah. "But that experience is preparing me for the athletic world in college."
"Leah has not committed to a college program, yet, though she hopes to soon. But whichever school she chooses will likely be one with a strong mathematics program. Leah's favorite class is A.P. Statistics, and her ambition is to one be an actuary, analyzing financial risk, like her mother, Gina.
"The success of my parents inspires me to work hard," Leah added. "They grew up with very little and worked hard for what they achieved."
"While Leah is still in high school, she is making the most of her time at IMG Academy.
"Every day I am faced with a new challenge, big or small, that I have to overcome," Leah described. "With the supportive environment here, it has helped me face challenges by approaching them differently, and with an open mind."
"That work ethic is ever present with Leah. In addition to an already accomplished soccer career and having one of the higher GPAs among the class of 2017, she stays busy away from sport and school.
"Leah is active in the National Honor Society, Student Council, IMPACT Mentoring and serves as a Student Ambassador. She also takes time to keep her skills sharp on the piano and violin, and practices dance.
Read More About