The Chubb Charitable Foundation Bermuda announced the recipients of this year's Robert Clements Scholarship and Bermuda College Education Award as Chiyaro Wedderburn and Leah Smith.
Chiyaro Wedderburn and Leah Smith: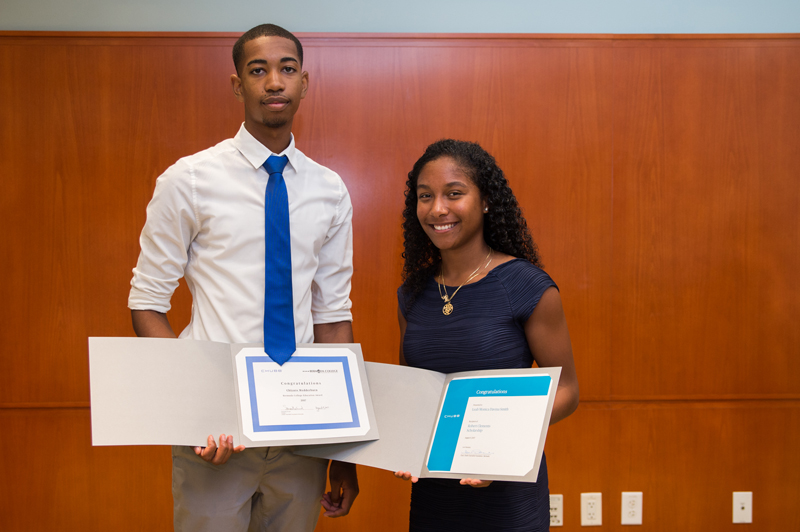 Leah Smith is the 2017 Robert Clements Scholar
"Leah Smith, a recent High Honours graduate of IMG Academy, has been selected as the 2017 Robert Clements Scholar in the award's twenty-first anniversary year," the Foundation said.
"She is entering her freshman year this fall at New York University's Stern School of Business where she will be pursuing a Bachelor of Science in Actuarial Science and Finance with a minor in Computer Science and Mathematics.
"At IMG, Leah was recognized as a 2017 Advanced Placement [AP] Honour student based upon her scores in Calculus, Chemistry, Statistics, English Composition and World History.
"Leah was selected as IMG Academy's Dartmouth Book Award Winner and an inductee into the National Honour Society for her outstanding academic performance, graduating with a GPA of 4.5. Prior to attending IMG Academy, Leah was a student at Somersfield Academy where she was consistently awarded with High Academic Honours.
"In addition to her many academic accomplishments, Leah led her IMG Academy Girls' Soccer team for two consecutive seasons and was awarded Player of the Year and MVP in 2016.
"Leah also represented Bermuda in the Women's CONCACAF U20 team this July, and in 2014 and 2016 Leah captained the Bermuda CONCACAF U15 and U17 Teams in Puerto Rico and Haiti. This culminated in her being recruited to New York University's Varsity Women's Soccer Program.
Leah's extracurricular and community service accomplishments include achieving Distinctions in the Royal School of Ballet and Violin exams. At IMG, Leah served on the IMG Student's Council, the IMPACT mentoring program and volunteered on service trips to South Africa and Mexico.
Lori Dunstan, Chair, Chubb Charitable Foundation – Bermuda said, "The Robert Clements Scholarship has attracted several strong applicants this year. We are extremely impressed with Leah's academic accomplishments which span from Somersfield Academy, to the prestigious IMG Academy. Her balance of academics, athletics and community service made Leah stand out from the other applicants. Chubb is proud to award her with the 2017 Robert Clements Scholarship award."
Over the past 21 years the Chubb Charitable Foundation – Bermuda, through the Robert Clements Scholarship and other discretionary awards, has invested in excess of $2.5m in support of 27 Bermudians to help them prepare for professional careers in Bermuda's insurance industry.
The fully-funded four-year scholarship is open to Bermudians studying for an undergraduate or graduate degree in insurance, risk management, actuarial science or other disciplines related to the insurance industry including accounting, law, and economics.
Chiyaro Wedderburn is the 2017 Bermuda College Education Award Recipient
The Foundation said, "Chiyaro Wedderburn was dually enrolled at Bermuda College and Berkeley Institute, where he recently graduated with an Associate's Degree and High School Diploma, respectively.
"At the age of 16, he is Bermuda's youngest dual enrolled graduate and he will be entering directly into his junior year. Chiyaro will commence a Bachelor's Degree in Psychology at St. John's University, Queens, New York. His focus on Health Sciences stemmed from his passion for medicine and helping those in need.
"His most impactful experiences included work shadowing at King Edward VII Memorial Hospital with pediatrician – Dr. Eugene Outerbridge. Chiyaro was the youngest student to do so, as he was still in primary school at the time.
"He also attended a two-week conference at Harvard Medical School in July 2016. This allowed him the opportunity to conduct medical simulations, attend clinical rounds and interact with other gifted students interested in medicine.
"While maintaining an impressive 3.57 cumulative GPA out of a possible 4.0, Chiyaro was also actively involved in playing piano and drums for eight years at Simon's Music School. He participated in various local community service activities and was a former martial arts student in Kung Fu and Tai Chi.
Samantha Froud, Chief Administration Officer, Chubb Bermuda Operations, and a member of the Bermuda College Education Award selection committee said, "This award was launched in 2008 to provide assistance to promising Bermuda College graduates who want to pursue their Bachelor's degree overseas. Chiyaro exemplifies the purpose of this award. His positive impact on the community and his passion for medicine is why we are delighted to support his future academic endeavors."
The Bermuda College Education Award provides $15,000 a year for two years to the successful Bermuda College graduate to assist them with the continuation of their undergraduate studies overseas. Since inception, nine Bermudian students have benefitted from the Education Award.

Read More About