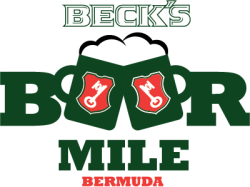 The second annual Beck's Beer Mile is set to be held on Saturday, June 11, with the event challenging participants to alternate drinking beer and running, for a total of four beers consumed and one mile run.
The promo said, "Beck's Beer are proud to sponsor Bermuda's second annual beer running event – for those runners that want a slightly different challenge to their normal run – or, for those beer lovers that may have a running problem.
"Whatever motivates you – come out and see how fast you can run one mile and drink four beers, or come out and see what someone looks like when running after four beers."
The event will be held at the BAA Field/parking lot area, with entry costing $30 for individuals and $80 for teams, with the fee including the four beers and a t-shirt; the event is open to those 18 and older only. Participants must bring ID as carding will be enforced and bracelets provided to validate legal drinking age.
The competition's rules say, "Each competitor drinks four cans of beer and runs four laps on a track [start – beer/lap, beer/lap, beer/lap, beer/lap – finish]. Beer must be consumed before the lap has begun, within the transition area [the 10 meter zone before the start/finish line].
"The race begins with the drinking of the first beer in the last meter of the transition zone. This ensures the competitors run a complete mile. Competitors must drink cans of beer and the contents will be no less than 12oz.
"Cans will be provided on the night from our sponsor; no bottles will be allowed on premises. No specialized cans may be used that give an advantage by allowing the beer to pour at a faster rate. Beer cans must not be tampered with in any manner.
"No shotgunning or puncturing of the can except for opening the can by the tab at the top. Beer must be a minimum of 5% alcohol by volume. The beer must be a fermented alcoholic beverage brewed from malt and flavored with hops.
"Each beer can must not be opened until the competitor enters the transition zone on each lap. Competitors who ruminate before they finish the race must complete one penalty lap at the end of the race immediately after the completion of their fourth lap."
Visit racedayworld.com to register.

Read More About