New that the Bermuda Long Riders Motor Cycle Club and Association made donations to three island groups, the UK's 'Stylist' featured Bermudian model Lily Lightbourn, Bermuda's foster parents were honoured at the Department of Child and Family Services' annual Foster Care Appreciation Tea, and six-time Olympic medalist Jackie Joyner-Kersee will host a clinic in Bermuda were all some of the positive news stories from the past week.
In other good news, Jill Husbands will be awarded the inaugural Fred Reiss Lifetime Achievement Award, Bermuda's Commissioner of Police Michael DeSilva has been elected President of the Association of Caribbean Commissioners of Police, Bermudian Nathan Titterton was appointed head prefect at Trinity College School, Connectech held its grand opening celebration, and Bermuda's Shaquille Dill claimed an NCAA championship title after winning the 800m final in Florida.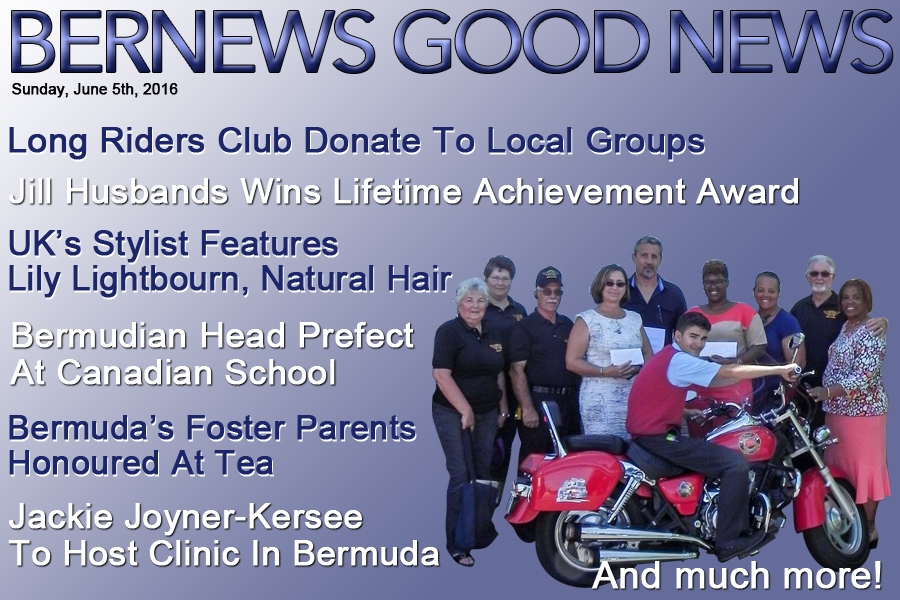 Additional good news stories included the cahow chick hatched on camera being named 'Tempest,' Bermuda Aerial Media co-founder Connor Burns getting set to attend the Global Entrepreneurship Summit in California, Devonshire Parish Council offering undergraduate and graduate scholarships for 2016, Fairmont Southampton hosting its taxi and minibus driver appreciation event, and up to 150 people being expected to attend the 'Bermuda Principles – Impact on Splicing' Conference in November.
We also posted various community photo galleries, including coverage of the Cycling Academy road race, the Bermuda Fashion Festival's body painting event, the Bermuda Heroes Weekend's "Kiddie Carnival" and the Bermuda National Rugby Team defeating the Bahamas.
In an effort to highlight some of positive news happening in our community, we supplement our standard morning and evening email newsletters with a special Sunday "Good News" email newsletter edition, which strictly focuses on the positive news from the past week.
You can sign up to have the free newsletter delivered via email here, and/or access the links below. In addition, for those who like positive news, please feel free to visit our sister site ForeverBermuda.com, which seeks to showcase the best of Bermuda as well as provide information and listings for visitor related services.
Links to some of the 'good news' from the past week are below:
Read More About