The Bermuda Hospitals Board has recognised six individuals who have collectively donated a total of 244 pints of blood, but who are now having to retire from donating.
The celebrated blood donors included Dr. James Burnett-Herkes with 50 donations over 33 years; Veronica Chameau with 36 donations over 16 years; Virginia Olander with 21 donations over 8 years; Michael Tucker with 30 donations over 11 years; Edward Wicks with 15 donations over five years; and Alfred John Wright with 92 donations over 18 years.
Lucy Correira, Blood Donor Nurse; Venetta Symonds, BHB CEO; Veronica Chameau; Dr Clyde Wilson, Chief of Pathology; Alfred John Wright; Dr Eyitayo Fakunle, Constultant Haematologist; and Kathy Stephens, Manager Pathology: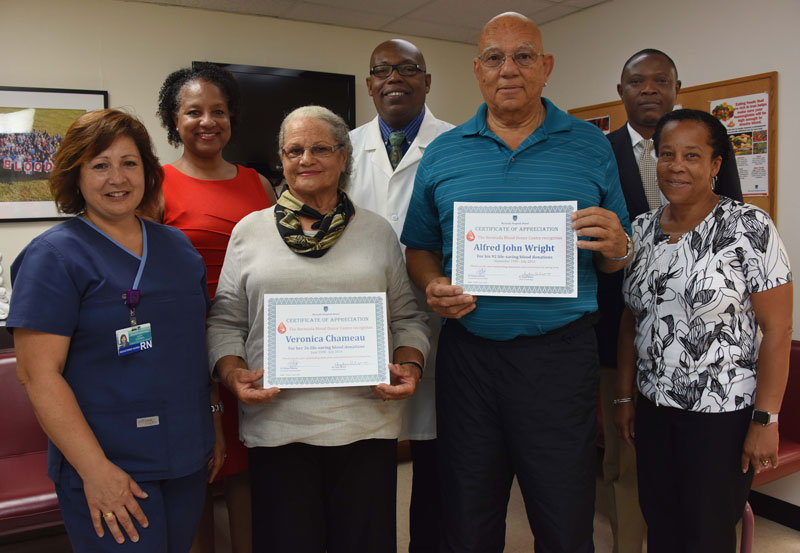 Dr Eyitayo Fakunle, Consultant Haematologist, said, "We want to thank six dedicated blood donors today who have collectively donated 244 pints of blood. People may not realise that there is a retirement age for blood donors, which means we lose valuable and dedicated donors every year.
"The people we are recognising today have come regularly over many years and even decades. They have saved so many lives, and made many more better as donations are used to help people manage conditions such as sickle cell anaemia and cancer, as well as life or death situations."
Interview with John Alfred Wright:
"We now need new donors to donate blood. Bermuda's blood supplies are made up of 100% voluntary donations from residents.
"We do not import blood. The lives of all of us in Bermuda are in the hands of a very select group of about 1,000 giving, caring and dedicated donors."
Interview with Veronica Chameau:
"It is like a lake that we all rely on – if it is not replenished, our local blood supplies will dry up, putting us all at risk. As six individuals step down today, we need the next generation to put their hands up and share a gift only they can give.
"It may be your loved one, your friend or even you who needs blood next. It only takes about 30 minutes to donate, but those 30 minutes, for someone on our island, could mean the difference between life and death."

Read More About