A number of British Overseas Territories — including Bermuda — are today launching dedicated IWF Reporting Portals to allow people to report images and videos of child abuse safely and anonymously.
A police spokesperson said, "In an historic announcement today, Bermuda launches a dedicated IWF Reporting Portal, to allow web users to report images and videos of child sexual abuse safely and anonymously.
"The launch comes as part of an IWF initiative made possible by funding from the UK Foreign & Commonwealth Office Cyber Security Capacity Building Programme. It will provide a quick and easy way for citizens to report online images and videos of child sexual abuse, to a safe and anonymous hotline.
"A planned roll-out of the IWF Reporting Portal is happening simultaneously in 12 UK Overseas Territories.
These include:
Akrotiri and Dhekelia
Anguilla
Ascension Islands
Bermuda
British Virgin Islands [BVI]
Cayman Islands
Gibraltar
Montserrat
Pitcairn Islands
Tristan Da Cunha
Turks and Caicos
St. Helena
"IWF Reporting Portals have already been successfully established in Mauritius and Uganda.
Susie Hargreaves, IWF CEO says: "It's great that Bermuda has joined this ground-breaking initiative, to provide a first class Reporting Portal to protect their citizens. Child sexual abuse imagery is a global problem and we can only fight it with a truly global solution."
"By working closely with internet companies, the IWF helps people who stumble across online child sexual abuse images and videos [sometimes known as child pornography] to report it anonymously, via a web-based reporting hotline.
"A team of experienced IWF analysts then work directly with the internet industry and law enforcement, to have any abusive imagery removed quickly.
"The advantage of establishing an IWF Reporting Portal is that any reports of suspected online child sexual abuse imagery generated in Bermuda will be assessed directly by one of IWF's analysts. These analysts are respected globally for their experience.
"Today, the IWF Hotline provides one of the most successful reporting mechanisms in the world. When they were founded 20 years ago, 18% of the world's online child sexual abuse imagery was hosted in the UK. Thanks to their analysts, that figure is now 0.2%. These analysts are considered world-leaders for their expertise.
"Harriet Lester, the IWF's Technical Projects Officer working with The Bermuda Police Service: "The launch of the Reporting Portal in Bermuda is a huge step toward our mission to remove child abuse images and video [sometimes known as child pornography] from the internet completely.
"The response from people here has been overwhelmingly positive and we're looking forward to helping them make their corner of the internet a safer place."
UK Minister for the Overseas Territories, James Duddridge says: "This demonstrates the Overseas Territories commitment to protecting children from harm and builds on the excellent work of the Internet Watch Foundation, who remove child sexual abuse content hosted anywhere in the world. I am delighted the FCO, through our Cyber Security Capacity Building programme, have been able to support this."
Commissioner of Police Michael DeSilva states: "The protection of children is of critical concern to the Bermuda Police Service and it is to that end, Bermuda looks forward to partnering with the International Watch Foundation in the protection of our children from the exploitative nature of technology and the online environment."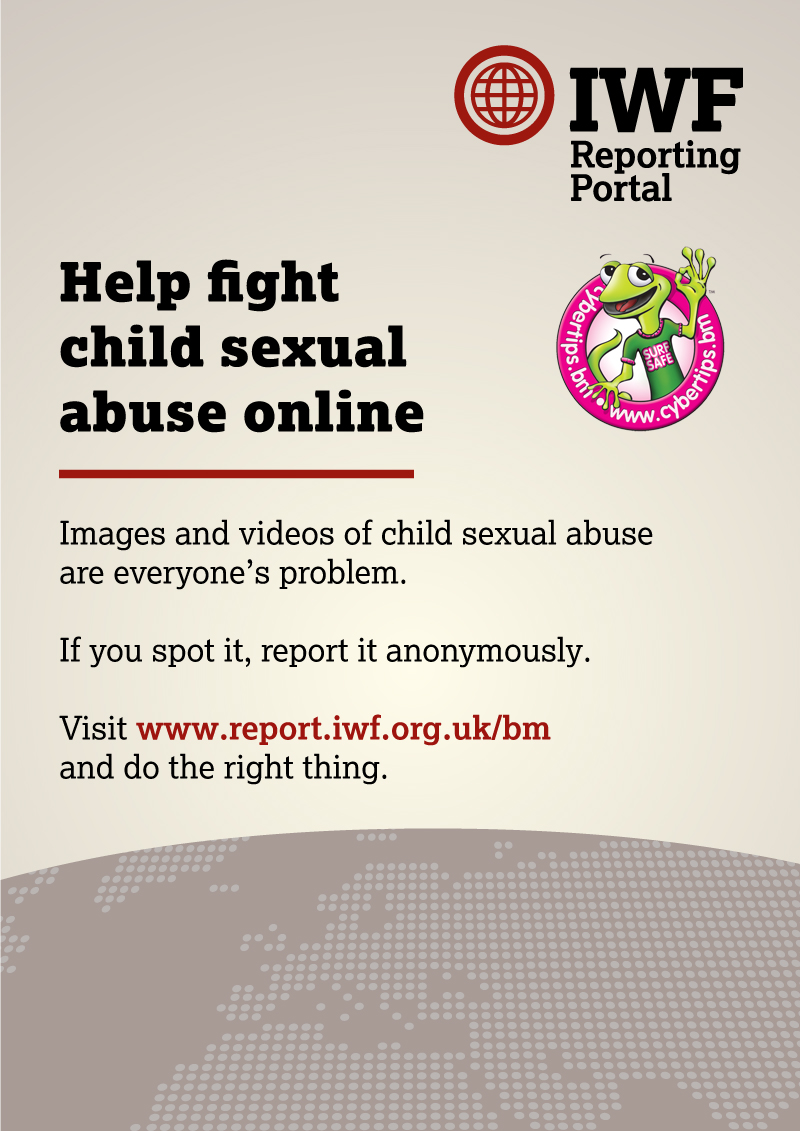 "Online child sexual abuse images and videos are a very real problem across the globe. The IWF brings together governments, law enforcement, the online industry and civil society to do what's needed to eliminate images of child sexual abuse from the Internet," a spokesperson added.
"In 2015 [figures published in April 2016] the IWF positively identified 68,092 reports of child sexual abuse images or videos, which it then helped remove from the internet. From that figure, 69% of the victims were assessed as ten years old or under. 1,788 victims were assessed as two or under. Just over one third were category A – the rape or sexual torture of children.
"Removing these abusive images from the internet makes it a safer place for all.
"IWF make the internet a safer place. They help victims of child sexual abuse worldwide by identifying and removing online images and videos of their abuse.
"They search for child sexual abuse images and videos and offer a place for the public to report them anonymously. They then have them removed. They're a not for profit organisation and are supported by the global internet industry and the European Commission.
For more information please visit www.iwf.org.uk.

Read More About
Category: All, Crime, News, technology