For the next two weeks, In Motion School of Dance will be presenting "Bestsellers!" their 19th showcase, a "dance tribute to the books and stories that make up our world."
The show will run from June 3 to June 11, with both evening and matinee shows, with tickets available online via ptix.bm and the In Motion website.
A spokesperson said, "From Shakespeare to Cinderella and the Hungry Caterpillar to a Mouse with a Cookie, the show uses literature and movement to tell an amazing dance story."
Director Lizz Pimentel said, "We have added more elements every year and this year we have bigger set pieces, more dynamic staging, and some of the best choreography that we've seen on the local stage."
"In Motion's annual performance is part of the dancers' education and is an extension of benefits derived from dance and theatre training. As part of their participation, dancers learn stage presence, cooperation and projection of their individual personalities in a safe and nurturing environment.
"We trust that you will be supportive of those performers on stage and thank you for your support in continuing to make In Motion Bermuda's first choice in dance and dance education.
"Through participation in the Showcase, dancers learn cooperation, stage presence and the projection of their individual personalities in a fun and safe environment. The performance features both boys and girls from as young as 18 months old.
"Throughout the choreographic and rehearsal processes our dancers have shown a maturity and dedication that should be commended and recognized. We have company dancers that put in more than 20 hours a week to their training in addition to all of their schoolwork and extra-curricular activities."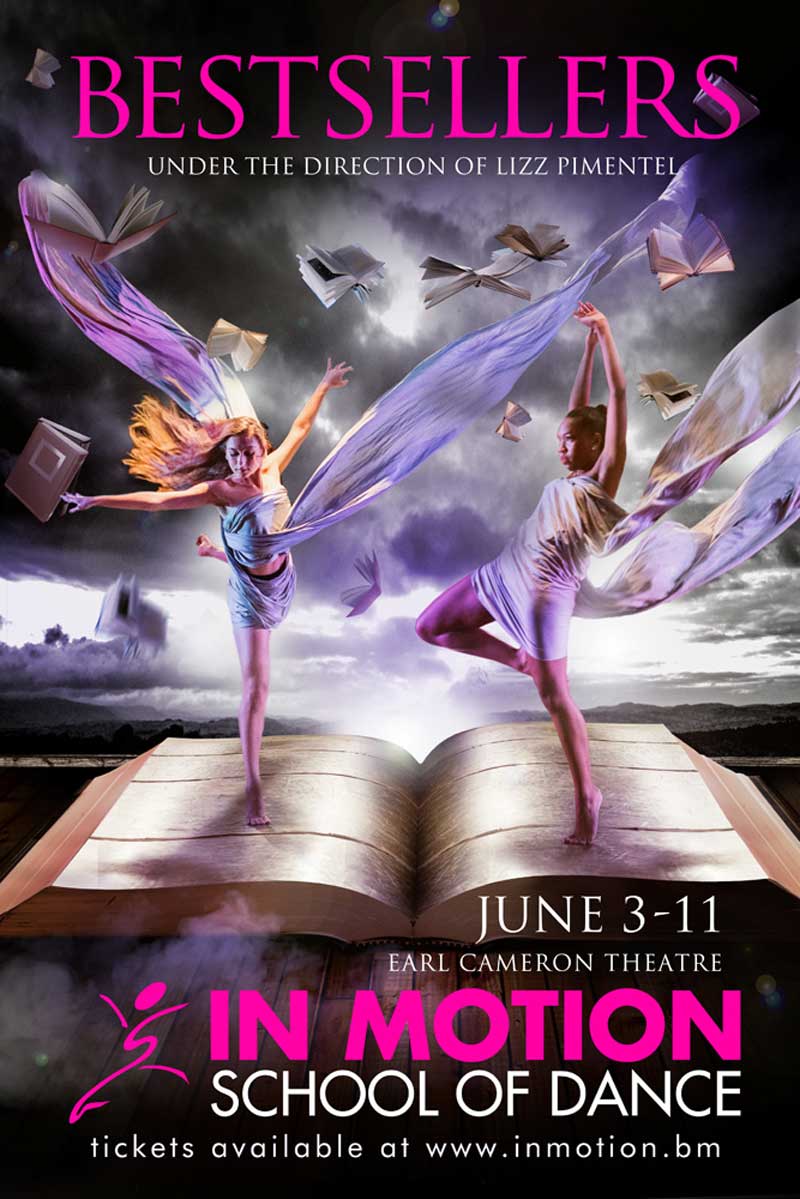 "Performance is vital to a dancer's development and In Motion is proud to offer an opportunity for all of our dancers from toddler to adult to experience the joy of performance and to flourish as performers. Themed shows allow our dancers to show off their skills in a theatrical and fun way.
"In Motion is committed to providing proper dance education and has become the model by which other local dance institutions follow and we look forward to many more years of leading dance in Bermuda by providing the highest level of dance and performance training for dancers.
"The idea behind In Motion is to combine intensive instruction with individualized attention, to nurture a love for dance while providing the highest level of dance training available to local dancers. We started with 40 students, all of whom were taught by Lizz in a one-studio location in Chancery Lane.
"Since those early days in 1997, In Motion has presented several company performances and Annual Dance Showcases and is home to hundreds of aspiring dancers. Dancers from its Junior and Senior Company travel to overseas for workshops each year and have had the opportunity to work with many world renowned choreographers and teachers.
"In Motion's dedication to providing first-class training has enabled several of its most promising students the ability to pursue dance careers and dance education at respected institutions such as the North Carolina School of the Arts, the New World School of the Arts, SUNY Purchase, Indiana University, University of Arizona and Dean College, and even on Broadway and with more hoping to follow similar paths in the near future.
"We are pleased to have had another group of promising dancers accepted into prestigious summer programs including The American Ballet Theatre in New York,The Joffrey School, The National Ballet of Canada, The School of Toronto Ballet, Stagedoor Manor, Niagara Dance Academy, Hubbard Street in Chicago, Vineyard Arts Project Musical Theatre Lab, The Mid-Maryland Performing Arts Center, San Francisco Conservatory of Dance and The Grier School.
"In Motion will also be returning to Broadway for the 12th time to see old friends and build new relationships at the world famous Broadway Dance Center. This year In Motion will also have a have a group of under 11 dancers attending at the Grier School in Pennsylvania program for the first time.
"Last year In Motion hosted six dancers from the Mid Maryland Performing Arts center in Baltimore Maryland to attend our Summer Dance Intensive and we are excited to continue our dance program exchange by having four of our company dancers going to the US to participate in their summer program.
"International experiences like these help in forming a dance network for our dancers and teachers alike that will help push Bermudian dancers into the international spotlight."

Read More About
Category: All, Entertainment