The Peace and Social Justice committee of the Roman Catholic Church of Bermuda will have its final wrap-up session on its Ageing Series in Bermuda on Friday night starting at 7:30pm at St. Theresa's Church hall on Laffan Street.  All are welcome.
"What this Ageing Series of Forums has been known for" said the committee chairperson, " is its excellent group of Bermuda professionals, who know a lot about ageing in Bermuda, coming together  to talk about this most important Bermuda issue from different vantage points".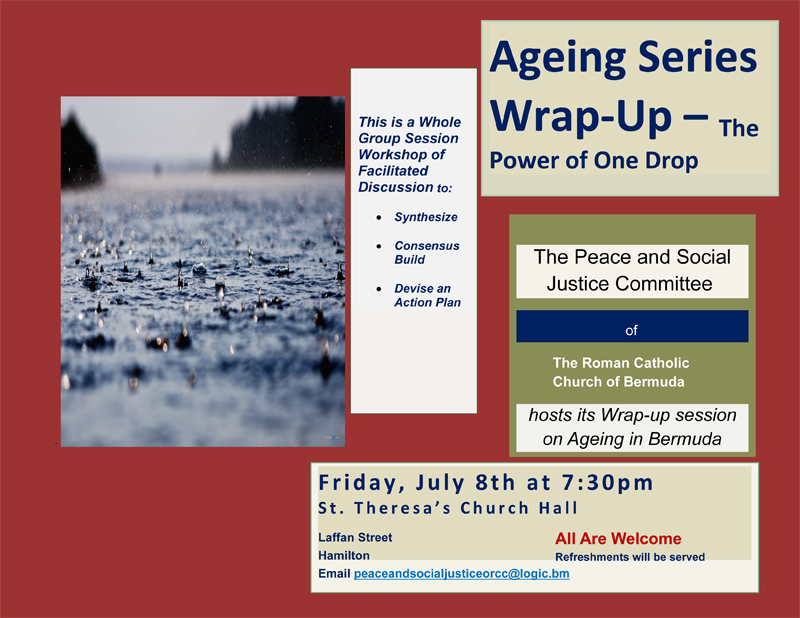 The wrap-up series, "which is not an end but a beginning for the way forward, will include all panelists and participants coming together once again, to establish a prioritized list of items as social, political and moral Action Plans, to begin addressing in the Fall."
The Peace and Social Justice committee is not looking to do all the work, but is keen as the Social Justice voice of the Roman Catholic Church of Bermuda, to lend support to those organizations, groups and individuals who are grappling with the dilemma of Ageing in Bermuda.
"This is a community problem, and as community, we must come together to address it, each adding our 'One Drop' to change the tide of this glaring community dilemma that nobody seems to want to talk about", she said.

Read More About
Category: All